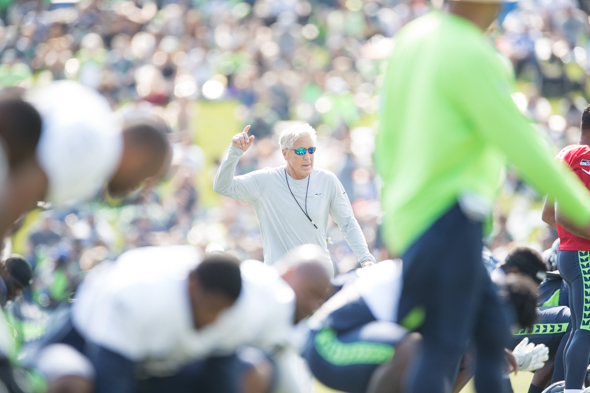 A moment after RB Rashaad Penny finished a full-blast breakaway run Saturday no 236-pound man should be capable of, a solo jet roared overhead in a steep acceleration, in full view of spectators watching the Seahawks' first and only scrimmage of training camp.
Thus is born Penny's nickname: Blue Angel. The only question was which was faster.
"I loved it," said coach Pete Carroll. "A really, really exciting addition."
It was glorified practice for both. The Blue Angels go Sunday at Seafair, the Seahawks go Thursday against Indianapolis at the Clink.
The difference is the routine of the Navy flyboys is familiar. There is relatively little that is familiar about the Seahawks. Including the presence of diminished expectations.
Saturday was the first peek at dress rehearsal, although the game-like set-up included no tackling. Penny was among several of the newbies who offered a hint that the prophecies of pestilence, famine and assorted other sufferings for the Seahawks might be a tad exaggerated.
Penny, the first-round draft choice from San Diego State and the NCAA's rushing leader in 2017, took an inside handoff, swept right beyond the line of scrimmage and whooshed down the sidelines past the No. 1 defense for a long gain. For those witnesses who endured the lamentable rush game of the past two seasons, seeing a Seattle running back go that fast, that long was jarring.  It was like an ice cream truck in the middle of the Mojave Desert.
The coach almost didn't want to think about getting excited.
"Just to have the running backs there will be really nice; just showing up would be pretty good," said a sardonic Carroll. "It's been a difficult couple of years."
The scrimmage opened with an explosive play from another tailback. Chris Carson turned a short Russell Wilson pass into a long touchdown, more than 70 yards. Carson played only four games last year before being lost for the season injury, so he nearly counts as a newbie.
"That was a terrific play to start things off," he said. "Chris has great hands, his route running ability is there."
Carroll started to warm up to the chance to fulfill his public commitment to a running game this season that would silence chuckles, snickers and guffaws from opposing defenses.
"We have great versatility in our running backs," he said."Everybody can do everything — run, catch and block.
"It's an exciting group, because there's depth, competition, power, strength and speed. It's a big asset to have versatility. It opens up so much. We want to pull out the unique qualities out of each guy and figure out how to show that."
It would be easier to accept the optimism if it was coming from someone other than the same guy who a year ago thought Eddie Lacy was a good idea and that Alex Collins, who gained 973 yards for the Ravens last season (11th in the NFL) after being cut by Seattle, was not.
Nevertheless, the glimpse Saturday suggested that the 2018 changes made some actual sense. The optimism even bled over to the passing game, where rookie Will Dissly, 22, and veteran Brandon Marshall, 34, hauled in TD passes.
Dissly, the fourth-round pick from the University of Washington, came in for a large salute from Wilson.
"In my opinion, he's one of the stars of camp," he said. "You expected a good player, but he keeps showing up. We're all impressed by his professionalism. He does the little things, like transferring the ball and putting it away.
"He knows the game really well — his experience is way more than the typical rookie. We're going to need him to step up in a big way."
Marshall, the former All-Pro recovering from foot and toe injuries, fought off rookie defender Tre Flowers to haul in a spot-on toss from Wilson in the end zone. Carroll guessed that in camp so far, Marshall has been targeted about seven times and had three or four TDs.
"I wasn't expecting it," Marshall  said. "Those are plays needed to get your confidence — the plays you don't expect. With Russ, you gotta ready for whatever. You never know.
"I had a a guy on me, a little bit of contact and pressure. Everything we prepared for so far this camp showed up."
Carroll conceded that coming back from physical rehab, Marshall lacks endurance, playing only about a dozen snaps Saturday. But that's fixable. There is no defense for his 6-foot-4 height.
"He's makes big things happen," he said. "He's got a lot of game to him. We're trying to put him in position to do the things he knows really well. Great first impression."
Wilson a year ago had a big target in 6-7 Jimmy Graham, but he was a tight end and the Seahawks offense had a hard time getting him the ball in space. Marshall is different.
"His size and his understanding of how to get open, and understanding his release, is pretty exceptional," Wilson said. "We've had great receivers here before, but Brandon's size . . . and he's caught so many football, leading the league in several categories.
"It's fun having him."
Given the abrupt exodus of so much premier talent from the roster, the Seahawks are desperate for mass production from the unheralded. A scrimmage proves nothing, but after a tumultuous off-season, most Seahawks fans would embrace a glimmer.