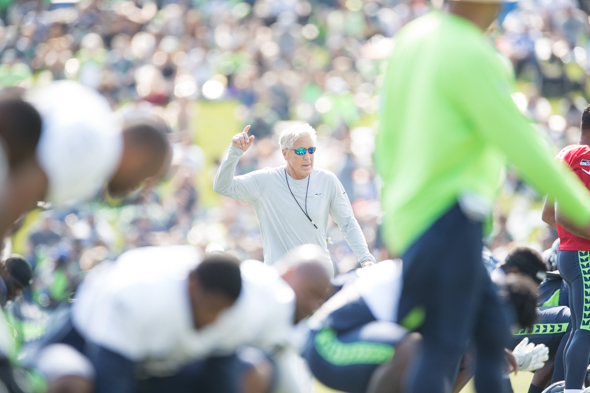 Tell a non-Seattle fan that you were agog at a six-yard rushing touchdown, a kicker and punter, and you will be called a football dweeb and told to freshen everyone's drinks and see when the nachos will be ready.
These are the insults that must be endured as the Seahawks raise themselves from a collective beak-plant in 2017. Prepare for additional snickers over the 0-3 exhibition record in 2018, but if you get mad about that, it's on you. No one can help you.
The Seahawks lost 21-20 (box) in Minneapolis Friday night to a Vikings team that reached the NFC Championship in January. But Chris Carson scored through a large hole untouched, equaling the past season's 16-game total of rushing TDs by backs. Sebastian Janikowski waddled up to a 55-yard field goal attempt and smashed it. And Michael Dickson did the dweebiest thing of all — made a football town giggly over a punter again, this time without need for Jon Ryan's jokes.
Beyond the moments, the collective 102 yards in 24 rushes against last season's top-ranked defense — only five yards belonging to QB Russell Wilson — was the signal accomplishment of the exercise. The worst deed was a 97-yard Vikings touchdown march that took 13 plays and more than seven minutes against Seattle's first-team defense.
"Our biggest problem was not getting off the field on third down in the first half," he said. "That was a big deal."
Behind QB Kirk Cousins, he of the precedent-setting $84 million contract that was all guaranteed, Minnesota converted five of its first six third downs. The Seattle defense was missing not only Earl Thomas but Bradley McDougald (pec strain) and Byron Maxwell (hip flexor), and had a hard time applying pressure. Seattle stayed close primarily through luck — rookie PK Daniel Carlson missed two easy field goals, and the Vikings also were thwarted on a two-point conversion attempt.
The Seahawks answered the long TD drive with one of their own, a 75-yarder that featured the best example in the preseason of Carroll's lust for a run-pass balance. Most notably, 34-year-old WR Brandon Marshall caught three passes (five, nine and 20 yards), and Carson and RB Mike Davis had four runs for a combined 26 yards.
The runs came on trap plays and straight-up power that looked like how a pro team is supposed to look, especially in the red zone where Seattle staggered in two previous games.
"There was a flow to the offense," Carroll said. "We ran the ball very well on that drive.  Chris looked good. Guys up front made some really nice holes.
"It was pretty clean. We felt the line of scrimmage in all three games. Tonight felt like we had some crispness to us. The backs hit the line pretty good. It feels like we're going in the right direction."
The drama at right tackle lessened a bit when starter Germain Ifedi avoided errors, while new backup George Fant looked a little unsteady.
Dickson showed in a game what had been observed in practice — an ability to weaponize the punt. He boomed two that skied beyond 55 yards, each going out of bounds inside the five.
His longest, 61 yards, was returnable because he out-kicked a messed-up coverage. But he made the tackle on the returner. For the evening, he averaged 53.6 yards on five punts.
"He did a beautiful job," Carroll said. "Couldn't be better."
Seattle's other touchdown came off a fine throw by third-string rookie QB Alex McGough to second WR David Moore, who's getting close to being Mr. Camp Breakout. The pass went 36 yards, the final dozen after Moore pivoted out of the grasp of his defender and soloed down the sideline.
After the Vikings were held on their next possession, Moore took back the punt 75 yards for an apparent touchdown, only to have it wiped away by a holding penalty. Subbing for Tyler Lockett, who was held out as an injury precaution, Moore in his PR debut had three other returns that counted, for 24 yards.
"We've been thinking the whole time when David gets his hands on the ball, he can do something special," Carroll said. "The punt return looked easy for him. He slid right through.
"He showed us again the dynamic player that he is. He's had a fantastic preseason. We're fired up about him."
Carroll was also pleased that after giving up the 97-yard drive, the Seahawks throttled the Vikings on the ground. For the game, they had 58 yards in 24 carries.
"The Vikings are dedicated to running the football," he said. "Our guys held up really well. Because of our respect for Minnesota, we take a lot out of this.
"I really liked the way we played tonight. I thought we gained a lot of ground in areas that were important to us."
Just not a victory. Perhaps that will come Thursday at home against Oakland in the fake finale. By then you will have attended to the drinks and nachos.