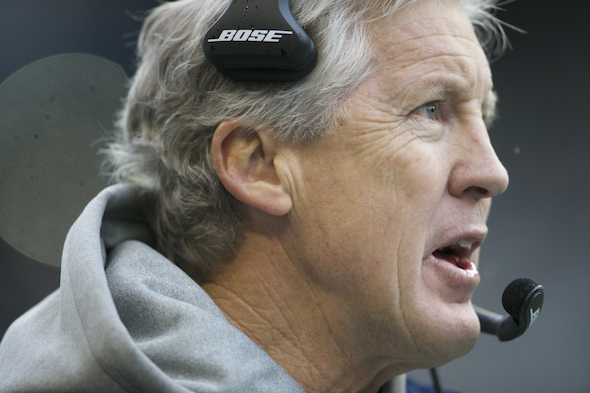 Every school child knows that results of the NFL fake season are meaningless, except, of course, for the full price charged for tickets.  That's a real hurt.
Nevertheless . . . 0-4 is not a good look. Especially since the Seahawks have never been blanked before. Their first winless preseason, concluding with a banal 30-19 home loss to the Oakland Raiders Thursday night, will leave a stain requiring scrubbing.
So coach Pete Carroll tried.
"I wish we'd won a couple games and have more fun in the locker room, but that's all," he said dismissively of the o-fer.
As per usual in the final fake game, the first-unit veterans played little, if at all. But the same can be said of the Raiders. And their backup QB, E.J. Manuel, sliced up the re-made Seattle secondary, completing 18 of 22 passes for 255 yards, three touchdowns and no picks.
Despite the planned absence of QB Russell Wilson, the Seahawks did have 449 yards of offense and 24 first downs. Defensively, rookie LB Shaquem Griffin again looked good. He led Seattle with eight tackles and appeared ready to start, which he will do Sept. 9 in Denver in the regular season opener in the absence of veteran K.J. Wright, who had an arthroscopic procedure on his right knee.
But there were plenty of clanks, including two failures at fourth-and-one, two missed PAT kicks by Sebastian Janikowski against his former team of 19 years, a couple of weak punts from the darling of training camp, Michael Dickson, and 11 penalties for 98 yards.
Backup FS Delano Hill, a distant hope at one time to fill in a bit for holdout Earl Thomas, failed to wrap up an open-field tackle, which turned into a 45-yard touchdown catch and run. And RT Germain Ifedi, who had some shaky moments in the preseason, left the game early after he "turned his ankle," said Carroll, who didn't know the seriousness.
But with backup Isaiah Battle out with illness, the Seahawks in the second half had to use backup center Joey Hunt at right tackle
The sense of foreboding had more to do with the week's personnel news, which didn't speak well for immediate prospects. And it will cause the Seahawks, ahead of Saturday's roseter cutdown deadline to 53 players, to make even more difficult decisions.
Here's a sampling of the unsettling news.
Wright's knee will keep him out awhile

Carroll reported post-game that post-surgery "was good" for Wright, but the idea of a mere two-week absence seems the typical Carroll over-optimism. So Griffin will join his his brother, cornerback Shaq, in the starting lineup, likely to be the NFL's leading human interest story of opening weekend.
"I'm well-prepared for (the start)," Griffin said. "Even in times when K.J. was gone, he called me every day and made sure I was studying. Having guys like Bobby (Wagner) and K.J., the only thing you can do is get better every day."
Said Carroll: "He's a running and hitting guy – we are not worried about that. It's making sure he's really playing the scheme well and is really precise about all of his (run) fits."
Besides punter Dickson, Griffin seems like the only rookie starter.  But numerous players could make their first starts as Seahawks: RG D.J. Fluker, WRs Jaron Brown and Brandon Marshall,  TE Nick Vannett, LB Barkevious Mingo, DE Branden Jackson, DT Tom Johnson and FS Tedric Thompson.
The mystery men are CB Byron Maxwell and TE Ed Dickson, both of whom sat out the preseason with injuries.
If Maxwell can't play, the Legion of Boom has been wiped out, leaving a gaping void, which Carroll acknowledged: "The question is how much can we hold up back there and play good football."
Another 2019 draft pick is gone already

Rather than wait for QB Brett Hundley to be cut this week, a likely development after the Packers in the off-season traded for DeShone Kizer to back up Aaron Rodgers, the Seahawks this week threw a sixth-round pick at Green Bay for Brett Hundley, the fourth-year pro from UCLA who had a weak 2017. That leaves Seattle with five choices for the 2019 pickings.
Hundley's arrival, which happened only Wednesday, left the QB chores Thursday to Austin Davis (first half; 13 of 20, 194 yards and an 81-yard TD pass to Damore'ea Stringfellow) and rookie Alex McGough (second half; 12 of 23 for 131 yards passing, and three carries for 31 yards). The veteran Davis obviously will be cut, so the Seahawks showcased him, and the Seahawks hope McGough will pass through waivers and be available for the practice squad.
Getting nine starts the past season in place of the injured Rodgers, Hundley had nine TD passes and 12 interceptions, finishing 30th in passer rating, which suggested he wasn't the heir apparent, even though this month he out-performed Kizer.
"We just thought it was too good of an opportunity to pass up,'' Carroll said. "It's his fourth year, he's played quite a bit and started a bunch of games last year. We've been able to see how he has developed. We liked him coming out of college as well. He's big, he runs well, he's got a good arm, he's got good vision on the field, he's made a lot of big throws and big plays."
Maybe GM John Schneider, a former Green Bay personnel exec, values the history of Packers backup QBs, which includes Rodgers himself, as well as Matt Hasselbeck, Mark Brunell and, um, Matt Flynn.
Baldwin will play diminished
WR Doug Baldwin was welcomed back to practice this week and expects to start in the opener, but the candid assessment of his balky knee that has kept him out of the preseason was worthy of a full shudder among the 12s.
"I'm probably about 80-85 percent right now," he said.  "The truth of the matter is, it won't be 100 percent. It's something I've got to deal with the rest of the season.''
Baldwin, who has missed only two games in his career that began in 2011, is a vital part of the plan to have the offense carry a greater share this season. Any loss of effectiveness will be a hurt for a group of receivers that has much to prove.
Lockett gets (over)paid
For a team perpetually up against the cap, WR Tyler Lockett's three-year contract extension was a bit surprising. It is said to include $20 million guaranteed and a maximum value of $37.8 million, making him the 21st highest paid wideout, according to overthecap.com.
That's a big commitment that leaves less money for Wright and DE Frank Clark, both in their contract years.
Even though he played all 16 games, Lockett admitted the leg he broke in December 2016 limited him to 75-80 percent last season. But Lockett has also endeared himself to coaches and teammates with personality and work ethic.
"It broke my heart to watch him have to fight through the rehab throughout the year because he's a guy that wants to be on the field every minute," Carroll said. "He's the first guy on the field and the last guy off. It just accentuated what it took for him to work through that."
After four preseason losses and some key injury absences, there's more mystery around the Seahawks than at any time since Carroll's first two eventful Seattle years of magnum roster turnover. Naturally, he is unfazed.
I'm excited about getting to our 53," Carroll said. "We've got some roles for guys to take over . . . We know what we're doing."
For the first time since his early days in Seattle, that assessment is to the house an open question.