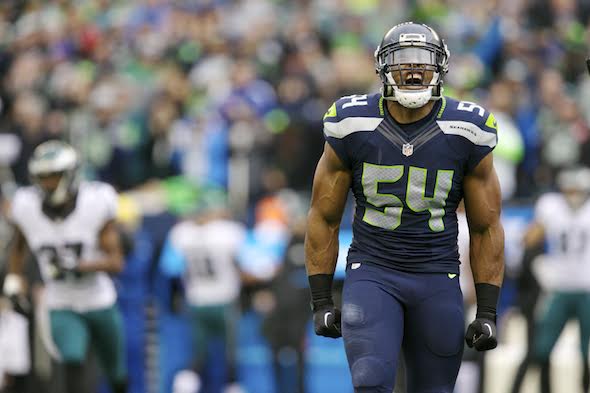 The Seahawks' injury list grew this week to include LB Bobby Wagner (groin), who along with LB K.J. Wright (knee) and WR Doug Baldwin (ankle) will not play Monday night in  Chicago. Listed as doubtful after practice Saturday was rookie CB Tre Flowers, who started his first career game last week in Denver, as well as RG D.J. Fluker and reserve FS Delano Hill, all three with hamstring injuries.
The Seahawks' depth problem is so severe that they cut veteran DT Tom Johnson and his guaranteed contract in order to make roster room for SS Shalom Luani, the former Washington State star who was cut Tuesday.
Johnson, 34, signed in March a one-year, $2.1 million deal, started in Denver last week and has drawn praise from the coaching staff throughout the preseason.
"Because of what happened with the (roster) numbers, we had to do something . . . we had to figure out which is the best way for us over the long haul," coach Pete Carroll said after practice Saturday. "Tom did a great job for us. We love him. We hated to have to separate like that. He's a good ballplayer."
As a free agent, Johnson can sign with anyone but the Seahawks hope they can sign him back, perhaps as soon as next week.
"There definitely could be a chance for that," Carroll said.
Wagner's injury didn't sound serious.
"He's running, he's already working hard, but he's not quite ready so we'll get him probably next week," Carroll said. "He had a groin thing that showed up kind of late. He felt it, but thought it was a cramp or something coming out of the game. It just took him a couple of days to get it assessed."
Wright was also running in practice.
"I can't imagine him not competing to play the next week," Carroll said. "He really looked great today. I was just thrilled for him. To come back in two and a half weeks (from an arthroscopic procedure) and look like that, it's a fantastic recovery."
The health problems at linebacker pushed the Seahawks into hiring Mychal Kendricks, a free agent cut by Cleveland Aug. 29 following his guilty plea to federal charges of insider trading. Because he won't be sentenced until January and because the NFL hasn't ruled on whether he has violated the league's personal conduct policy, the Seahawks were allowed to sign him and he will play Monday.
Carroll said the research done on Kendricks, 27, persuaded the club he was worth the potential controversy, and despite the fact that the NFL could suspend him at any time after Monday.
"We had done a lot of homework and (the crime) happened four and a half years ago," he said. "It's a story that's been worked on for a long time. A lot of good information. We have come to learn who he is and what he's all about, and how remorseful he was and how he admitted to his mistake a long time ago.
"He paid the money back, he did all of the right things along the way. The process continues . . . we checked everything that we could possibly check out. This guy deserves a second chance."
Kendricks, who played six years with the Eagles and started in the Super Bowl won by Philadelphia before signing with the Browns in free agency, talked with reporters after practice about the ordeal of public disclosure and the loss of his job in Cleveland.
"It's been pretty hard," he said. "It's been very hard. But, I'll overcome this, and I'll overcome just like I've overcome other obstacles in my life. I'm very blessed to have this opportunity, so I treated it as such. But football is helping me a lot."
Kendricks, a native of Fresno, CA., and the Pac-12 defensive player of the year at Cal in 2011, had no news about the NFL's decision-making.
"I'm not too sure," he said. "That's something I leave up to my counsel and my agent. I'm sure that everything will be worked out accordingly. As of right now, I have the opportunity and I want to make the most of that.
"Everyone's real cool (with the Seahawks).  It's definitely a West Coast vibe here. I was on the east coast for the past (six) years. Everyone here is really, really kind. Including the people of Seattle and Washington, everyone's been so kind.
"People are embracing me with open arms and it feels good."
Carroll said Kendricks has been quick on the uptake.
"The background and the instincts that he has — he has been coached really well," he said. "He really has a chance to pick it up really quick and get in there and help us. He had three really good days and studied like crazy with the coaches."
Second-year pro Austin Calitro is likely to start at Wagner's spot in the middle, with Kendricks and rookie Shaquem Griffin sharing time at Wright's weakside spot.