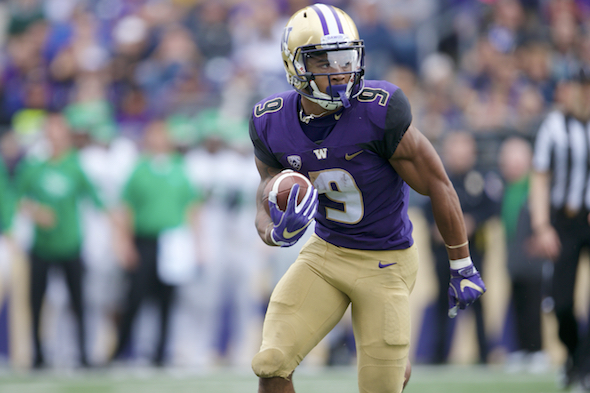 For a game that 10th-ranked Washington seemed to control — no easy feat with Salt Lake City's altitude and attitude in a sellout crowd at Rice-Eccles Stadium — peril seemed perpetually imminent. Particularly after one of the most egregious turnovers in the four-year career of Jake Browning.
The earnest Huskies quarterback again tried too hard. Two minutes into the fourth quarter Saturday night, Browning faced yet another blitz from Utah's high-risk, high-reward defense. Twice he spun away, but the second time he was falling back. He flung recklessly a wounded duck that went a few yards into the meaty mitts of Utes lineman Pita Tonga at the Washington 32.
The 300-pounder waddled to the 11-yard line before knocking the ball off his hip out of bounds. The break was fortuitous for the Huskies defense, because the 11 yards were just enough margin to stone Utah in the fourth-quarter red zone.
What should have been anywhere from six to 14 points on consecutive possessions instead was zero. The double denial allowed the 21-7 lead to stand for a win (box) in Washington's Pac-12 Conference season opener, a mutual bludgeoning that could easily have gone awry.
"Physical, physical, physical — as physical a game as we've been in in a long time," said coach Chris Petersen. "Our guys swelled up when they had to, making plays in the red zone when they had to."
They also were lucky. On a fourth-and-goal play at the one to conclude the short drive, QB Tyler Huntley's rollout pass went through the hands of TE Conner Haller.
After a UW 3-and-out, Utah again reached the red zone, only to be backed up by a holding penalty. The third-and-25 and fourth-and-16 plays had little shot against a Huskies defense that again is shaping up as one of the nation's best.
The third of Utah's three fourth-quarter possessions — all beginning in Washington territory — produced only 11 yards in seven plays.
For the game, Washington, led by LB Ben Burr-Kervin's 11 tackles and CB Byron Murphy's four pass break-ups, held Utah to 261 yards of offense, thanks in part to an interception and two fumble recoveries. The vaunted secondary was outstanding, helping hold Huntley to 20 of 39 passing with a long of 16 yards.
They also executed on clean tackling, an increasingly critical element with the rules changes regarding targeting. Utah's defense lost to ejection two critical players flagged for targeting.
"We spend so much time on that and it does show up," Petersen said. "We want legal clean hits. Sometimes we're not going to be perfect on that. They're bang-bang plays, receivers and ballcarriers are changing directions at the last second."
The offense was another story, although RB Myles Gaskin's 143 yards on 30 carries was a masterwork against Utah's tough front seven. He has 4,326 yards, moving up to seventh on the Pac-12's all-time career list.
Browning had another so-so passing day, hitting on 14 of 24 passes for 155 yards, a touchdown and the aforementioned brain cramp. But he did help engineer the opening drive, a five-play, 65 yard beauty that concluded with a Gaskin 38-yard TD romp.
"It was awesome, kind of a tone-setter," Petersen said. "It was important to get out of the gate and establish ourselves."
Petersen was a long way from throwing his hands up over the lack of consistency.
"I do think our offense will gain confidence from playing against a really good defense," he said. "We just shot ourselves in the foot too many times. We can still be good, but we have a lot of work to do."
The work comes ahead of Saturday's 7:30 p.m. game (ESPN) at Husky Stadium against Arizona State, which was ranked 23rd in the Associated Press poll but was upset 28-21 by San Diego State Saturday night.