BY TERRY BLOUNT
As he was carted off the State Farm Stadium field in the fourth quarter Sunday with a broken leg, Earl Thomas gave the one-figure salute to the Seahawks bench, a symbol of all that has gone wrong between the star free safety and the team.
But as the game clock flashed :00, Sebastian Janikowski was mobbed by joyous Seattle teammates, redeeming himself with a game-winning 52-yard field goal on the final play, a hope of what still can go right in 2018.
What a whipsaw of emotions on a day when the Seahawks improved to 2-2 and found a way to defeat the Arizona Cardinals 20-17 (box).
Mike Davis, a surprising starter at running back, scored two touchdowns and rushed for 101 yards on 21 carries, the second consecutive game with a 100-yard rusher for Seattle.
Russell Wilson became the winningest quarterback in franchise history with 75 victories, passing Matt Hasselbeck. And coach Pete Carroll tied Mike Holmgren for the most team wins at 90.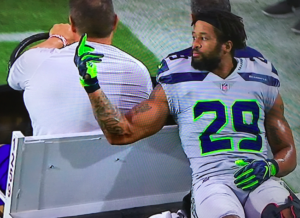 A happy ending, but a sad loss of another team icon.
Thomas could become the third member of the Legion of Boom whose career with Seattle came to an end at Arizona because of injuries. Both CB Richard Sherman and SS Kam Chancellor played their final games in a Seahawks uniform the past November in Glendale.
Now Thomas, with a right lower leg fractured on a failed attempt to deny a tying touchdown pass, also may be through as a Seahawk.
"My heart breaks for him,'' Carroll said after the game. "It's a bittersweet day.
"I love Earl. I've always loved him, everything he's ever done for us, everything he's stood for."
The grim outcome is exactly what Thomas feared, the reason he held out all summer. In the final year of a $40 million, four-year deal, he wanted a contract extension before returning to the team, which would provide some guaranteed money against injury.
He didn't get it. So he returned ahead of the season opener, saying he would remember being disrespected. He was reportedly fined after missed two practices before the Dallas game last week, but had two interceptions in the victory.
Sunday morning, Ian Rapaport on the NFL Network reported the Seahawks wanted two second-round draft choices to trade Thomas. Obviously, that won't happen now.
So Thomas, knowing his worst fears had come true, left the field Sunday with a message for Seahawks management. He looked across the field and gave the finger, a photo gone viral on social media.
Carroll said he didn't see it.
"Something was said, but I don't know anything about that,'' he said. "Earl was extraordinarily poised on the field. He knew what happened. It just breaks my heart we're talking about this right now."
Thomas wasn't the only loss. Rookie TE Will Dissly also left the game on a cart with a leg injury.
Wilson's first comments after the game were about Thomas.
"He is one of the greatest players to ever play the game and he'll come back strong,'' Wilson said. "It's an unfortunate situation but we all love him. He will come back at some point and be better.
"I hope I get to play with Earl again. I love who he is as a person. As fans and as people, we sometimes forget this is our livelihood. You hope to play it forever, but it's never forever. I do believe for Earl it's not over."
To set up Janikowki's winning kick, Wilson led the Seahawks on a seven-play, 31-yard drive. The 19th time Wilson led Seattle to game-winning drive at the end came after veteran Phil Dawson missed a 45-yard field-goal attempt on Arizona's final drive with 1:50 left.
The Seahawks wasted numerous opportunities. Janikowski missed two first-half field goal attempts (38 and 52 yards) and the offense was 0-for-10 on third down.
Sunday started with a surprise when the Seahawks announced starting RB Chris Carson was inactive due to a minor hip injury disclosed only Friday, presumably providing for the coming-out-party for rookie first-round pick Rashaad Penny.
Instead, when Davis opened, you almost could hear the collective "what the . . . ?" from Seattle fans. No worries, 12s. Davis helped save the day.
"Mike played a great football game,'' Carroll said. "So competitive and so tough. He found out at the stadium he had a chance to start. We didn't want to put Rashaad out there without any warning. Mike is the kind of guy we like having on our club."
Davis started the final five games of 2017, but he was a long shot to make the team when training camp started.
"My mindset is, don't be denied and believe in yourself,'' Davis said. "I have great family behind me. And I trust and believe in what we can do up front. We're just imposing our will that we can run on anybody."
Penny also ran well with 49 yards on nine carries, part of the Seashawks' season-high 171 yards.
Those were the highs. The low was the reality that one of the best to wear a Seahawks uniform probably played his last game for Seattle. And he made his feelings clear.
———————————-
Terry Blount (tblountsports.com) is a former ESPN reporter and analyst and a regular guest host on Sports Radio 950 KJR.