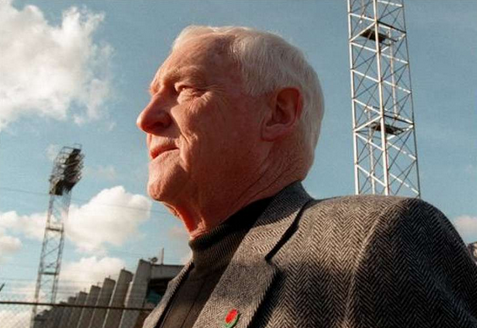 After more than half a century of service to his beloved Cougars, Washington State football's legendary voice has called it a career. Bob Robertson, who has broadcast WSU football games since 1964 — save for a three-year break from 1969-71 at Washington — announced his retirement from Cougar broadcasts Monday.
Robertson missed WSU's game Oct. 6 at Oregon State, but said he made the decision to retire after receiving a health scare following a home game with Utah Sept. 29.
"When I woke up (the following morning), I literally didn't know who I was or where I was. I was foggy," Robertson said in a phone interview from his longtime home in University Place, a suburb of Tacoma. Robertson has dealt with various health issues in recent years.
Robertson, who turns 90 March 14, has broadcast sports since his freshman year at Western Washington College of Education (now University) in 1947. His role in the WSU broadcast booth has been reduced since 2011 — "I really don't know what my job was," he said — and he says it is possible his broadcasting career has come to an end after 71 years.
"I'm confused right now," Robertson admitted. "I've never been retired before."
Robertson's career was one for the ages. He has called everything from college football (including one season at Notre Dame) and basketball (highlighted by a long stint as the play-by-play announcer for WSU men's basketball) to minor league and major league baseball (his time in the bigs was limited to a short fill-in gig for vacationing Seattle Mariners broadcaster Dave Niehaus) to high school sports to hydroplane racing to pro and college wrestling and boxing (yes, college boxing) to minor league pro hockey to rodeo to men's fastpitch softball to . . .  table tennis?
"I did table tennis for ESPN," Robertson once recalled, "and a lot of the kids were from Thailand. You couldn't pronounce their names without a tongue depresser. Plus, the pace of table tennis — you had guys flying all over, hitting balls from all over, even flying into the stands."
Table tennis aside, Robertson made his name as the familiar voice of WSU football on radio.
"When you think of the icons of Washington State athletics, Bob Robertson certainly comes to mind," athletics director Patrick Chun said.  "Bob has painted the picture for many generations of Cougar fans, and we thank him for what he has meant to Washington State athletics."
Not surprisingly, Robertson said his favorite memory from 52 years of broadcasting WSU football was the 1998 Rose Bowl. The Cougars played Michigan gamely in quarterback Ryan Leaf's final college game, but the Wolverines claimed the national championship (decided in polls back then) after downing Washington State 21-16. It was WSU's first Rose Bowl appearance since 1916.
Robertson, who spent much of his youth in Canada, began his broadcasting career in grade school while performing on drama programs on a Vancouver, B.C., radio station. He graduated from Blaine High School and planned to follow his father (a longtime minor league outfielder) into pro baseball before passing on a contract offer from a Salem, OR. minor league team so he could broadcast the games of the minor league team in Wenatchee.
Robertson believes he made $225 a month — and not just for calling baseball games.
"I did baseball (plus high school and junior college football and basketball), a daily sports show, and I'd help on newscasts occasionally," Robertson said. "You did a little bit of everything. I watered the flowers on warm summer nights. Flooded the basement one time . . . "
Robertson's first minor league baseball job required him to "re-create" road games. A common broadcasting technique at the time, re-creation required broadcasters to take notes from a game off a telegraph and add sound effects.
"To make the sound of a hit, some guys used to hit the microphone with a pencil," Robertson explained. "I used to use a real baseball bat and hit it with a knife. That sounded a lot more realistic."
Robertson, the proud father of four children, six grandkids and an infant great-grandson, says family members "come by and make sure I don't get lonesome." Joanne, his wife of 59 years, died in 2011.
"I've had a good time most of my life," Robertson said. "I've been a very lucky person.
"I had a beautiful wife who treated me like I was a prince or something. She took care of me."
Robertson, a longtime TV and radio sportscaster on Seattle and Tacoma stations, received numerous honors during his sportscasting career. That includes a spot in the WSU Athletics Hall of Fame. Chun said Robertson will be honored at a November home game.
"The sports page of life is what I've been doing," Robertson said. "The sportscasting thing always was my life and my entertainment.
"Now I don't know how I'll live it out. I have not been in this position."
That may be true, but Robertson knew precisely what position to take at the conclusion of an interview on his retirement from WSU broadcasting.
"Go Cougs!"