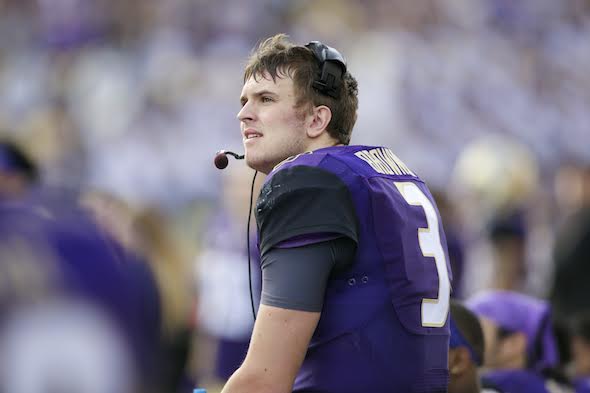 On the Monday after Jake-gate, Chris Petersen went through a predictable effort of defending his decision to switch quarterbacks mid-game Saturday in a contest Washington led.
The Huskies coach said bailing on Jake Browning for two series against Cal wasn't about him as much as the bad offense as a whole. He said backup Jake Haener, a redshirt freshman, has done well in practice. He said he's changed players at all positions over the course of the season.
All these things are partly true, but that's his thin cover story for public consumption, and he's sticking to it. And Browning.
"Jake Browning is and always has been our quarterback here," Petersen said at his weekly presser Monday. "There's no one I care for more, have more respect for as a football player, and as a person, than him. And I've been coaching a long time."
All well and good. But what Petersen fails to acknowledge (or understand?) in his labored justification for the controversial decision is that what he did in Berkeley likely feels to Browning like a betrayal by a good friend.
It's not exactly like that, because the relationship primarily is mentor-pupil. But anyone who has been in an intense, mostly successful mentor-pupil relationship knows that there lurks in the layers a trust relationship that makes the downs as endurable as the ups are enjoyable.
If that relationship existed, and whether it was merely nicked or seriously damaged, in the wake of a ghastly 12-10 loss to a modest Cal team, can't be known. The principals, being highly competitive guys, are too stubborn and proud to admit to any of it. Besides, neither QB has been allowed to talk to the media in the cloistered world of Huskies football.
But anyone familiar with human nature can reasonably suggest that the consequence for Browning goes beyond the understandable anger that was acknowledged by Petersen.
"Does he like it? Is he irritated as all get-out? Yeah," Petersen said. "But he won't go in the tank. He won't back down. He's the toughest guy in the room. He can take it. He'll be fine."
True. Yet anyone knowing Browning knows he would never let down his teammates. He will be fully engaged at 6 p.m. Saturday when the now-unranked Huskies (6-3, 4-2) host now-unranked Stanford (5-3, 3-2) in the vast wasteland that is the Pac-12 North. Remarkably, the Huskies can still reach the conference title game if they win out against the Cardinal, Oregon State (2-6, 1-4) and Washington State (7-1, 4-1).
But Saturday may feel different for Browning. He figures to have a hard time trusting Petersen anymore.
For four years, they have been a tandem helping lead Washington to national eminence as a re-emerging power in college football. Publicly, they have had each other's backs through all the second-guessing, questions and controversies that are inevitable.
But now, to Browning, it may look as if Petersen, no matter his strident claims to the contrary, has joined his critics.
They say Browning peaked during his sophomore year when he was Pac-12 offensive player of the year and the Huskies reached the College Football Playoffs. They say he has plateaued or even regressed, misreading defenses and making dubious pass/run judgments.
In a purple world of suddenly high expectations, there is little tolerance for error, or acknowledgement that missing injured LT Trey Adams, RB Myles Gaskin, TE Hunter Bryant and WRs Chico McClatcher and Quentin Pounds has diminished the offense.
Petersen's decision to pull Browning with 1:56 left in the third quarter for the inexperienced Haener was an action that spoke louder than Petersen's words of support, and louder that the critics' catcalls for change. After all that Browning and Petersen had been through, the coach didn't trust the player to pull the Huskies through a game they were leading, albeit 7-6.
Asked why, amid the substandard play of others, Browning was singled out, Petersen said, "Because everybody else had already been taken out before. We rotated receivers, backs, line — and it's just about doing something.
"You have seven points, and so that's hard for some people to swallow. We've been kind of plodding along on offense here for the last few weeks — not necessarily because of Jake's fault — but you've got to try and do something."
But what Petersen tried to do, failed abjectly, making matters far worse. After a no-chance incompletion, the inexperienced Haener threw an interception to Cal LB Evan Weaver, who returned it 37 yards for a touchdown, Cal's only TD.
The QB switch turned into the worst decision since adobe diapers.
Haener was given one more series that produced a first down and a punt. Browning finished out, getting the Huskies to a first-and-goal at the Cal 9-yard line. After a no-gain run and an incompletion, Browning's third-down play was him at his worst — pedaling straight back from a heavy rush and throwing off his back foot, he lofted a floater to the goal line that appeared to be intercepted but was ruled a drop by the defender.
The subsequent field goal was made irrelevant when the Bears ran out the clock against a tiring but valiant UW defense.
The upshot was the 11-point favorite Huskies lost, leaving two dispirited quarterbacks and a bewildered fan base that was already puzzled by the Oregon loss when Petersen passed on a chance to get closer for a last-second field goal, a potential game-winner that barely  missed right.
Petersen Monday was given a couple of chances to justify the use of Haener, who had seen only mop-up duty earlier in the season in a blowout over North Dakota. He said Haener's skills were "different" but never explained what that meant, nor why he thought it would work for the first time in a high-pressure situation on the road.
The way he said it was a doozy:
"He just, you know, I mean every guy is going to read things slightly different. Throw the ball slightly different. And it is different. All those quarterbacks we have are all a bit unique and different. And Jake Haener is no different than those other guys."
Um . . . what?
Sounds like a guy trying too hard to justify the unjustifiable. Might be easier to own up and move on, as he did with the field-goal attempt at Oregon, when he said if granted a do-over, he would do it . . . well, differently.
Unless, of course, Jake-gate was all about some sort of punishment over Browning disregarding the game plan, or talking back, or otherwise being disruptive.  But without some clarity/transparency, we're left to guess.
Petersen probably has never been more eager for another game to get here.
"I know (Browning) will do everything in his power to help us all get better," Petersen said. "That's all we can ask."
Guess he'll have to trust Browning on that.