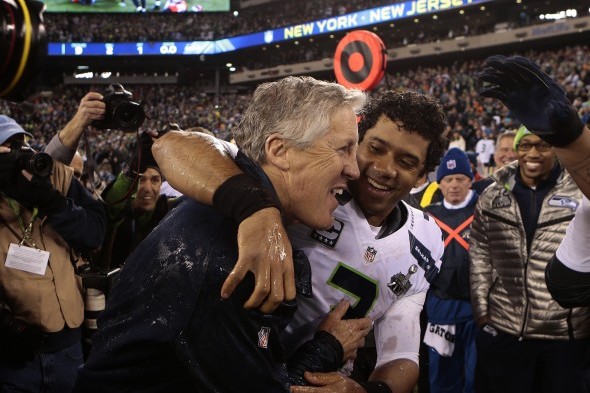 As we all know, Russell Wilson says something original about as often as the Mariners succeed with a high draft pick. But late in the season, the Seahawks quarterback did offer up something I hadn't recalled hearing from him, which may bode well for his future in Seattle (and perhaps might be a rare good omen for the Mariners).
"I just want to be known as the greatest winner ever," he said.
Hardly a shocking thing to hear from a high-achieving athlete, but a rare moment of public ego on Wilson's part. If he is being truthful, the goal underscores what will be required from his current and potential future employers to retain his services long-term. It also may explain a little about some recent team developments.
I claim no knowledge about what makes a good football-team strength/conditioning coach, nor why Chris Carlisle and three assistants were recently fired from their jobs by coach Pete Carroll, who brought Carlisle with him from USC to Seattle in 2010.
But if you told me that the heir apparent to the strength-coach job, Ivan Lewis, the current USC coach who has worked with Wilson in Los Angeles during previous off-seasons, was about to succeed Carlisle, then I would suggest you might be on to something.
Not saying that Wilson's desires were the main reason for the change. Hey, maybe Carlisle wants to join the federal government so he can work for free.
But if I were a football boss who knew that in this off-season, I was planning to make a monumental offer to extend the contract of Wilson for several years, I'd be doing as many non-cash improvements to please Wilson as possible, while others are assigned the task of stacking the bricks of gold bullion.
Since the final year of Wilson's contract is 2019, the custom in the NFL is to strike a deal for an extension in the prior off-season. The league-wide expectation is that the extension for Wilson, 31 next year and coming off arguably his most efficient season despite a run-game emphasis, will set a jaw-dropping standard.
An extension with an average annual value north of $35 million (he made $21.3 million the past season) will be sought by his agent, Mark Rodgers. The Seahawks also have the option of the franchise tag, a one-year extension estimated to be about $30 million for 2020. A second use of the franchise tag in 2021 would be around $37 million.
For a full exploration of financial possibilities, see Friday's CBSSports.com story by former agent Joel Corry.
But if we take seriously, for argument's sake, Wilson's remark about wanting to be the biggest winner, it suggests that non-cash items will be a factor. The question becomes: Is he more likely to achieve that goal somewhere besides Seattle?
While that answer's permutations are many, what is known is that Wilson has won more regular-season games (75) through a career's first seven seasons than any QB in NFL history. His career QB rating of 100.3 is second to Aaron Rodgers. And in a not-insignificant single-season achievement this year, he was the only QB in the NFL to play every snap — despite enduring a career-high 51 sacks.
But as his agent would point out, that was then. What about the future?
The Seahawks have already done the most significant non-cash thing they could do. After  the death of owner Paul Allen, who hired Carroll, the club, now owned by Allen's sister, Jody, and Carroll agreed fairly speedily to thwart uncertainty by extending his contract  through 2021.
Wilson sounded pleased.
"It's a great thing for the Seattle Seahawks organization," he said. "He has a great culture, he knows how to win and he's just a great coach
"He's taught me so much. He he has a great mind; he sees things that others don't see usually. He's continued to feed into my thought process on staying positive, how to believe, how to see things, looking for the best things at all times."
The efficient work connection between Carroll and Wilson may be second in the NFL only to Bill Belichick and Tom Brady, only with less dramatic tension. Carroll demonstrated his knowledge of how rare a QB of Wilson's caliber is to ultimate success.
When Carroll realized that offensive coordinator Darrell Bevell was no longer pushing Wilson to be the best, he was fired. When Carroll realized that CB Richard Sherman, who believed that Wilson wasn't as accountable for his mistakes as the rest of the team, had become a threat to divide the locker room, he was fired.
Obviously, Wilson would never say a bad word about anyone, even Darth Vader ("He's experienced, he's tough and he loves the process"). But Wilson often makes mention of Carroll's most significant attribute, heard for years from others around the locker room and elusive for so many franchises.
"The one thing about Coach Carroll," he said, "through all the amazing wins we've had, through some of the tough losses too, he's been the same way every day in terms of his approach. That's one of the things that makes him, in my opinion, a Hall of Fame football coach — a coach that makes a big difference."
In a volatile sport rich in thin victory margins, bad bounces and only 16 chances a year to do right, the relationship Wilson has with Carroll may be unique, and uniquely valuable in sustaining success.
At his seasonal sign-off presser Jan. 7, Carroll signaled the full-court press had begun.
"Russ and I met yesterday," he said. "We're talking about the future. We're talking about where we're going and what we want to get done. That's very much in our plans."
In a marketplace where some team will pay Wilson top dollar, no matter how preposterous, his agent will see to it that no home-team discount will be given. It will be up to Carroll to convince Wilson that the thing money can't buy — recognition as the greatest winner ever — can best be done where he's always been.