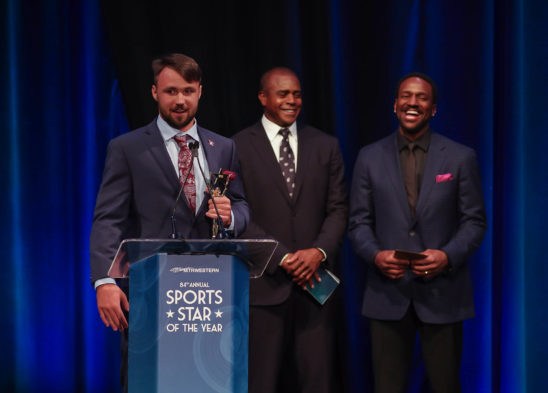 If Gardner Minshew only could have taken a snow day, there's no telling what else he could have done.
Breanna Stewart was good for all seasons—regular and post—and it showed with a championship.
Minshew, the Mississippi man with the memorable mustache and the reliable right arm, and Stewart, a woman with no basketball equal anywhere on the planet, brought welcome climate change to the Northwest sports scene in 2018 — they made it unpredictable or unbeatable when it counted most.
Thursday night at Sheraton Grand Seattle, the tandem landed the biggest awards — Male and Female Athletes of the Year — at the 84th annual Sports Star of the Year, the nation's longest running sports celebration of its kind.
Stewart's Seattle Storm, capturing their third WNBA championship in the franchise's 18-year history in September and first in eight years, earned the trophy in the third category subject to a public vote online — best sports story in 2018.
Charissa Thompson, a FOX Sports broadcaster and Seattle-area native, hosted the event, pointing out she does more than sell cars on local TV. Ahmad Rashad, a Tacoma native, former NFL standout and national sports broadcaster, was a presenter, expressing how happy he was to be home again.
In a heartfelt moment near the end of the three-hour event, members of the Seattle Sonics' 1979 NBA championship team were saluted on the 40th anniversary of that title. Just two starters, Jack Sikma and Gus Williams, are still living. They were joined on stage by Coach Lenny Wilkens and reserves Fred Brown, Paul Silas, Tom LaGarde, Dennis Awtrey, Dick Snyder and Wally Walker for a standing ovation from the sellout crowd.
"From the start (of the season), we weren't that good," Silas said in paying homage to Wilkens. "We had a coach who took the team, and we got a lot better."
While the talented Stewart did what was expected of her, Minshew emerged from graduate-transfer obscurity at Washington State to become one of college football's most endearing stories as the Pac-12 Offensive Player of the Year, a national leader in three passing categories and triggerman for the Cougars' winningest season (11-2) in school history.
Minshew couldn't shake off the snow that fell on the Apple Cup in Pullman and right himself to beat Washington, but he did something extraordinary Thursday night — he became the first WSU athlete to claim a Sports Star of the Year award in what primarily is a Huskies town.
The swashbuckling quarterback showed up with a short haircut and a beard, somewhat camouflaging that famous mustache. He was funny and humble in accepting his award. He joked about attending four different colleges and asked, "What does that tell you about me?" before turning thoughtful.
"Coming to a community suffering so much loss, to be part of that healing process is something I'm more proud of than any award," Minshew said, referring to the off-season suicide death of WSU quarterback Tyler Hilinski. "It's all about the impact our sport had on our community."
His SSOY breakthrough came after 46 UW players and coaches, men and women, had walked away with hardware from what began as longtime P-I sports editor Royal Brougham's "little clambake" luncheon in 1936. Cougars had been candidates before but never winners.
Stewart went from the Huskies—UConn's version—to the pros in Seattle, capping off her third highly productive Storm season by being named most valuable player in the regular season and playoffs while getting a ring — another in a large collection of rings.
She is the fourth SSOY female winner to represent the Storm, joining point guard and current teammate Sue Bird (2002), center Lauren Jackson (2003) and late coach Anne Donovan (2004).
"Three years ago, the city welcomed me and made me feel right at home," Stewart said via video message from Russia, where she is playing basketball, "and I haven't looked back."
While public voting settled the top three awards, Elijah Hagstrom, Sandy Gregory, Art Thiel and Bird received SSOY honors on that were determined by the Seattle's Sports Commission's committee selections.
Hagstrom, diagnosed with stage 4 cancer when he was 6, is a gallant survivor. Now 9, the youngster overcame the loss of much of his liver, a year of hospitalization and 10 rounds of chemotherapy to play football for the first time this past fall. He was feted with the Wayne Gittinger Award, given to young athletes who overcome health hardship.
Elijah drew laughs while his father made the audience cry in recounting the ordeal, which included planning for a funeral that never came.
"I want to thank God for the miracle of my son," an emotional Ed Hagstrom said.
Gregory, the last original member of the Seahawks' organization, retired in June after 42 years. The NFL team's senior director of legends, team history and special projects, she received the Paul Allen Award given in the philanthropic category. She was immensely popular with players for her selfless ways in helping with their foundation work and post-career needs.
She was introduced by former Seahawks WR Steve Raible and joined by several Seahawks  on stage.
Thiel, a large presence in Seattle sports journalism for four decades, accepted the Keith Jackson Award in the media category. Thiel is co-founder of this website, a contributor to Crosscut, the Everett Herald and NPR affiliate KNKX, has authored three sports-related books and spent most of his professional career as a widely-read columnist at the Seattle Post-Intelligencer.
Thiel had the best line of the night, quoting Boston Globe columnist Ellen Goodman, when he said, "Column writing is like being married to a nymphomaniac. Just when you think you're done, you have to start over."
Bird, a 17-year member of the Storm who has shared in all three of the franchise's championships and remains the team's steady floor leader, accepted the Royal Brougham Award, given to a sporting legend.
"For a city that's had my back, this is truly, truly special," Bird said.
Minshew showed up in Pullman last fall without fanfare. He was a part-time starter for a mediocre East Carolina football team and originally planned to transfer to Alabama more for a coach-in-training opportunity than for playing purposes. WSU coach Mike Leach goaded the quarterback to come west with a challenge: Do you want to lead the nation in passing or sit on the bench for the Crimson Tide?
Minshew picked door No. 1. He immediately became the starter and led WSU to a national ranking as high as No. 8 and victories in 10 of the team's first 11 games. Souvenir Minshew mustaches became must-have trinkets for Cougars fans on game day. His spectacular play became a national staple on ESPN and FOX TV.
In the Apple Cup, Minshew was neutralized by the heavy snowfall, resulting in a 28-15 loss to Washington with the Rose Bowl on the line. He bounced back by leading WSU to a 28-26 victory over Iowa State in the much warmer Alamo Bowl and was named the game's offensive MVP.
Minshew broke various school, league and bowl game records while completing 468 of 662 passing attempts for 4,776 yards and 38 touchdowns with just nine interceptions. His completions, attempts and passing yards per game (367.8) led the nation. He finished fifth in the Heisman Trophy voting.
"I never thought I'd be playing football in Washington," he said. "But God has a plan and he obviously figured it out for me."
A New York native, Stewart added a WNBA championship to a career that includes four NCAA titles and four Final Four MVP selections. A No. 1 draft pick and Rookie of the Year recipient in 2016, the 6-foot-4 forward has lived up to every pro expectation.
Stewart finished second in the league in scoring, averaging 21.8 points per game, and earned her second All-Star Game selection. She took her performance up another notch in the playoffs, leading the Storm in scoring in six of eight games.
Stewart was at her best during a three-game sweep of the Washington Mystics in the WNBA finals. She had 22 points and 5 assists in an 89-76 victory in Game 1, scoring nine in the final quarter. She scored a game-high 25 points and grabbed seven rebounds in a 75-73 win in competitive Game 2. Both games were in Seattle, and she showed the same stuff on the road in game 3 — 30 points and 8 rebounds in a clinching 98-82 victory.
"This year was the best one yet," Stewart said of her three seasons in Seattle. "I can't wait to do it all again next season."
While she became the sixth player in league history to be named regular-season and finals MVP in the same year, Stewart was hardly the whole show. Natasha Howard at center, Alysha Clark at the other forward and Jewell Loyd and Bird in the backcourt joined her in the starting lineup, forming a cohesive unit hard to beat. The Storm won 26 of 34 regular-season games and six of eight outings in the postseason.
"Thank you Seattle for showing your love for the team," said Dawn Trudeau, part of the Storm ownership team for the past 11 years.
The championship Sonics preceded the first Storm title team by 25 years. They beat the then-Washington Bullets in five games in '79. Sadly, a big chunk of the starting lineup is no longer alive—point guard Dennis Johnson died in 2007, small forward John Johnson in 2016 and power forward Lonnie Shelton in 2018. What they did, however, will stand the test of time.
"We remember everything about it," Wilkens said. "It's not something you can take away from us."