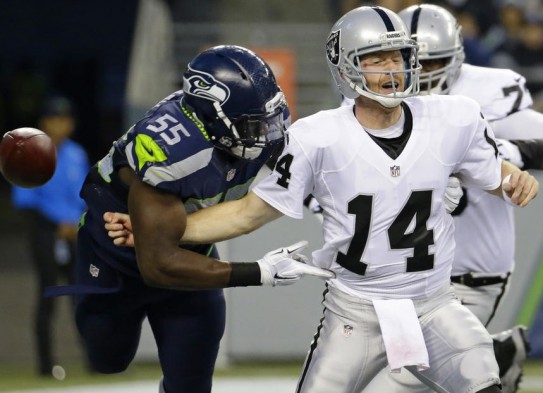 Much remains to be played out, but Tuesday may be the day the Seahawks began proving wrong the skeptics who believed that Russell Wilson's mammoth contract extension wrote them off the list of serious Super Bowl contenders.
If the club's plan works, and you're a 12, don't forget to tip your bird helmet to Andy Reid.
The Kansas City Chiefs coach gave the Seahawks more than they imagined in a trade for DE Frank Clark, providing a first-round pick in this week's draft (29th overall), plus a second-rounder in the 2020 draft, in exchange for a talented 25-year-old whose near-equivalent likely is available Thursday in a deep smorgasbord of pass rushers  — at a much more manageable price.
The Seahawks and Chiefs also swapped third-round picks, moving down to 92nd from 84th. But that is a trifle. The Seahawks scored.
The draft-desperate Seahawks now have five picks in 2019 and a whopping 12 in 2020, including four compensatory picks after losing free agents to other teams. By Thursday, they might twist the 21st and 29th into more picks, plus enough left over for a balloon giraffe at a kids' birthday party.
The disparity in valuations in this trade are remarkable. Clark was the second-best player on the Seahawks defense and its sack leader. But a first and a second, one year removed? Andy, you're a good man, but we presumed the Santa Claus pose was just your sense of humor, and not a sincere conviction.
Not only did the Chiefs more than make Seattle's price, they met Clark's price for a contract extension — a $105.5 million, five-year deal, with $63 million guaranteed, which   tops by a smidge the deal the Cowboys gave DeMarcus Lawrence that allegedly blew off the top of the edge-rusher market.
General manager John Schneider and coach Pete Carroll seemed to have pulled off a swindle that may inspire the NFL to hire Robert Mueller.
Carroll talked a good off-season game of wanting the return of Clark, who had his best season in 2018 and seemed to be warming to the idea of being a leader.
"Not worried about Frank at all," Carroll told reporters at the NFL meetings in March. "Frank had a fantastic season. We're thrilled to have him coming back."

But Schneider earlier stalled the negotiations on a long-term extension with a shrewd application of the franchise tag — a one-year deal for $17.1 million that was not signed by Clark — buying time to get the Wilson deal done by the April 15 deadline said to be imposed by Wilson's agent.
The deadline was 10 convenient days ahead of the draft, allowing the Seahawks to create a clean market for Clark, whom the Seahawks quietly decided was of less long-term value than two other defenders eligible for extensions: LB Bobby Wagner and DT Jarran Reed.
Media reports claimed that multiple teams had interest in a rusher entering his prime, despite the price tag and the behavioral red flags from his college days. He was kicked off the University of Michigan's team following a 2014 episode of domestic violence, a charged later reduced sufficiently for the Seahawks to endure the controversy over his selection (63rd overall) in the second round of the 2015 draft.
Except for an episode on Twitter in 2017 when he engaged in a sexist disparagement of a female reporter, Clark has no known episodes of dubious behavior.
Carroll and Schneider never said, and never will say, whether Clark's earlier screwups influenced their decision to trade him. Yet is also hard to imagine they didn't ask themselves whether Clark was a higher-than-average risk to make another mistake after they would have invested more than $100 million in his future.
Presumably the Chiefs did their due diligence, and came away with a belief that Clark was worth the risk.
Schneider and Carroll held a presser Monday with local reporters. Schneider cracked open the door on the possibility of a Clark trade when he answered with nervous humor a question about whether the Seahawks could afford to keep Wagner, Clark and Reed.
"Feasible — very challenging," he said. "Were you in my bedroom last night when I woke up in the middle of the night? No, I think about it all the time."
Carroll quickly slid to help with a chip block.
 "I hope that doesn't happen," he said. "That'd be weird."
Snickers aside, the deal was in the works, perhaps awaiting only the last, best and final offers from competing teams. Reid won the bidding. It remains to be seen whether he wins the battle.
The Chiefs defense gave up the ninth-most points in the NFL last season (26.3 ppg) and the second-most yards (405.5 ypg). That included 38 points and 464 yards in a 38-31 loss at the Clink Dec. 23, so it's possible to see some of the urgency in Reid to supplement the wizardry of NFL MVP Patrick Mahomes.
Meanwhile, in an interview with ESPN's Josina Anderson, Clark sounded a little peeved at his departure from Seattle, but didn't fall into disparagement.
"I feel like I'm good," he said. "I wanted to be somewhere where I'm wanted, where I'm appreciated. I thank God that KC came in and showed that . . . In life, you just want to be shown that you are appreciated sometimes and I feel like this was one of those things.
"(The Seahawks) had other plans. It got to a point where Seattle had used me for everything I had for them already. At the end of the day it's a business . . . Look down the history . . . when you're playing in Seattle it's not common that they plan to have players around for the long run. It's obvious. It's evident.
"But I'm blessed and thankful to be part of their organization. John and Pete  drafted back in 2015. It just sucks that we weren't able to get something done because they knew how I felt about being in Seattle and how I felt about my future, and I feel like at the end of the day it was all ignored.
"But it is part of the business . . . and you have to play your cards right in this game."
It certainly is a business. But Clark erred in his knowledge of Seahawks history. Stars such as Wilson, Richard Sherman, Earl Thomas, Kam Chancellor, Michael Bennett and Cliff Avril were awarded second contracts, and Chancellor and Wilson earned third contracts.
Clark is sort of in a category with Bruce Irvin and James Carpenter, good players who were allowed to walk into free agency without compensation after their first contracts expired.
This time, the Seahawks were compensated. Handsomely.
Clark was right. You have to play your cards right in this game.
Anywhere you go in life just remember to always put your name on something. Focus on your energy and stay on pace no matter how many times you may get off track. I thank John Schneider and the rest of the organization for believing me back in 2015. It's always love. We going up! pic.twitter.com/X2XlmgJgsB

— Frank Clark (@TheRealFrankC_) April 23, 2019