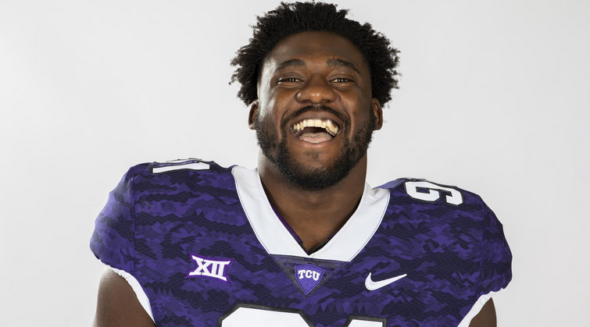 One after another, the big-deal pass rushers the Seahawks sought to replace the traded Frank Clark fell off the draft board. As the first round Thursday night moved toward the their turn at No. 21, tension grew at team headquarters in Renton.
"Body blows," said general manger John Schneider.
"It went the way it was supposed to go, and we didn't like that," said coach Pete Carroll.
So if the rest of the NFL was going to form, so would the Seahawks. They traded back. Not once, but twice.
But this time, they also took a player in the first round. He was however, a player within their customs and traditions: One few foresaw.
Lawrence Junior Collier didn't become a starter at Texas Christian until his senior year, but he did well enough in the Senior Bowl, at the combine and in an interview in Renton, to draw Seattle's No. 29 selection. That was the one the Kansas City Chiefs provided to acquire Clark, the rising star they could no longer afford.
So the label is affixed to him in Seattle: The guy who must be Frank Clark. Not Clark Kent.
"I had a feeling," said an exultant Collier by phone upon learning of Clark's trade Tuesday. "I had a gut feeling."
Carroll had different analogy for his newest player.
"He's a lot like Michael Bennett,"  he said, invoking another traded Seattle D-lineman of some renown. "His versatility, his style, his penetration ability. Real slippery. Terrific pass rush make-up.
"He'll fit right into the scheme. He has a nice pass-rush bag of tricks. We think we really got something special. We fell in love with the chip on his shoulder."
However long it takes for Collier, a fifth-year senior, to replicate his predecessors, the evening brought immediate results in the Seahawks' other goal of increasing the number of picks for rounds two and three Friday, and rounds four through seven Saturday.
By trading their own No. 21 pick for Green Bay's at 30, then trading the pick to the New York Giants, they ended up with eight choices for the weekend:
Round 2, 37
Round 3, 92
Round 4, 114
Round 4, 118
Round 4, 124
Round 4, 132
Round 5, 142
Round 5, 159
While the effort was anticipated, the haul looks remarkable for a team that began the day with four.
"It was a great accomplishment to get that done," Carroll said.
"Lots going on there — one of the craziest first rounds we've seen," Schneider said. "Lots of stuff shaking. The run on D-linemen (12 in the first round) . . .We were waiting but (offensive linemen) never went."
Pressed about what constituted crazy, Schneider demurred.
"I'll tell you some other time," he said, grinning. "Ten years."
What he did explain was that Collier was a fit by personality as well as need.
"Best way to describe him is: Our kinda guy," he said. "Real aggressive, tough-minded. Heavy hands. He jumps off the ball. He has really good snap anticipation.
"He has a lot of juice to him. He was the guy who would get in people's faces."
Collier's self-analysis was similar.
"I'm a hard-nosed, physical guy," he said from a hotel room in Frisco, Tex., where more than 20 family members and friends had gathered. "I play every down. I'm not just a pass rusher, I'm an all-around player. That's what I bring to the game. I get off the ball and go 110 percent every time."
That's much of what Clark brought in 2018, but after three previous years of experience. Collier has come a long way from little Munday, Tex., where his graduating class had 25 students. He was in the rotational depth at TCU until his fifth year, when he made the Big 12 All-Conference team.
Now he's a first-round draft choice of a team that built its success on a nasty D.
"I've watched them for years," he  said. "I know what they're about."
Of the Clark trade, Schneider kiddingly said Carroll "super-hates me" for making it, but said the Chiefs made an offer — the first plus a second in 2020 — he couldn't refuse.
"Frankly, it was Kansas City's aggressiveness — extremely aggressive through the process. We budgeted to keep Frank,  hoping to do a long-term deal with him. The Dallas thing (a huge contract for DeMarcus Lawrence)  didn't help things."
Said Carroll: "We just couldn't work it in, so we had to make him available . . . he had a great opportunity and we weren't going to be able to afford him here. We love him so much that we're happy for him in that regard."
Carroll's dry eyes and smile seems to suggest he was getting over his grief.  Acquiring an "our kinda guy" type, with the prospect of eight more en route, has a way resolving hurt swiftly.
The first round: