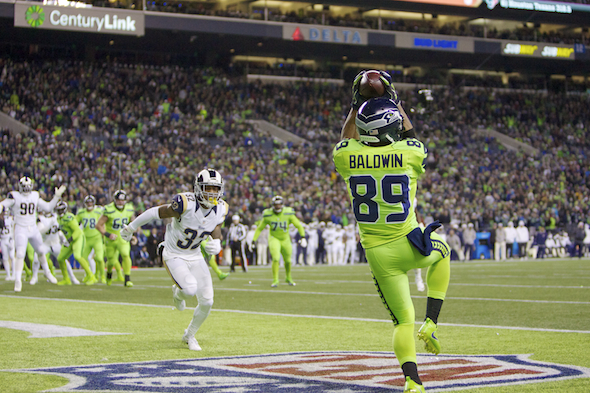 Not long after the Seahawks drafted big receiver D.K. Metcalf Friday night, bad news emerged about their smallest receiver. After multiple injuries and surgeries, Doug Baldwin's eight-year career may be over at 30.
ESPN.com's Adam Schefter reported, citing anonymous sources, that Baldwin, one of the best receivers in club history and a stalwart in the locker room and the community, is facing a decision about ending his career.
Baldwin, who arrived in 2011 as an undrafted free agent from Stanford, is recovering from hernia surgery earlier this month, following procedures on a shoulder and a knee. He played in 13 games last season and caught 50 passes, his lowest total in five years, for 618 yards, his second-lowest career total. He described his injury/rehab ordeal late last season as "hell."
He had his best game of the season in a December victory over Kansas City — seven catches for 126 yards and a TD. Tyler Lockett led the Seahawks with 965 receiving yards, followed by Baldwin and David Moore (445).
Coach Pete Carroll and John Schneider didn't deny the report Friday, but indicated no decisions have been made as Baldwin rehabs at the facility and considers his options.
"We know Doug's going to have a hard time," Schneider said. "Considering retirement? Yeah. There's a process we have to go through."
Carroll seemed to be thinking about Baldwin's career as concluding.
"He's been an extraordinary part of this program," he said. "He's given us everything he's had. Wherever this goes, we're going to support him."
Schneider claimed there was no connection between moving up into the second round's final pick at 64 to take Metcalf and the news of Baldwin's pending decision.
"It didn't really weigh in," he said. "There's a process we have to go through with Doug."
Baldwin's four-year, $46 million contract has two years left, but none of the money is guaranteed. So if he were released after June 1, according to OvertheCap.com, the Seahawks could save about $10 million in 2019 and $11 million in 2020 against the cap.
Baldwin is third in career receptions and receiving yards and second in touchdowns. He's received awards for his work in the community and has been active with players in pursuing social justice, using funds from the NFL to develop programs for police reform and other initiatives.