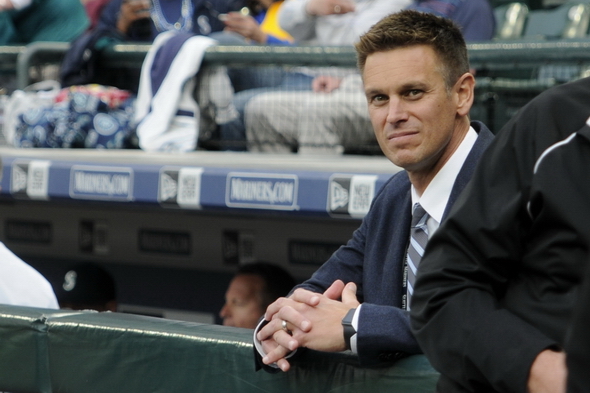 The temptation is to say that the Mariners' 11-2 loss Sunday (box) in Boston that featured five fielding blunders in the first three innings and eight walks in eight innings, concluding a three-game Red Sox sweep by a 34-8 cumulative margin, and a 2-8 road trip with the 15th defeat in 19 games, was a milestone in ineptitude.
For those of us who have watched the Mariners since 1977, I believe I can speak for all in recommending resistance to that temptation.
Worth remembering is that Mariners were the slowest team in modern pro sports history to reach .500 (15 years), has the longest current absence from the playoffs among the four biggest pro sports leagues (17 years), and has been to the postseason four times in their 43 years of the club's persistently dubious existence.
A franchise of such sustained, historic failure does not flinch when confronted by a mere month-long spasm of futility.
The Mariners know bottom like a 300-pound halibut. They have produced more wrecks than Steve McQueen in Bullitt. They have been outwitted more consistently than Elmer against Bugs.
Hell, the raggedy-ass Oakland A's, a franchise run out of the cargo bed of Billy Beane's 1966 Chevy El Camino, have been to the playoffs seven times since the Mariners' last appearance.
While it is true that this 2019 team has displayed an inability to close a baseball glove around a baseball that is rarely seen above T-ball, that is merely a rare perversion, and not a major argument to put this period of futility among the greats. Although keeping Jay Bruce in right field for awhile is a bold step in that direction.
The point here is that as much as Sunday's game inspired among Seattle witnesses the urge to pass around a cocktail fork with which to pluck out eyeballs, we've seen this before.
We've seen two Mariners tagged out at home plate on the same play by a catcher with a broken leg. We've seen a manager identify as his starting right fielder a player who had been traded a day earlier. We've seen the San Diego Padres attempted to be purchased by a Seattle owner while still in possession of the Mariners.
The question before the house at this juncture is this: Given the declared posture of management to dedicate the season to stepping back, how do you feel about what you're seeing so far — a team that leads MLB in runs, home runs, strikeouts, errors and has the game's worst set of relievers?
I'm serious about describing your level of tolerance, and hope you provide below.
Because we've seen similar blunders by the megaton historically does not mean this season is merely same-old, same-old. In fact, it is unique in club annals.
Many have been the seasons of little or no hope. But this one was deliberately, publicly set ablaze with the off-season trades of Robinson Cano, Edwin Diaz, James Paxton, Jean Segura and other veterans for a passel of prospects, with the explanation that the young talent acquired would blossom into group contention perhaps by 2020 but more reasonably 2021.
General manager Jerry Dipoto is following a methodology established by several clubs in recent years, notably the Chicago Cubs and the Houston Astros: Tank one's way to the top. While it's way early to evaluate the long-term plan, you've seen, and some have paid for, a quarter of the 2019 plan. You are entitled to pipe up about your degree of tolerance for baseball's new team-building custom, Seattle-style.
This team has been 13-2, then 7-21. I mean, we all expected regression to the mean, but these guys blew past the mean to the cruel. (Three definitions of mean in one sentence; English, she's a beaut.)
Nevertheless, at 20-23, this was, more or less, exactly what the club set out to do. Management is playing several placeholder vets until the trade deadline approaches, sprinkling in a few kids but keeping most of the best and brightest growing in the minors.
The results have been exhilarating and execrable.
In no case will the Mariners make a trade of top prospects to make the 2019 roster better. Instead they will do as they did Sunday: Fly relief pitcher Dan Altavilla overnight from AA Arkansas to pitch a third of an inning and give up a hit, four walks and three runs. That, friends, is expansion-level ball.
Does the potentially gruesome plan for delayed gratification move you to:
Attend?
Watch?
Care at all until 2021?
Burn your Paul Abbott jersey? (The pitcher was 17-4 in 2001.)
If you think this season is how things must have felt at Donner Pass one fateful winter, say so.
If you think that Dipoto is a baseball Columbus, unafraid of big water in pursuit of the New World, pipe up.
If you think the Mariners have already done the season's heavy lift by convincing Ichiro to retire, that's a point worth making.
If you're numb . . . well, you probably haven't read this far.
I don't want to set limits on responses, but I'd like to make a few suggestions for our mutual edification.
We know no fan likes his or her team to lose. Dig a little deeper.
No bobblehead jokes. Too easy.
You can fire Dipoto and/or manager Scott Servais if you want. But include suggestions for their successors.
Because no one asked you before the season, here's your chance to 'splain your feelings. Or you can revert to the cocktail fork.