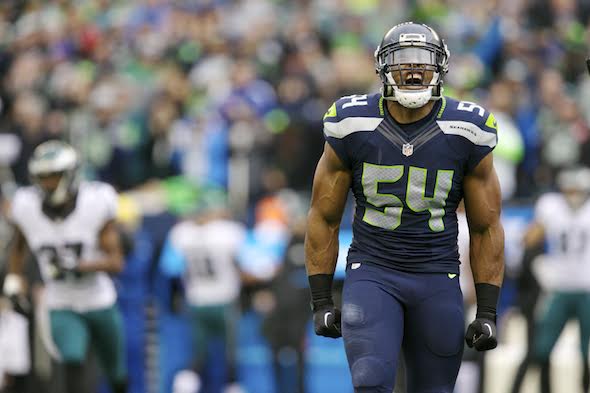 The final major item on the off-season to-do list is done: Bobby Wagner will stay a Seahawk, and he will be the highest-paid linebacker in the NFL, after an agreement was reached Friday. NFL Network reported that the three-year contract extension through 2022 is for $54 million.
The $18 million average annual value exceeds the previous high, established earlier in the summer when the New York Jets paid C.J. Mosley $17 million.
The extension for Mosley, 27, was for five years and $85 million, $51 million guaranteed. The deal for Wagner, 29, includes $40.2 million in guarantees. Wagner will come out of it with an extra three percent, the standard fee for an NFL agent that Wagner didn't hire because he did the negotiations himself. Wagner was in the final year of a deal signed in 2015 worth up to $43 million.
Wagner had been engaged in a sort of non-holdout holdout, showing up to mini-camp and this week's start to training camp, but not engaging in drills. Friday, he showed up for the first time wearing a helmet and jersey, but no announcement of deal was made before the end of practice, and players have Saturday off.
He said earlier in the off-season that he deserved to be the best-paid at his spot, an assessment endorsed Friday by QB Russell Wilson, the highest paid player in the NFL.

"He deserves to be the highest-paid linebacker," Wilson said after practice. "There's nobody better than him in the game, that's just the honest truth. He's done great things, he's put up the stats. I think he'll get taken care of.
"We need Bobby Wagner. He's a great football player. I don't want to play him, that's for sure . . . we want to win a Super Bowl together again, a few more Super Bowls, and end it the right way."
A six-foot, 245-pounder from Los Angeles taken in the second round out of Utah State, Wagner is a four-time, first-team All Pro selection, and one of three holdovers from the Super Bowl champions of 2014 (Wilson and fellow LB K.J. Wright).
Pro Football Focus recently ranked him No. 3 in its list of top 50 active NFL players, trailing only Rams DT Aaron Donald and Patriots QB Tom Brady (Wilson was 39th). Here's the site's explainer:
Wagner finished the year ranked first in overall grade (91.9), coverage grade (90.4) and run-defense grade (91.8) among qualifying off-ball linebackers in 2018. Only two off-ball linebackers in the PFF era (2006-18) have earned 90.0-plus marks in all three facets: Wagner in 2018 and Luke Kuechly in 2015. Wagner also missed just one tackle across 140 attempts this past season.
Though Kuechly isn't too far off the Seahawks phenom, Wagner takes the cake for top off-ball linebacker in the NFL right now coming off one of the best seasons we've ever seen at the position.
In December at San Francisco, he had an all-time Wagner whirlwind game and was NFC defensive player of the week. He was the first player in club history to have in the same game a pick-six (a club-record, 98-yard return), sack, forced fumble and fumble recovery. He led the team in tackles with 12, and had two QB hits, two tackles for loss and two passes defensed.
After mini-camp in May, Wagner reflected on his seven-year career.
"You understand that it's very hard to play a long time in this league," he said. "When you first got in the league, you don't even think about that and you think about just kind of taking a year at a time.
"You hear the statistics that most (NFL players) last like three years. And so to make it eight years, it's amazing, and I still feel like I got a lot of years left."
All of them will be in Seattle.