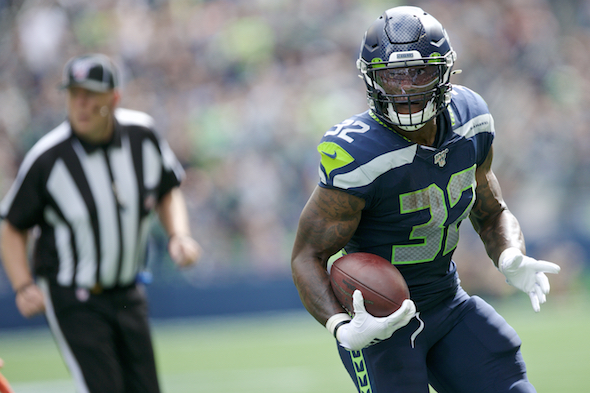 The coincidence of Pete Carroll's 68th birthday made for an easy storyline. What may prove a more noteworthy narrative in 2019 is whether a successful Seahawks season was born Sunday at Heinz Field in Pittsburgh, where the young guys learned how a championship mindset works.
On the road, with the East Coast's early start, in a place where the Seahawks hadn't won in 20 years (the last visit in 2011, they were shut out), against an always rowdy sellout crowd for the home opener and a great quarterback leading a Steelers team exceedingly salty after losing its opener 33-3, the Seahawks won.
Despite 10 penalties, two lost fumbles and two episodes with QB Russell Wilson that had Seahawks fans clutching their chests anticipating a group coronary event, four-point underdog Seattle prevailed, 28-26 (box).
That margin was one point more than the triumph over Cincinnati last week, but it still adds up to a 2-0 start. Last time that happened, the Seahawks ended up in the Super Bowl.
Not saying it's predictive. Just sayin' for a lineup speckled with kids, it's an an early lesson  in title-grade resilience.
"I feel a lot better than last year, I'll tell you," said an ebullient Carroll about the 0-2 start in 2018. "It's great to be 2-0. Especially on the road in a place like this, and a quarterback like that."
But that quarterback, Ben Roethlisberger, last man standing from the Steelers' Super Bowl XL win over the Seahawks, couldn't finish the game, leaving at halftime because of a sore elbow. His backup, second-year man Mason Rudolph, did OK for a kid, but was no match for the effortlessly resolute Wilson.
Wilson survived four first-half sacks, a protective slide at the end of a run that tore up a chunk of turf and looked momentarily as if might have done same to his knee, and a helmet-to-helmet hit that somehow went uncalled.
No penalty called on this play. Hey @NFLOfficiating can #Seahawks fans get an explanation here? I mean, other than "It's the Steelers." pic.twitter.com/YLcazdwao7

— Roberto Shenanigans (@Rob_Shenanigans) September 15, 2019
Despite the mayhem, he completed 29 of 35 passes for 300 yards, three touchdowns and a passer rating of 131, as well as six runs for 22 yards, several of which were mission-critical in the late going.
Regarding the Wilson slide, Carroll joined the 12s in feeling a throat constriction.
"He almost got wrecked on the turf," he said. "I don't know what the heck that was. Very fortunate right there."
Wilson, whose bent left knee acted like a shovel under the sod, was puzzled too.
"The turf came up — it was kinda crazy," he said. "I'm a good slider too. Stole a lot of bases in baseball. It was, not scary, but a little strange.
"I'm straight. I'm fine."
The absence of health consequences helped elevate the mood. The win was the 100th of the birthday boy's NFL career, which was celebrated in the locker room with a team-wide water dousing of Carroll and the presentation of the game ball from Wilson.
Answering a question about age, a soaked Carroll grinned.
"I don't need games like this to keep my youthful exuberance," he said. "But I'll tell you, I love games like this.
It was fun being in the locker room with the guys, but they had more fun than I did. It was good."
Carroll made two key coaching decisions that were pivotal in ratcheting up his celebration.
Ahead 21-13 with less than nine minutes left, the Seahawks had a second-and-20 at their own 27 when Wilson threw incomplete to double-covered WR Tyler Lockett in the deep middle. There was obvious contact, but officials deemed it inconsequential.
Carroll, who earlier challenged an interference call unsuccessfully and lost a timeout, challenged again. Somewhat surprisingly, replay officials overturned the field crew. The reversal was huge — 38 yards — to the Steelers 35. Two plays later, Wilson hoisted a perfect 28-yard parabola to rookie WR DK Metcalf at the goal line for what proved to be the game-winning TD.
"It was a legitimate opportunity," Carroll said.  The other one, I forced a little in the first half. You can see how it made a difference."
On the final possession, which came after the Steelers closed to 28-26 following a TD after recovering a Seattle fumble, the Seahawks needed to run out the clock.
After Wilson's 15-yard scramble reached the Pittsburgh 33, a yard short of the first down, the Seahawks had a big decision to make at 4th and 1 with two minutes left: Punt and hope to create a long field, risk missing a field goal, or going for it.
"It was an interesting situation there," Carroll said, "but we wanted to go for it. It was a matter of how we're going to do it."
They chose a blast by RB Chris Carson, whose previous two fumbles set up the Steelers for touchdown drives of 22 and three yards. This time he went behind C Justin Britt and LG Mike Iupati for two yards, ball secured. Thereafter, it was victory formation.
"There was nobody I was going to but Chris right there," Carroll said. "Fantastic job by the guys up front to knock them off the rock and get the first down."
Carroll forgave Carson for the second fumble that Pittsburgh returned to the three.
"He got hit (by a blitz) on the exchange" from Wilson," he said. "That's not his fumble. But he did get one knocked away. We got to get to business right there, and get that out."
The post-game party was enhanced by Carroll's twin milestones.
"It was awesome to see coach Carroll on his 68th birthday; he looks like he's 38 and runs around like he's 28," Wilson said. "How he brings it every day, his competitive nature, his consistency, I have a lot of respect for who he is as a person and coach, and what he's meant to the city.
"A hundred wins is special."
Carroll was rightfully proud of his ability to flourish in such a ruthless profession.
"Pretty good," he said. "I didn't know what it was going to be like when we came here. We got a lot more wins to get this year, but it's a proud statement to make. I'm thrilled about it, the staying power."
If the young guys keep picking up on the message — people may get old, but winning never does — Carroll might stick around for another hundred.
MONEY. 💰@pennyhendrixx hauls in the TD! #GoHawks x #SEAvsPIT pic.twitter.com/LDDFL0M0pq

— Seattle Seahawks (@Seahawks) September 15, 2019