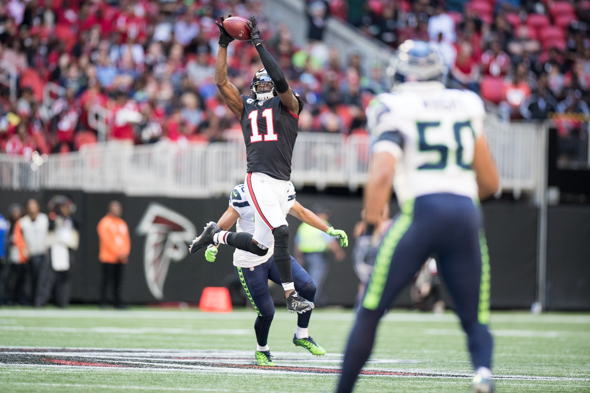 Sunday in Atlanta, the narrative of the game foreshadowed precisely the season: Good first half, and who the hell knows about the second half.
The Seahawks are 6-2 after the 27-20 blowout-turned-passout triumph (box and video highlights) over the woebegone Falcons (1-7). Yet even The Man of Eternal Sunshine wasn't kidding himself.
"We don't have it quite yet," coach Pete Carroll said. "We're not quite there. In one regard, we're 6-2 and not feeling so bad.
"We got a ways to go."
The impressive 24-0 first half was followed by a depressive second half.
An enraged Falcons team, belatedly inspired to save the job of head coach Dan Quinn, the former Seahawks assistant, repeatedly slashed the visitors at two-thirds empty Mercedes-Benz Stadium. If not for a goal-line recovery of an Atlanta fumble early in the fourth quarter, which turned into a Seattle field goal and a 27-11 lead, Carroll would be loading and stacking sandbags to keep out the fast-rising turbulence.
Instead, the Seahawks are 4-0 on the road for the first time since 1980, Russell Wilson is 30-7 following a loss — best quarterback mark in the NFL since the 1970 merger — and the Seahawks come home to face next Sunday 2-5 Tampa Bay, whose quarterback, Jameis Winston, made four turnovers in a 27-23 loss to Tennessee Sunday.
"You can talk about all the other stuff, but the reality is, we're 6-2," Wilson said. "We can continue to get better. We feel like we could be 8-0."
As well, they could be 2-6. Besides the Sunday outcome, the only other game they controlled so far was a 27-10 win at then-shaky Arizona. The other four tension-filled wins came versus 0-8 Cincinnati, 2-4 Pittsburgh, 2-5 Cleveland and 5-3 Los Angeles Rams.
The counter-argument is that the same comparisons can be drawn for many teams in the NFL, which is true. But that means that the Seahawks are, like many teams, ordinary at midseason.
The sole distinctive advantage so far is Wilson, who, after a one-game spit-up against Baltimore, resumed his stellar ways by completing 14 of 20 passes for 182 yards, two touchdowns and no turnovers. But he was part of the woeful, three-point second half, although Carroll was quick to figuratively jump in front of his star to take any bullets.
"I just got to do a better job to make sure that doesn't happen," Carroll said. "I didn't do a good enough job in the transition from first half to second half. We got knocked all over the place.
"We looked like we were a totally different team. There's a lot of things that take place when you don't play well."
One tangible handicap was noteworthy — the likely season-ending loss of C Justin Britt, who went down in the first quarter with what Carroll said "looks and acts like" a torn ACL. In stepped four-year backup Joey Hunt, who deserves partial credit for the 130 rushing yards the Seahawks piled up in the first-half blast, as well as two touchdown passes to rookie WR DK Metcalf and and a one-yard TD run by RB Chris Carson.
Carson (20 carries, 90 yards in the return to his hometown) was joined by Rashaad Penny (eight for 55) in creating the attack envisioned in preseason. Ironically, the success could spur some tumult — Penny is speculated as a potential target ahead of the NFL trade deadline Tuesday. The former first-round pick could help solve for the earlier season-ending injury loss of TE Will Dissly. Penny may have been showcased Sunday.
Any trade likely won't involve a Seattle defender. Because who would want someone from a unit that allowed 512 yards of offense from a 1-7 team, including 460 passing yards from Matt Schaub?
The backup to injured QB Matt Ryan, Schaub is a two-time Pro Bowler who started six seasons with Houston. But he's also 38, hadn't started a game since 2015, and has thrown 16 passes in the three years before Sunday. He went to All-Pro Julio Jones 10 times for 152 yards, helping the Falcons out-gain Seattle in the second half 348-82.
"They resolved to keep fighting, clawing and scratching," Carroll said of the Falcons. "They got physical and took over the game. Fortunately, we were ahead enough to hold them off.
"It was a great testament to Danny (Quinn) and their attitude. Their backup threw for a million yards."
The defense had a partial excuse in the injury absences of CB Tre Flowers and safeties Lano Hill, Bradley McDougald and Quandre Diggs, the latter acquired Tuesday from Detroit, where he strained a hamstring that came along with him.
The good news was that strong evidence was offered for why the Seahawks spent a second-round draft choice on Marquise Blair.
Congrats @Bwagz you are amazing bro!! All time leading tackler in Seahawks History!!!!!!!!!!!!! pic.twitter.com/8KOBO9e7Ut

— Tyler Lockett (@TDLockett12) October 28, 2019
The rookie started his second career game at free safety and led the Seahawks with 11 tackles, including the biggest one — the fourth-quarter goal-line hit on RB Devonta Freeman, which loosened the ball and ended an 85-yard drive when LB Bobby Wagner recovered the fumble. Freeman appeared to be down before the ball started coming out, but replay review let the call stand, and the Seahawks escaped national embarrassment.
"Every game he's played, he's made hits that jump out," Carroll said. "That's what we loved about him when we drafted him.
"He's got a habit of knocking the fire out if people."
Despite the afternoon fade, Carroll claimed the Seahawks' tradition will come through.
"We're gonna finish," he said, "like this club has finished forever. We're going to do it again. This story is not written. You guys write the stories, thinking that you know, but it ain't written yet."
He's right that the story isn't written. From his Seahawks past, he can draw on the history of great Decembers. But from 2019 so far, he has to draw on only a messy pile of question marks.