When your children's children's children hear you talk about the Monday Night Football game of Eleven Eleven Nineteen, they will whisper among themselves: "How come the implant in his brain doesn't shut off the babble?"
The oldest child explains, "That is the only one the government allows to pass. It keeps them happy."
The ocean of serotonin produced in Seattle by the Seahawks' preposterous 27-24 overtime win (box) over the previously undefeated 49ers should linger long. And probably splash upon Sounders parade downtown Tuesday celebrating their second MLS Cup in four years.
Don't know if there is such a thing as civic sports-success overdose, but really, who would care?
Even Seahawks coach Pete Carroll went a little metaphysical on us.
"It took us all the way," he said, "until there was nothing left."
Seventy minutes of warrior football stirred the embers of what was the greatest recent rivalry in the NFL. Rarely pretty (the longest pass completion was 30 yards, the longest run 22 yards, seven combined turnovers) but breathtakingly ferocious (the 49ers may be out of players) and almost perpetually absurd (330-pound tackle Germain Ifedi with a critical carry and lost fumble), the game started off the rails and stayed there.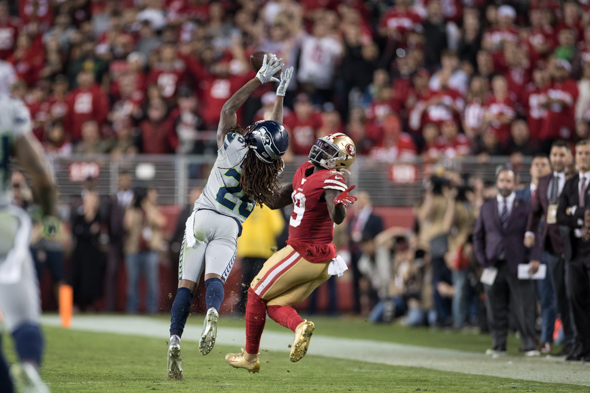 "Craziest game I've ever been a part of," said QB Russell Wilson, whose biggest play was a run, an 18-yard scramble to set up the game-winning field goal by Jason Myers as the OT clock hit 0:00. It was also the run-heavy Seahawks' longest rush by nine yards.
The question at the end of the evening at Levi's Stadium: How many times can two good teams not win a great game that lasted five quarters?
The 49ers were up 10-0, and should have been up 21-0. The Seahawks were up 21-10, and should have been up 31-10. Then the teams were tied at 21 and 24, and spent overtime as if they were two guys carrying an upright piano down five flights of stairs.
But before we get too wrapped around the axle of our perverse little narrative, let's make one thing clear:
Jadeveon Clowney.
Man of the Match. Maybe Two Men of the Match.
He had 10 quarterback pressures, five QB hits, a sack, a forced fumble, five tackles and another for a loss, and a scoop-and-score touchdown that broke the Seahawks' first-half torpor.
If Niners' QB Jimmy Garoppolo dares to go sleep Monday night, we know why he'll wake up in the next minute.
"Jadeveon played lights out — that why we got him," said Wilson.
"Jadeveon was fantastic," Carroll said. "This is a breakout game for him. I thought he was so impressive all night long. We would have liked to have seen it a little earlier (in the season), but if this is where we kick it high gear . . .
"Our defense looked pretty good tonight. They were tired of listening to all that stuff.  Obviously they popped up in a great way."
After weeks of big plays smashed upon them, the Seahawks defense held the NFL's No. 1 rushing team to 82 yards, and 302 yards of total offense. Garoppolo was sacked five times, fumbled twice and intercepted once, although the Seahawks dropped at least four other interceptions.
Most impressively, over the final 11 possessions, the Seahawks allowed only 126 yards.
Another key defensive development was the insertion of newcomer Quandre Diggs at free safety in place of rookie Marquise Blair, who replaced Tedric Thompson. He had the one pick and because he's a fourth-year pro, knew how to play the position.

'Quandre did great, good to see him out there," Carroll said. 'You can tell he's played a lot of football. That's why we traded for him — more experience. It felt like we were letting some things get away from us because we so inexperienced."
But the big deal was Clowney, who apparently has stepped up as a bit of a leader after his in-season acquisition from Houston.
"I didn't talk much at first," he said. "First time I talked was (Saturday) night to the team. I said, look, I've been around other teams. Y'all got great guys here. We just need to play together, communicate, fly around, and have great energy to carry us where we want to go.
'Took five quarters to do it, but we did what we wanted to do."
They accomplished the goal of bring back to earth the 49ers from their 8-0 orbit, while improving their own road mark to a remarkable 5-0, a first in franchise history. For the third time this season, they've won after trailing by 10-plus points, an NFL high. They finally have a signature win against a quality opponent.
"We need to play teams like this, in tough situations on the road, all the way down to the nub; it makes us better," Carroll said. "This was a significant opportunity because they've had so much success, and they happen to be in the division. That's a big deal.
'"Next week's game (after a much-needed bye) is just as important. But I do recognize it's Monday night and San Francisco was rolling . . . "
So they put on a show.
"We had 1:23 left and no timeouts," said Wilson of the final possession in overtime. "Gotta find a way to win. There's no words to explain how crazy it was.
"It felt like the old days of Seahawks-49ers."
Wilson, who nearly threw the game away with a red-zone interception on the first possession of extras, drove Seattle 40 yards on seven plays to set up Myers' kick on Seattle's third possession of OT. Wilson was 3-of-3 for 15 yards, and the 18-yard scramble.
Then the Seahawks slipped the shiv into the 49ers, winning for the 10th time in the series' past 11 meetings.
Took them all the way, until nothing was left.
Just like the old days.
Bruise sends Tyler Lockett to SF hospital
A bruise to his lower left shin was significant enough to keep WR Tyler Lockett out of the late fourth quarter and overtime Monday night and put into Stanford University hospital. ESPN reported he spent the night there.
"He'll be OK but it was a pretty severe situation for game night," Carroll said. "There was a lot of swelling right away, and some concerns about that."
Lockett, the Seahawks' leading receiver, had three catches for 26 yards as the Seahawks resorted to a quicker passing game to counter the 49ers' pass rush.