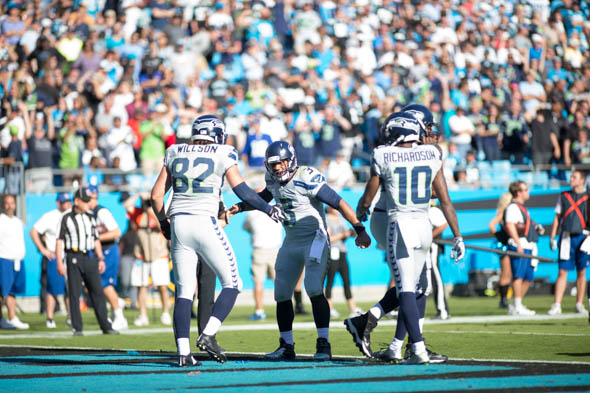 It would be errant to say that Russell Wilson will have his get-well game Sunday at Carolina (10 a.m., FOX), because that assumes Wilson is sick (he isn't) and the bedraggled Panthers will lose (probably, but all us have been around the NFL long enough to be dope-slapped by assumptions).
Nevertheless, there's little argument that Wilson is a few ticks off his stellar-ness of the first nine games. Over the past four, he's had passer ratings of 86.9, 75.4, 98.9 and, against the Rams Sunday, 69.8 (in the four games, he's had four each of TD passes and interceptions).
Reasons are numerous, including the fact that defenses of the 49ers, Eagles, Vikings and Rams have more than standard amounts of desperadoes, outlaws and varmints.
The Panthers, however, have given up 360 points this season, fewer only than the 374 by Seattle's subsequent opponent, Arizona — the two worst totals in the NFC. Somewhere in these next two weeks needs to be some grindstones that sharpen Wilson's sword ahead of the regular-season closer against the 49ers, which shapes up as the template for the next Marvel Comics clash of superheroes and supervillains.
"Yeah, I like him to be able to throw for 300 yards and about four touchdowns a week," said coach Pete Carroll, in a bit of a sarcastic mood. "We'd like for that to happen."
But it was Carroll who pointed out that Wilson was guilty of sometimes holding the ball a little too long against the Rams in LA, where he was a modest 22 of 36 for 245 yards, no TDs and a pick, absorbing five sacks.
"He could do a little bit better and we need to help him," Carroll said. "We need to contribute. If we run the ball for 180-something, and he throws it 20-something times, I don't care. As long as we play well. We're not worrying about it in the end."
But at the beginning Sunday, Wilson set an ominous tone, one from which he didn't recover.
On the first possession, Wilson had two misfires. On a well-blocked screen pass to the left, he missed wide-open RB Chris Carson wide right.
Wilson recovered to sustain the drive to the LA 15. Then on third and three, he had WR DK Metcalf come open in front of him on a crossing route. But Wilson pulled the ball down to run and was slammed from the left by a blitzing linebacker, the first of the five sacks. The Seahawks got a field goal, but it was was of only two serious approaches to the end zone all night.
Offensive coordinator Brian Schottenheimer said he wasn't aware of any downward trend in Wilson's play.
"Certainly there were times (Sunday) that Russell could have gotten the ball out of his hands," he said. "He's still having a great year. We didn't ask him to do a whole lot versus Minnesota, because we were running the ball so well. Against the Rams, we had to ask him to take different shots down the field."
Regarding the two plays in question, both misfires were a resul of the inability to cope with the Rams' premier pass rush.
"On the screen, he felt a little pressure," he said. "Bottom line, he rushed it. He should have hit that and knows it. It should have been more of a lob pass. On the third-down pass, he was waiting for DK to come across and he felt a little pressure.
"You're going to miss some. The cool thing about him is he's got a very short memory."
At his weekly presser Thursday, Wilson wasn't offering up disagreement or complaint. Per usual.
"I think we could get the ball out a couple seconds earlier," he said. "The Rams did a good job of rushing —  they had such great pass rushers.
"There's a happy medium. A lot of people want us to throw the ball deep. Then they want us to throw it short. I think the reality of that game is we just didn't make the plays that we wanted to."
In the grand scheme, these are nits. But because the Seahawks rely so heavily on him to cover their mistakes, his errors get magnified.
Here's what Pro Football Focus had to say ahead of the game in Charlotte:
It's hard to overstate how great Wilson has been this season. He leads all quarterbacks in overall grade at 91.8, and he's done it despite facing pressure on 39.7% of his dropbacks (fifth-most among qualifying quarterbacks) and quick pressure in 2.5 seconds or less on 28.2% of his dropbacks (third-most).
He's been able to succeed despite those poor circumstances, leading all qualifying quarterbacks in yards per attempt under pressure (7.9), while his passer rating when facing pressure (94.3) ranks fourth.
Nevertheless, the defenses are sharpening their pursuit of him. He's been sacked 40 times. His career worst is 51, set last year, and he has three games left. Can someone help this guy?
Sunday seems an ideal time for the Seahawks to re-introduce RB C.J. Prosise and WR Josh Gordon to the football world, just to help share the weekly heavy lift by Wilson.
Prosise replaces injured Rashaad Penny as Chris Carson's primary backup. He's played in seven games and has carried 14 times for 43 yards and a touchdown, and has nine receptions for 66 yards. Gordon has been almost criminally underused since his mid-season acquisition — six catches in four games for 81 yards.
There's nothing like fresh legs in December to help make Carroll's pre-Christmas wish come true: Get the Seahawks to 300/4 while getting no closer to 51.