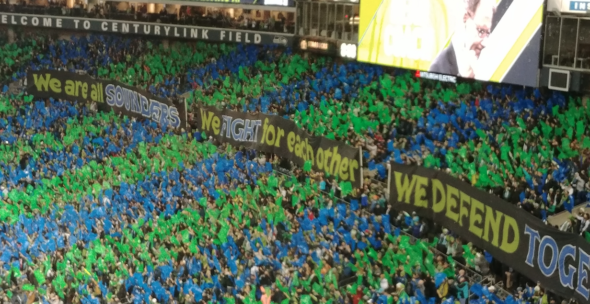 A Seattle Sounders FC support staff member who worked the March 7 at CenturyLink Field match against Columbus is in isolation after becoming the club's first confirmed case of COVID-19 from the novel coronavirus, the club said in a statement Sunday.
The person did not have access to the general public, the club said, and became ill four days after the match. No other cases within the club have been identified.
Based upon current guidance from club medical staff, infectious disease specialists and public health authorities, this case does not present a risk to the public, the visiting team, or Sounders FC, the club said. The individual was not present for operations or soccer activities between the match and the positive test, and the club has been advised that additional precautions are not required.
"Over this current weekend, we were informed of a confirmed case of COVID-19 that directly impacted our club," general manager Garth Lagerwey said. "In a situation like this, our aim is to provide as much information as possible in order to properly inform the public . . . These are trying times, and this is a good reminder for all of us to remain vigilant and to take care of one another.
"I'm also pleased to relay this impacted individual is recovering and is in good spirits."
Major League Soccer suspended the season Thursday for 30 days, along with most major and minor league sports locally and nationally, to cope with the public health crisis. Gov. Jay Inslee Wednesday banned gatherings of more than 250 people In King, Pierce and Snohomish counties.
Sunday afternoon, the Center for Disease Prevention and Control issued a new recommendation that for the next eight weeks, organizers (whether groups or individuals) cancel or postpone in-person events that consist of 50 people or more throughout the U.S.
That recommendation is longer than MLS's original projection. If nothing changes, it is likely that the earliest major pro sports seasons such as MLS and MLB could resume is June 1, given the need to train for at least two weeks.