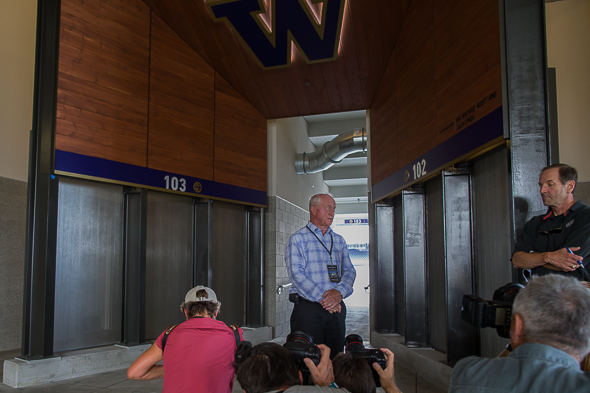 A campus statue isn't likely to be part of Jim Lambright's football legacy at the University of Washington. Which doesn't mean he won't tower in the minds of players he coached for 24 years as a Huskies assistant coach and six years as head coach.
Besides, any statue won't be as stout as Lambo. Nor as purple.
His 44-25-1 record as head coach from 1993-98, including a shared Pac-10 championship in 1995, spoke well to the college football world. But upon news of his death Sunday at 77 from consequences of dementia, longtime fans of the Snohomish kid who was part of the Rose Bowl team in 1964, and part of the program's renaissance in the '80s and 90s, recalled his deep passion for the program.
"In many ways," Jimmy Rodgers, a safety on the Huskies' 1985 Orange Bowl-winning team, said Sunday afternoon, " he was the epitome of Washington football."
"Coach Lambright is synonymous with Husky football and he gave so much to this program both as a player and coach," said athletics director Jen Cohen in a media statement. "My love for the University of Washington was sparked during Coach's tenure on our football staff and I'm grateful for the impact he had on so many.
"I'd like to extend heartfelt condolences to his family, former players, teammates and coaches."
It was an honor fight alongside of legendary coach of @UW_Football Jim "Lambo" Lambright! Talk about leadership, he did it with more passion than most. Thanks molding me and my football brothers into men! Rest Easy Coach. #MoveTheDrill #jimlambright #uwhiskies #purplereign #rip pic.twitter.com/yeYJXx3dxP

— Lawyer Milloy (@LawyerMilloy) March 29, 2020
Lambright was one of only three former Huskies players to become UW head coach (Enoch Bagshaw played from 1903-07 and coached from 1921-30, John Cherberg played from 1930-32 and coached from 1953-55). Under head coach Don James from 1977 until he succeeded him in 1993, Lambright was given mostly free rein to install an attacking style of defense that grew into a national brand for ferocity. It all started in practice.
"Our biggest hits were on Montlake, more than anything in the game," former UW DE Mike Ewaliko (1990-95) told Dan Raley at si.com in January.  "It was crazy. It was the way they coached all of us. There were a lot of drill shots on our players. That was expected."
As a freshman in 1980 from southern Oregon, Rodgers recalled a practice in which he played with a fracture in his left forearm. As an end-of-practice sweep play came his way from a goal-line formation, Rodgers protecting his injury by tapping out the running back instead of tackling him.
"Lambo got right up in my face, called me a primadonna and every bad thing you can say to another person," he said. "He had me crying."
By the end of Rodgers' career, he was laughing with Lambright on the floor of the Orange Bowl in Miami, where the Huskies upset No. 2 Oklahoma in one of the greatest games in Washington history. The mixed emotions were not unique to Rodgers.
"In talking to guys about Lambo, I was a little surprised at how some guys were torn in their feelings," he said. "There's no doubt sometimes Lambo went over the line. But as they've gotten older, they also understood what he was trying to do."
In 1986 following a 28-6 defeat in the Sun Bowl to Alabama, James ordered Lambright and assistants to make a change in recruiting. By 1991, the Huskies shared a national championship with Miami following a 12-0 season capped by a 34-14 win over No. 4 Michigan.
"It was after our bowl game against Alabama that we started recruiting speed specifically," Lambright said years later. "When we broke down the film, there was no way our personnel matched their personnel, as far as speed. So we went out after that to specifically recruit faster people. We weren't selective enough, up to that point, with speed."
But the recruiting tactics that brought the success also brought trouble. The Pac-10 and NCAA charged the program with multiple rules violations. When the sanctions came down, James quit 12 days before the start of the 1993 season. New athletics director Barbara Hedges had little choice but to promote James' senior assistant temporarily to a job Lambright had long coveted.
After the 1993 season of 7-4, Lambright was given the full-time job, and in 1994 it paid off with another hallmark win in Florida, "The Whammy in Miami" that ended the Hurricanes' 58-game winning streak.
But there was never a good fit between Hedges and Lambright, a blunt, gruff personality who didn't do well with house politics. After a 1998 season that finished 6-6 with a bowl-game loss to Air Force — the first non-winning UW season in 22 years — Hedges fired a stunned Lambright. He never coached again.
"You're very human and it happens and it hurts so deeply and it's unbelievable," Lambright told Raley in a 2007 story for the Seattle Post-Intelligencer. "You go through an adjustment period, and that like anything else is a shock. You have a choice of getting better or feeling sorry for yourself. I went through extreme pain. The really weird thing about it is Don James ended up stepping down because of the actions that were taken against us, and I was fired.
"There was nothing as far as a connection (to UW) goes. I had to call to see if I had to buy tickets for the coming season."
The disruption helped send Washington into a downward spiral that didn't end conclusively until the 2013 hire of Chris Petersen. Hedges hired the glib, charming Rick Neuheisel, in many ways the anti-Lambright, who helped the Huskies to the 2001 Rose Bowl but plunged the program again into NCAA scandal, this time over gambling prohibited by the NCAA.
Neuheisel was fired, and succeeded by Keith Gilbertson, Tyrone Willingham and Steve Sarkisian before Petersen's hire from Boise State. Lambright gradually was brought back from informal exile, taking a consultant's job with Turner Construction, the general contractor for the renovation of Husky Stadium.
He was able to look back with pride instead of recrimination.
"With what's happened to Husky football," he said in 2007, "I can look at it and say I'm proud of our record and the success we had, of the players who went to the pros and of those who went on to get their degrees.
"Two years after we left the program, it ended up in the Rose Bowl."
The last years were difficult. In 2003, he and his wife, Lynne, were diagnosed with bladder cancer. In 2014, as his dementia increased, Lambright was charged with domestic violence against a 23-year-old granddaughter after a burst of anger in his home.  He was given in 2015 a suspended sentence for disorderly conduct and was subject to a no-contact order requested by Lynne, who said his anger was increasing.
He football deeds will be celebrated by many, including a "Snohomish mafia" of men who grew up together and flourished as football coaches: Mike Price (Washington State), Keith Gilbertson (UW and California) and Dennis Erickson (Washington State, Oregon State, Arizona State, as well as the Seahawks.
He will be celebrated too by Rodgers, who recalled that moments after the Orange Bowl win, team physician Steve Bramwell reported to Lambright that Rodgers broke his thumb in the second quarter and played the rest of the game. NCAA rules prohibit allowing players to play with broken bones.
"Lambo gave me a big hug," he said. "He was proud of me."
The hard man was not always so.