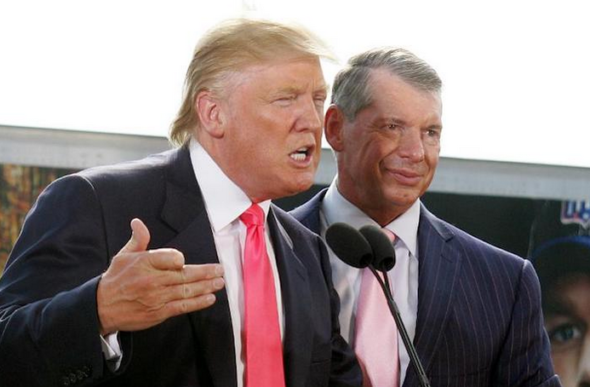 After the abnormal response to an abnormal disaster by an abnormal president, what do we crave? Normalcy.
Even President Trump, who has handled the U.S.'s coronavirus response as deftly as a knitter in boxing gloves, recognizes that. He knows the return of the national hobby, sports viewing and gambling, would be the most credible signal that the end to the dreariness of ceaseless Chris Berman-narrated old video highlights is at hand.
So Saturday Trump held a private conference call with the commissioners of the major entertainments, including the clown-master of WWE, Vince McMahon, to inform them he believes the NFL season should start on time in September, with other sports firing up as well.
"They want to get back; they have to get back," Trump said in a White House briefing hours later, referring to the call. "As soon as we can, obviously. I can't tell you a date, but I think it's going to be sooner rather than later."
It would have been easier to believe McMahon.
The resumption of the sports calendar, particularly by September, is not impossible. But it grows increasingly unlikely with each passing day because of Trump's leadership failures that delayed the initial response to the pandemic and now get in the way of help and solutions.
The teleconference with the commissioners of the NFL, MLB, NBA, NHL, MLS, WNBA, and the chiefs of the golf tours, and auto and horse racing, was partly another attempt to cheer-lead his way out of a global health crisis.
Nothing he said publicly later about the return of sports was backed by data or science, just an impulse to get sports leaders on his side by saying encouraging things that were as baseless as they were wistful.
"I want fans back in the arenas," Trump said at the briefing. "I think it's  . . . whenever we're ready. As soon as we can, obviously. And the fans want to be back, too. They want to see basketball and baseball and football and hockey. They want to see their sports. They want to go out onto the golf courses and breathe nice, clean, beautiful fresh air."
No kidding, Captain Obvious.
But by marginalizing the voices of health-care professionals and amplifying his own rhetoric of dreck, piffle and balderdash — for example, it is completely untrue what he said Saturday, that public-health officials are doing tests on "airlines, very strong tests, for getting on, getting off. They're doing tests on trains, getting on, getting off" — he is devaluing his already minuscule credibility.
Credibility will be essential as COVID-19 deaths begin to wane in parts of the country this spring and summer.
While we don't know what he told the sports leaders because the ground rules for the call required no public disclosure, the Associated Press reported a source briefed on part of the conversation said that commissioners told Trump they are working on multiple season-resumption plans, but cautioned nothing can move forward without clearance from public health officials.
That certainly sounds like a reasonable, bedrock position. But will the health officials' opinions be allowed to prevail over Trump's itchy impulse to re-start the economy?
Trump doesn't mandate conference calls with any industry's leaders merely out of curiosity or concern. His track record is clear: He wants something for himself. Just ask Ukraine president Volodymyr Zelensky.
This is my speculation: Trump wants big-time spectator sports unified and on his side when he says, "go."
Whether that green light happens with the approval of those who know best about relentlessness of pandemics will be the political apex of the crisis.
Among the world's health-care organizations imploring Trump to maintain the restrictions that help flatten the curve, the fear is that he will say — as he often has since Fox News tipped him to the old medical saying — the cure is worse than the disease. And mean it.
Trump does not care nearly as much about the welfare of citizens and their beleaguered medical workers as he does about the economy. He believes the restoration of high stock-market values is the single greatest enhancer for his re-election chances in November.
If you've followed his rhetoric the past week (and I have, so you didn't have to; you're welcome), Trump used as a benchmark the estimate offered by the credible Dr. Andrew Fauci of a national death toll of 100,000 to 240,000 from COVID-19 if the stay-at-home restrictions of the CDC and more than 40 governors are followed closely.
Fauci also warned Trump that if restrictions were abruptly dropped and everyone returned to work and play by the Easter weekend, as Trump wanted, the number of deaths would inflate to an estimated 1.6 million to 2.2 million.
Trump seized upon 2.2 million as his doomsday figure.
He repeated the figure 16 times in one daily briefing, deploying a tactic used during earlier scandals with simple terms like "witch hunt" and "hoax" to manipulate the minds of the uncertain.
In Trump's narrative arc, if and when COVID-19 deaths slow to any number significantly fewer than 2.2 million, he wins. To him, it's a number, not people. As he said in a briefing a week ago, "if we have between 100,000 and 200,000, we altogether have done a very good job."
If the numbers go higher, he will claim that the result is the fault of Fauci, the medical professionals, the governors, the media, China, windmills or the people who talked him out of buying Greenland.
But the number, even at its minimum projection, is not a "very good job." Not at all.
Particularly when a sorrowful chunk of the dead will be the doctors, nurses and first responders who put their lives on the line daily to save the rest of the 240,000 and their families, and to spare the rest of America.
For those of us old enough to remember the Vietnam War, the tactic is mindful of how the political leaders (mostly Democrats) and military generals manipulated numbers and moved goalposts to make it seem as if the U.S. strategies and operations were succeeding, when the opposite was true. The press briefings in Saigon became known as The Five O'Clock Follies.
The war cost nearly 60,000 American lives. No one called it "a very good job."
It's worthy to note that Trump didn't make the call to shut down sports.
He didn't declare a national emergency until March 13. The NBA on its own abruptly suspended its season March 11, and nearly all the other sports leagues and tours followed suit over the next 48 hours. The commissioners and leaders made the call based on information from public health officials. It was seen as a national pivot point in defending against the spread of the virus.
The sports organizations must adhere to that standard when the pressure comes this summer in another call from the White House, this one to help lead an alleged return to normalcy by resuming play.
Difficult and shocking as were the decisions in March to shut down play instantly, even more excruciating will be the decision to start up.
If recent history holds, Trump by then will have fired all his advisors who were restraining him. My sincere hope is that Roger Goodell, Adam Silver, Gary Bettman, Rob Manfred, Don Garber and their colleagues on that call Saturday will unite beyond self-interest to make the safety of fans, players, coaches and staffers an unshakeable first priority.
They would share the role of national arbiter of safe social behavior in public.
It would be a terrible position, standing against a president so ruthlessly vindictive who takes disagreement personally. But there is no other humane choice, except to hope for a vaccine. That job is already being done by everyone else.
Rationalizing his desire for an early return of sports, Trump said Saturday, "Their sports weren't designed for it. The whole concept of our nation wasn't designed for it."
Critics can debate how obtuse and irrelevant the remark was, but the statements do offer up a clear counterpoint: America wasn't designed for a president who put himself ahead of country in a 100-year global crisis.