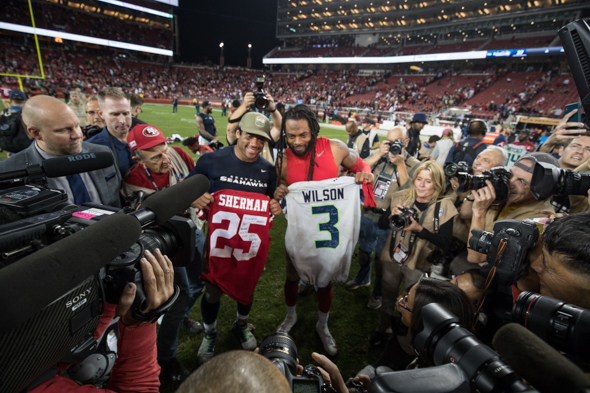 Some issues remain undecided, but it seems as if players negotiating with the NFL about the start of the season have succeeded in leveraging the pandemic to eliminate a blight upon the heartland.
There will be no exhibition football games in 2020.
The public-health disaster and its subsequent restrictions preclude a proper national celebration. That doesn't mean you can't throw glitter and yell hosannas at someone six feet away.
Never was there a more empty sports vessel than fake pro football, with the possible exception of Howard Schultz. The public was charged full price to watch players 60 through 90 on the roster fight to be No. 53 for the opener. And all such hamstring-pullers were televised regionally and some nationally.
The scam has gone on for decades, yet accepted with a sort of a collective Trump University-level shrug. I get the value proposition about players needing practice time on the field and coaches wanting game conditions to test people and plays. But nobody besides them needs to see it, especially to pay to see it.
When I buy a theater ticket to see a movie, I don't need to see Tom Cruise huddling with scriptwriters or arguing with the lighting crew. I just want see him running from rooftop to rooftop beneath a spray from a helicopter gunship. The film industry and I have an understanding. Not so for pro football.
The elimination of preseason games, at least for 2020, was one several concessions made by owners Tuesday to keep the potential season between the guardrails, according to multiple media reports.
Somehow, the sides have waited until now — the Seahawks and most teams are supposed to report to training camps Tuesday — to bargain terms and conditions to traverse covid-19 without a net; that is, no bubble.
Our statement on Covid-19 testing procedures: pic.twitter.com/6mYF3aK0jm

— NFLPA (@NFLPA) July 20, 2020
Since things epidemiologically get a little worse every day, players grow more apprehensive. It's their butts, as well as their families' hindparts. So the players unfurled a clever ploy Sunday that gave them instant leverage.
They avalanched Twitter from all directions, claiming victimhood with the hashtag #WeWantToPlay. Since the audience is a sports nation that feels as players do — vulnerable to nature and to a leader who abandoned his post — they won the day. The owners sank like a tweet from Eric Trump.
One of the most effective torpedoes was fired by the increasingly emboldened Russell Wilson.
I am concerned.
My wife is pregnant.@NFL Training camp is about to start..

And there's still No Clear Plan on Player Health & Family Safety. 🤷🏾

We want to play football but we also want to protect our loved ones. #WeWantToPlay

— Russell Wilson (@DangeRussWilson) July 19, 2020
Nothing beats playing the preggers card to make the owners seem like the most dastardly of scoundrels. Russell, my man, you've gone from the house guy to insurgent.
Having once agreed to go to three fake games, the owners dropped to two, and settled for none. The owners wanted less covid-19 testing, the players got more. The owners wanted more padded practices, the players got less.
If the players are Muhammad Ali, the owners are Chuck Wepner, the Bayonne Bleeder.
Still to go is an argument about how to share revenue losses regarding the absence of fans in-house, which is almost a certainty as virus cases continue to spike in numerous NFL states.
The owners seek a big cut in the salary cap of 2021 to off-set 2020. The union wants to keep the cap flat at $198.2 million per team, and spread the damage over future caps from 2022-30.
But that's a money issue that can be tabled until after the safety protocols are in place. Negotiating tactics aside, the players have to feel as secure as this scheme will allow, then get themselves physically ready after previous practices in a mini-camp and organized teams were lost to the virus.
It's been a long time since real ball. The calendar has been kinder to the NFL than any other team sport. Pushing the first games into September provides time to see whether the U.S. can lose its World's Dumbest Rich Country title.
Everyone understands that the football-injury risk is going be higher, as will be the frequency for mistakes by rookies and lameness by new coaching staffs.
Most of all, NFL and MLB are taking the biggest chances as the only major team sports trying to pull off a season outside a bubble. They are traveling to road games, living in  homes and colliding with each other on the field of play, swapping bodily juices in  inevitable disregard of social distancing.
Once the protocols are known, it's likely at least a handful of NFL players will opt out. The debate between health and money is the great unknown, particularly if more than a trickle of players in camp prior to padded practices test positive. If transmission can't be stopped then, travel and games won't make it better.
But at least if a player gets thrown into 14-day quarantine, he'll know the hill he went down on wasn't a sucker's play of a fake game.