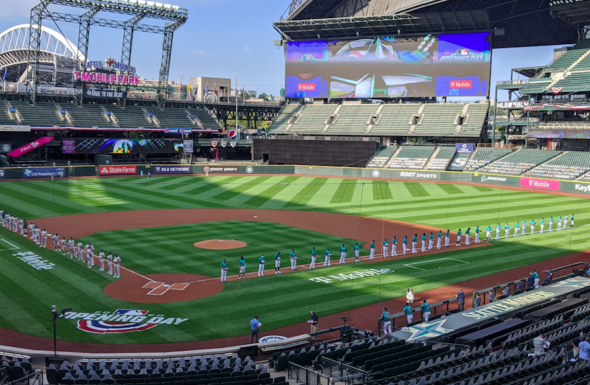 John Fogerty's Centerfield is as ubiquitous and celebratory a song as there is in the audio armory of sports-venue music. It was the first thing up Friday on T-Mobile Park's video screen as the Mariners tried to navigate a home-opening "ceremony" in the bizarro-world of operating big-league sports in the middle of a bigger-league global catastrophe.
This video version was sung by Ben Gibbard, best known as lead vocalist of Death Cab for Cutie. Sitting on a stool and accompanying himself on acoustic guitar, he rendered the high-energy song slow and soft. I didn't expect the impact.
I imagine the converse would be like Rick Rizzs singing the blues. It seems implausible.
Gabbard made Centerfield mournful.
Perfect.
As the final line dropped gently, "Look at me, gotta be, centerfield" in the emptiness of the cavern, some of us looked around as if we had been hit by a bucket of wistful.
"I thought it was awesome," said Mariners manager Scott Servais. "It was one of the coolest things I've seen in a long time."
Fortunately for the Mariners, the rendition wasn't part of a eulogy. They beat the Oakland A's, 5-3 (box), Taijuan Walker was borderline brilliant with a one-hit shutout over seven innings, the Mariners are 4-4 and nobody is publicly reporting any symptoms.
In a pandemic, clutch the straw as hard as possible. In a 60-game season, the phrase "small sample size" takes a tumble down the stairs.
Whatever the chances of MLB finishing this gambit by letting its labor force work and travel for two months outside of a bubble, the players need to manufacture a day-to-day illusion of normalcy.
Sure, the 8,000 fan cutouts look from the back like tombstones. But from the front they don't look like an empty seat. The recorded crowd audio murmurs and exults with the action, the music between innings and during walk-ups helps distract.
Even having Gov. Jay Inslee throw out the first pitch — he's no Anthony Fauci; a high lob reached the plate — suggested that it was possible to break away from from the relentless political brawl for a little ball.
"I'm biased, but the last two places we were in (Houston and Anaheim), we blew them out of the water tonight," Servais said. "I tip my cap. We have a shorthanded crew that's allowed in the ballpark. But the guys really appreciate it, along with the cutouts.
"It's hard to get a feel for that (watching) at home, but when you look up and you see 8,000 cutouts, it's pretty awesome. It's got a way different feel than what it felt like on  the road. We might have a home field advantage."
Baseball's Opening Day is a ritual unlike any other in sports because it ushers in a voyage, like a crowded dock for an ocean liner's launch. But there's no voyage this time; it's a whitewater raft trip. The season was more than 10 percent done before the home opener, which came on the final day of July with a game-time temperature of 79 degrees.
Here's how fast things are moving: Walker went from stiff to star in one outing, and was a better pitcher Friday than when he was a 170-inning guy who won 11 games for the 2015 Mariners.
In his 99th career appearance, he gave up a double and two walks with 94 pitches, six days after a 3.1-inning outing in Houston when he gave up seven hits and five earned runs.
"It seems like he's such a different pitcher now because the off-speed stuff is better than his first time around here," Servais said. "Back in '16, he was very reliant on the fastball. Some nights he had a curve ball, some nights he didn't. He didn't really have much else after that.  He's still developing a change-up. His kind of slider-cutter has really come along. There's more go-to pitches."
After Tommy John surgery in April 2018 chewed up his previous two seasons with the Diamondbacks, Friday was a hallmark moment, especially in the fifth inning when he struck out the side. The only hit was a leadoff double in the fourth inning by Ramon Laureano.
"It was just fun going going deep into the game," he said. "It's been a long while, but I felt good, didn't feel tired, like I was breathing hard. I feel like I could have gotten more, but we got the win."
It was the fourth-longest scoreless outing of his career, longest game since July 2017 and first win since September of that year.
Even though he seems he's been around along while, Walker, who was once likened athletically to Cam Newton, is only 27. That's the only evidence Friday that time slowed down.