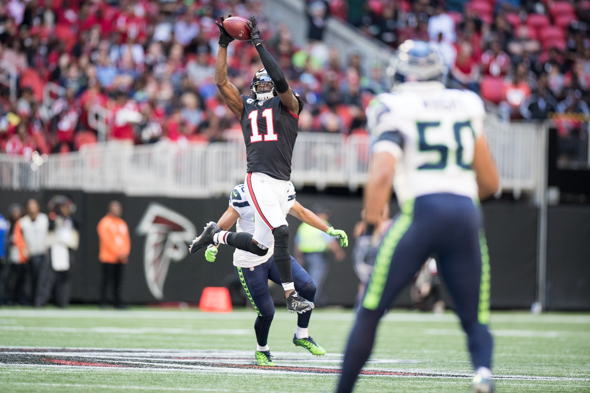 The verdict on the 11-5 Seahawks of 2019 was that it was an otherwise ordinary team that had the extraordinary Russell Wilson and much good fortune, including drawing a foe in the playoffs that was more broken than was Seattle.
Or have you forgotten the Eagles played most of the game in Philadelphia with 40-year-old Josh McCown at quarterback, in the first playoff game of his 17-year NFL career?
He literally was limping toward a potential game-tying score before being stopped inside the Seattle 25-yard line late in the fourth quarter. The reason he was in the game was because starter Carson Wentz wasn't, having been dispatched early after a hit to his helmet from (all together now):
Jadeveon Clowney.
Although Clowney's hit drew loud condemnations from the sellout crowd, he drew from officials neither penalty nor fine, because it was ruled that Wentz had not given himself up as a runner on the play.
Wentz dives forward on this play against the Seahawks and takes a helmet-to-helmet shot to the back of the head from Clowney. There's no call because refs said he didn't give himself up. #Eagles

¯\_(ツ)_/¯ pic.twitter.com/TbMFLHvVGZ

— Brandon Lee Gowton (@BrandonGowton) January 6, 2020
The no-call was dubious, but the hit was real enough to have changed the game.
We revisit the affair now, at the beginning of the 2020 season, to illustrate a couple of things: The Seahawks no longer have a game-changer on the defensive line, and even with Clowney, the defense allowed McCown to complete 18 of 24 passes for 174 yards and a QB rating of 94.8.
It's relevant because in week eight at Atlanta, where the Seahawks open the regular season Sunday, another senior backup, 38-year-old Matt Schaub, was allowed to complete 39 of 52 passes for 460 yards and a rating of 99.8.
Replacing injured star Matt Ryan, Schaub hadn't started a game since 2015, and threw 16 passes in the previous three years before scaring the bejeezus out of Seattle. He went to All-Pro WR Julio Jones 10 times for 152 yards, helping the Falcons out-gain Seattle in the second half 348-82.
The Seahawks still won, 27-20, because they were up 24-0 at halftime.
The good news for Seattle this week is that Schaub won't play because Ryan is healthy. The bad news is that the Seahawks defense, especially the pass rush, isn't better, at least for the opener.
Free agent Clowney ended his seven-month dither Saturday by signing with Tennessee for a single year reportedly for $12 million, plus $3 million in incentives. Throughout most of the off-season, the Seahawks could have afforded that by cutting or restructuring contracts of other players.
That they didn't make the move suggests three things:
They suspect he has physical limitations for a 16-game season
With the season underway, they don't want to burn through their remaining cap space, said to be $6.5 million, seventh-smallest amount in the league
They screwed up in allowing him to become a one-and-done in Seattle without a clear Plan B — unless it has yet to be revealed
All three likely are parts of the story. As Carroll likes to say gleefully, "You'll never know." But the outcome starts to play out Sunday.
Carroll was asked Monday whether the departures of Clowney, and DEs Branden Jackson (injury), Quinton Jefferson (free agency) and DT Al Woods (free agency), along with the adds, have improved the D-line from a year ago.
He didn't answer directly. He said he liked the speed of the outside guys, liked the sack numbers (eight each) that Bruce Irvin and Benson Mayowa had with their teams a season ago, and would like to see DT Jarran Reed play in 2020 as he did in 2018,  not the throwaway season in 2019 that began with a six-game suspension.
"Now that he's back in he's in great shape," he said, "if you can get his numbers anywhere near where he was (10.5 sacks working next to Frank Clark) to add to it, we can be in good shape."
He also mentioned DT Damontre Moore, signed last week, as a depth help.
What does he want to see out of the 10-man group right away?
"We definitely want to see more activity," he said. "We want to see a better job done on play-action passes and the containment of it. We want to give our coverage a chance to make some plays that we missed out on last year.
"The early season will tell us."
True. The first three QBs they face are a healthy Ryan, a rejuvenated Cam Newton with New England, and Dak Prescott of Dallas, playing under a franchise tag and eager for an extension.
For what it's worth, Pro Football Focus in mid-July graded out the Clowney-free Seahawks as having the worst D-line in the NFL, writing, "The Seahawks' defensive line was hugely dependent on Clowney in 2019. If they don't have him for 2020, they need to find a new source of pass rush."
In the past, the Seahawks' source for fixing deficiencies has been in-season trades for players such as Clowney, Marshawn Lynch, Duane Brown, Sheldon Richardson and Quandre Diggs.
But this year, they have diminished draft capital after trading two first-rounders for SS Jamal Adams, and enter a diminished marketplace because all clubs know less about their own personnel, much less players on other teams.
It's unscientific to suggest the Seahawks are starting out unlucky. Besides, it's really not true: At least Schaub and McCown aren't starting anywhere.