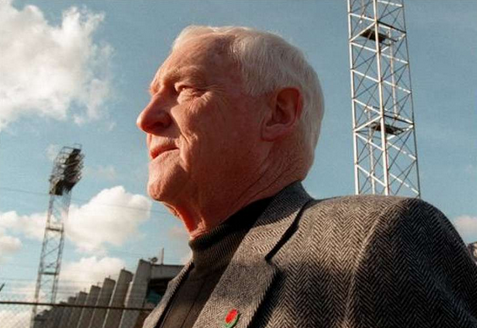 In 1992, KIRO radio lured away Dave Grosby from KJR-AM with a package that included the opportunity to work on broadcasts of Washington State University football games.
"You'll be the analyst at first," management told him. "But Bob Robertson is an old guy and he's almost done. You'll be doing the games before you know it."
Grosby took the deal and looked forward to eventually becoming the new voice of WSU football. He never got his shot.
"Turns out, Bob only had 26 more years left in him," Grosby said, laughing.
What Grosby got instead was a chance to spend time in the company of a legend. Robertson died on Labor Day at 91. His broadcast career had a staggering longevity and included a 52-year run as the voice of Cougars athletics during which he was on mic for 589 football games.
About half of those games were in Pullman. Those weekends always began the same way. Robertson would set up shop in a corner booth in a watering hole at the University Inn in Moscow, ID, and spend the evening visiting with an unending line of fans.
"Like an emperor from ancient Rome, he would welcome his supplicants one at a time," Grosby said. "Everyone wanted to meet him, take a picture with him, and invariably buy him a drink."
At one point, Grosby wondered aloud about how many drinks Robertson would wind up buying on a typical Friday night in Moscow. He said Robertson looked at him and arched his eyebrows.
"Buy?!?" he said incredulously, a humorous but accurate tone meant to convey the truth: The voice of the Cougars did not pay for drinks when Cougars fans were around.
Jeff Aaron worked with Robertson for several years as the sideline reporter on Cougars broadcasts. One year in Phoenix the night before a game against Arizona State, Robertson spotted Aaron leaving their hotel. Aaron's friend (and WSU alum) Kenny Beyersdorf was in town for his bachelor party, which was happening at a nearby restaurant.
"They are all Cougar fans," Aaron told Robertson. "If you want to come, they'd love to meet you."
Aaron thus arrived at a bachelor party with a surprise that elated the groom-to-be. Not a case of booze or a busload of Las Vegas show girls, bu the septuagenarian voice of the Palouse.
"Kenny looked like Ralphie in the movie 'A Christmas Story' when he finally gets his Red Ryder BB gun," Aaron said. "Bob was great. He sat and drank wine and regaled everyone at the party with Cougar stories. He was so gracious. He loved being recognized and loved talking to fans."
As he aged, Robertson would occasionally make mistakes on broadcasts. While they were noticed by some fans, they were forgiven by the fans who mattered most.
"People who weren't alums of WSU would sometimes say, 'He sounds older. He doesn't sound as good,'" Grosby said. "Alums would look at people who said that like they were crazy."
Robertson built unique credibility with WSU fans, many of whom remembered him from their days as students. When they came back to Pullman as alums, they heard that same voice.
"He remained your friend from college, and he's just like you remember him as opposed to your other college friends who all seem to change," Grosby said. "You come back for a game or a reunion and there he was, looking the same and sounding the same."
Robertson's voice had a unique and familiar feel, so much so that just about anyone who has heard it has tried to imitate it. No one did that better than veteran Seattle sports broadcaster Bill Swartz.
"I was a communications student at WSU, and I adored his broadcasts. I would mimic him calling touchdown passes from Jack Thompson to Mike Levenseller. Then, I became part of the Husky broadcast crew and we would poke fun at the Cougs."
His impersonation of Robertson became a go-to gag on the broadcasts. Swartz would put the voice of the Cougars in all kinds of odd and humorous situations. Occasionally, he'd hear from fans who didn't see the humor. Swartz didn't know how Robertson felt until one day when they shared an elevator at Husky Stadium.
"I was petrified. I introduced myself and told him I was a huge fan, that I had grown up listening to him and really admired his work."
"Hey! You're that guy who imitates me," Robertson said. Swartz figured he was about to get a blast of disapproval.
"Listen, Swartz," Robertson said. "If I go down in the fourth quarter, and I pass on, nobody will know the difference. You come up from the sideline, grab the microphone and start talking."
That day, a friendship began. Robertson recognized that imitation is the most sincere form of flattery and always got a kick out of Swartz. Robertson thought enough of his mimic that in 2002, when the Cougars needed a sideline reporter for the Apple Cup broadcast, they hired Swartz, who was no longer on the UW sideline.
Another time, Robertson invited Swartz over to his table at the University Inn. He was sitting with his wife, Joanne, and wanted Swartz to do his impersonation. Joanne Robertson laughed when she heard it and said it sounded just like Bob . . . when he was 35.
"He was such a good sport about it," Swartz said.
Robertson was the last broadcaster in America to do live radio re-creations of baseball games. Owing to an ownership group that didn't want to pay for him to travel, he did Tacoma's Pacific Coast League road games for years by getting telephone reports from the road ballpak, then re-create what had happened in a studio in Tacoma using sound effects and an incredible flair for storytelling. Here's a 1991 story from si.com that explains Robertson's wizardry.
He was also thought to be the only broadcaster who used an abacus to keep track of stats during games. The abacus dates back to at least 2700 BCE. Robertson figured if it was good enough for the Mesopotamians. it was good enough for him. The first time Grosby did a game with him, he was stunned as he watched Robertson slide the beads of the ancient machine back and forth.
"How?" was the only word he managed to get out. Robertson explained his system in detail. Grosby said he gave his brain about a minute to try and figure it out and then just "stopped thinking about it."
Robertson kept working after Joanne died in 2011, but those who knew him best say that was a blow from which he never recovered. "She traveled with him all the time," Grosby said. "She was a fierce protector of him."
Finally, in 2018, after broadcasting a Cougars game, he felt dizzy and disoriented. He decided to call it a career at 89 after almost 70 years of broadcasting college, pro and high school sports.
"He was the hardest-working guy I ever saw in this business," Aaron said. "He would take any assignment; do any game broadcast he was asked to do. When he had a microphone in his hand, that was the happiest place in the world for him."