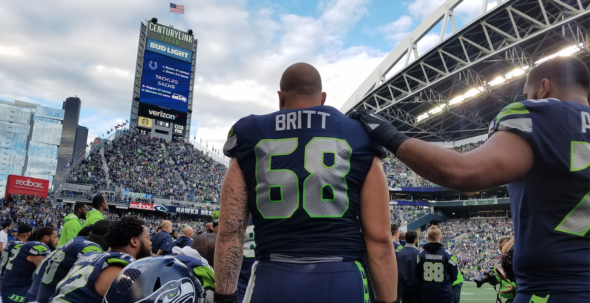 As with many of his teammates, players around the NFL and the rest of sports, Seahawks LB Bobby Wagner would like to see some tangible results from anti-racist activism.
"I don't even know when it was when we sat down and and had that conversation," he said this week about the time after the May 25 murder by police of George Floyd, triggering a global eruption of protests. "(But) after everything that's happened, I can't say that it's gotten too much better since then."
Fundamental change in cultural thinking is slow. A fundamental driver in sports is instant gratification. To ask young men, handsomely compensated to perform in the moment, to also contribute cleverly to reversing an American scourge that has vexed generations, is hard.
Nevertheless, they persist.
The sports world watches and takes some cues. Because it's the NFL.
"I think everybody's trying to figure out ways that they can impact their community and impact the world," Wagner said. "It's important for everybody to be really conscious about (racism).
"I don't even know if it's necessary, about the gestures. The gestures have been done."
The ambivalence in Wagner ironically manifested in the NFL opener Thursday night in Kansas City, where the Super Bowl champion Chiefs hosted the Houston Texans.
Eager to see pro football again, as well as what social statements were made, the world saw the NFL's two negotiated statements painted into the back of the end zones, "End Racism" and "It Takes All of Us." Well, hard to argue with, or be inspired by, those bromides.
The Chiefs, with one exception, stood for the anthem, while the Texans boycotted and stayed in the locker room, as they did for "Lift Ev'ry Voice and Sing," sometimes called the Black national anthem. So which is it — all stand, or all boycott?
Then both teams just before kickoff linked arms to form a single line down the middle of the field as a "gesture of unity."
Guess what many in the socially distanced crowd of 17,000 at Arrowhead Stadium did?
They booed unity.
#economicanxiety https://t.co/Hq4ZM7xEsa

— Mehdi Hasan (@mehdirhasan) September 11, 2020
Al Michaels, Chris Collinsworth and the rest of the NBC broadcasters carefully avoided mention of the fans' reaction, a sort of silent nervous cough.
The whole well-intentioned pre-game had the awkwardness of a junior high dance, all the kids wanting something but not knowing how to get it.
I asked Wagner if the Seahawks players had made plans for their game with the Falcons in Atlanta.
"As far as what we would do (Sunday), everything like that stays in-house," he said. "Whether it's individually or as a team, that stays in-house."
Well, why spoil the surprise?
Then again, I don't know why 53 football players would have any more luck getting a unanimous, or even majority, agreement on something important than any 53 young American workers selected at random from one office or plant.
But degree of difficulty is rarely a hard stop for a professional athlete, only a challenge. Particularly those influenced by Pete Carroll.
"This isn't something we just want to put in our back pocket and forget about it," the Seahawks coach said. "It's too important."
In fact, something important did get said by some NFL players Thursday.
The Miami Dolphins players released a video that was disarming in its blunt honesty about the emptiness in the NFL's attempt to manufacture a collective American consciousness about the racial divide.
BREAKING NEWS: The@MiamiDolphins players will stay inside for both national anthems. They express their discontentment with what they call "fluff and empty gestures" by the @NFL pic.twitter.com/ghUktHhPt9

— Jay Williams (@RealJayWilliams) September 10, 2020
Among the many truths was one passage that addressed those who have yet to speak or act personally: The vast majority of NFL owners. Club PR statements and commissioner Roger Goodell don't count.
We need to change hearts, not a response to pressure. We need owners with influence and pockets bigger than ours to call up officials and flex political power.
As has been written here before, meaningful influence can be exerted in the national standoff only if sports owners risk their emotional capital, not their money. That includes Jody Allen, the Seahawks owner who early in her tenure has stayed so completely in the background she may be confused with the wallpaper.
Ninety nine percent of the time in pro sports, that would be salutary behavior for an owner.
This is the one percent.
LB K.J. Wright was asked Thursday whether Allen should take a leadership role.
"It would definitely help," he said. "I believe so far Jody's been amazing. She speaks  with coach Carroll and has let us know that whatever you guys decide to do, you have full support from us.
"If owners could speak up that would be amazing, and use their voice use their influence to make change . . . you can meet with whoever you want."
Wright was as careful and polite as he could be with the answer. But it is unlikely that Allen and other ownerships would come up with courage and conviction at the same time.
So players must do what they can. Wright organized a team campaign to wear "We Want Justice" T-shirts during every pre-game warmup. All Seahawks appearing lately on Zoom interviews are wearing "Vote 2020" T-shirts. T-shirts can go only so far, however.
That brings up a reader question: What do I think should be done?
I'm not sure.
As someone who commits opinion journalism in public and answers readers, I tend to believe that in the past several years, with regard to readers who don't like racial politics with their sports, nothing anyone says or does will influence them. Those readers who support players' aspirations tend to accept whatever is offered as meaningful, even when the gestures are hollow.
For both sides, what I can do is pass on useful information, and offer a thought that may seem contradictory to the theme here.
According to a Washington Post poll released this week, a majority of Americans, including a majority of football fans, say it is acceptable for professional athletes to kneel during the national anthem, and an even larger percentage say athletes should use their platforms to tackle social issues.
That represents a startling reversal from just two years ago.
The story can be found here. A chart from the story visually offers a snapshot of the trend.
As you can see, there is some evidence some minds are changing. Events, words and deeds are having an effect.
It's working.
All protest movements are inevitably messy. They start out reactive to some miscarriage of justice, and they take years to become coherent and proactive. They are rarely monolithic, and often fractured by different priorities, jealousies and confusion. Not every athlete is as charismatic or as committed as Muhammad Ali, Arthur Ashe or Kareem Abdul-Jabbar.
But over time there develops a clarity of vision and a methodology of means.
I have no idea where we stand on the timeline for this movement of empowering athletes to shape their sports and the larger world. But in the long run, it won't matter that the Thursday night gestures in Kansas City were hollow, or that the Dolphins video burned holes though the NFL's insincerity, or who was wearing what T-shirt.
It matters that athletes keep pushing, pressing and be willing to make themselves and others uncomfortable. Everything doesn't have to work. Anti-racist activism just has to avoid, as Carroll said, being put in the back pocket and forgotten.
They must persist. It's working.