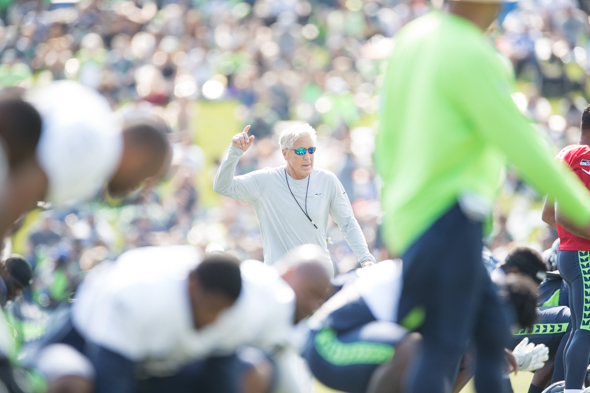 After all the disruptions this year to daily life as well as to sports, and their calendars, rules and customs, any NFL team could be forgiven for spitting up in its opener. But the Seahawks not only didn't spit up in Atlanta, they cooked.
On the road against a solid Falcons team, they were up 31-12 with 11 minutes left, and only a generous prevent defense eliminated use of the word rout.
The 43 in Minneapolis put up by the Green Bay Packers was the only offensive production on the first weekend to exceed Seattle's in the 38-25 win.
"I thought it looked like a really good demonstration of executing for a first game," said coach Pete Carroll Monday, "maybe as good as we've seen."
The relative efficiency suggests the Seahawks made it through the travails as well as any team. Obviously the football reasons for that are many (two being QB Russell Wilson and SS Jamal Adams). Carroll also cited a non-football factor that's hard to quantify.
Referring to multiple Zoom meetings over the summer regarding Black Lives Matter and anti-racist activism, Carroll, responding to a question, said on his Monday ESPN 710 radio show that the intensity of those conversations "took us to a place where this team is going to forever be a close team."
He described a sensory feature of  Zoom meetings that are impactful, perhaps more than large, in-person meetings.
"There was an intensity to the exchanges, in the sharing of our stories, and the interaction we had on that screen," he said. "You're just looking at the person that's telling you, and everybody's tuned in.
"I think also there's a solitude that (speakers) feel when you're on your own, in your own home. There's an openness that comes from that, that was really powerful."
Carroll described discussions about race that even teammates who think they're friends rarely discuss for fear of distracting from the professional objectives.
"White guys and Black guys trying to explain what it feels like" to each other, he said. "There's a big spectrum of what it feels like. That in itself has been so revealing to so many. Black guys have learned how hard it is for white guys to see what the heck's going on. White guys, they can't deny the fact of what it is to live a Black man's world.
"It generates closeness and a connection. You really can't really understand somebody until you really see them and hear them."
In the pre-game Sunday, the Seahawks and Falcons agreed upon a couple of non-anthem gestures.
The teams gathered separately in opposite end zones for the playing of "Lift Every Voice," considered the Black national anthem. After the kickoff that went into the end zone, all 22 players on the field took knees for several seconds to protest racial injustice, thus avoiding the mis-characterizations around the national anthem.
As for the anthem, the Seahawks players were free to do as they pleased. Some stayed in the locker room, the rest were on the sidelines, where some stood, some knelt, some sat, some prayed. Adams stood and held up a black-gloved fist.
"I wanted to not only stand strong, I wanted to show that I'm a Black man and I'm proud to be Black," Adams said post-game. "That's what I kind of wanted to show with my fist held high."
The absence of coordination reflected the fact that Black players, as with any ethnicity, are not monolithic in their views, and their willingness to express them. It also reflected the fact that Carroll learned something from the episode in 2017 after President Trump, in a deliberately provocative Friday speech, called for owners to fire players who followed the lead of Colin Kaepernick and kneeled during them anthem.
Arriving for a game in Tennessee, the Seahawks spent most of Saturday in intense meetings about how to respond Trump's incendiary remarks. The emotional energy they spent played a role in the Seahawks' 33-27 loss the next day. Carroll learned a lesson.
"It just affected us too much to the negative, because it was so emotional," he said later at his Monday presser. "It was just too close to game time. That was a mistake on my part. We had to meet on it, we had to do it, but it just sapped us some. We didn't have our normal juice that we have.
"Because of that time, and all of the the other things we've been through — not all the same guys, but the same leadership basically — we've been able to navigate now and see things differently. We just see it more clearly."
Carroll said his players knew then relatively little about Black Lives Matter. He invited to the VMAC renowned civil rights activist Dr. Harry Edwards to help coaches and players talk to one another.
"Harry taught us about relationships," he said. "He taught us about listening. He taught us about the value of sharing your stories."
As to what this has to do with winning football, well, Pro Football Focus and the other analytics sites have zero metrics for this sort of thing.
But as the NFL attempts to conduct a season in the pending political hurricane around the most important presidential election since 1864, it seems worthwhile to prepare in any way for distraction and divisiveness by knowing who among the professional colleagues has one's back.
You know, proactive instead of reactive, as were the Seahawks in 2017.
"So, I may be wrong," Carroll said about going to lengths to connect players with each other, him, and the world outside of football. "I don't think so, though. I think it's going to be a very important part of our makeup."
The early returns from Sunday suggest the Seahawks have the lead in the non-metric of crisis management.