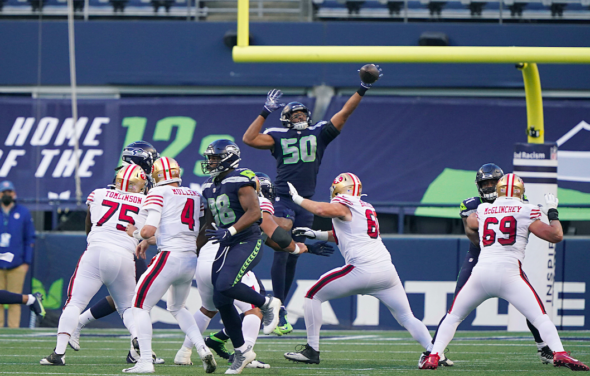 The radiance from two more touchdown catches in DK Metcalf's ascending career tends to blind some observers as to what else is going on with the Seahawks. But the Apollo launches never would have succeeded without a lot of unglamorous work done by regular folks on the ground.
Which is why a game ball from Sunday's relatively stress-free 37-27 victory (box) over the broken San Francisco 49ers should be shared among engineering interns DeeJay Dallas, Alton Robinson, D.J. Reed, and even Stephen Sullivan, an obscure rookie tight end who found himself a defensive end rushing the quarterback of the defending NFC champions.
"I didn't see this," he said, "in a million years."
Nor did many imagine the Seahawks at 6-1, the NFC's best record, before the season, and even after it started. The defense was so underwhelming that the Seahawks were reportedly thinking of trading TE Luke Willson to the Seattle police for some tire-spike strips.
Instead, coach Pete Carroll tossed the untried into the unfamiliar, and it worked out.
"If you take a look at our inactive list today, you see all the guys that couldn't play," he said, referring to the injured SS Jamal Adams, CB Shaquill Griffin, CB Ugo Amadi, DE Benson Mayowa and RBs Chris Carson and Carlos Hyde. "Guys had to step up and play first-class football, and guys did it.
"I was inspired by it. I was inspired by their toughness, by their guts and the way they handled it, through the whole week."
We all know Carroll gets a little gee-whizzy in these moments, but the previous week after an injury-filled OT loss at Arizona was all about black-belt roster slapdash. The Seahawks got away with it. He should be thrilled.
They brought in new players for the practice squad, elevated players to the active list, made a big trade and still had three injured running backs. Dallas, the rookie fourth-round pick from the University of Miami, didn't know he was making his first career start until Sunday morning. He was so casual, he didn't recollect how it came about.
"I really don't even remember when they said it, I guess it was before game-time," he said. "But it was business as usual. Everything was the same. I prepared the same way, I practiced the same way. Not worried at all."
Business as usual. Dallas rushed 18 times for a modest 41 yards and caught five passes for 17. Doesn't sound like much, but it also included two touchdowns, a two-yard pass and a one-yard run. The Niners weren't looking for him. And he should have had a third but barely stepped out of bounds.
"I was sick about the first one," he said. "But I had guys like Metcalf and (QB Russell Wilson) telling me it'll come back, it's going to come back. And then it came back two-fold."
Also coming back was the defense.
After wins over New England and the Los Angeles Rams, the Niners (4-4) had reason to believe they were on an uptick, especially against defense that had given up the equivalent of Manitoba. But at the half, SF had 116 yards of total offense, trailed 13-7 and looked like a team that has had up to 20 players on injured reserve.
Seattle had injury problems too. It also had LB Bobby Wagner, who once was part of greatness, and was really pissed off to be part of badness.
.@Bwagz is DANGEROUS.

He comes after Jimmy Garoppolo for our second sack of the day! 💥

📺: #SFvsSEA pic.twitter.com/2NHqv0NicS

— Seattle Seahawks (@Seahawks) November 1, 2020
"I think you have to sometimes show the guys what focus looks like," he said. "A lot of guys
are young, so I was really locked in and prepared this week. I just wanted to come out and have a lot of energy.
"It was a really big step, especially for (new) guys. We had other guys out,we had guys playing in other positions that they have never played before. But they went out,
executed and did great. I'm definitely excited about the step in the right direction."
He might have had his best game in the past couple of seasons — 11 tackles, two sacks, four QB hits and three tackles for loss. He was the central figure in a heavily used package of blitzes that harassed QB Jimmy Garappolo (three sacks and eight hits) and chased him from the game with a re-sprain of an ankle that previously sidelined him. According to ESPN Stats&Info, the Seahawks blitzed on 23 of the 49ers' 45 dropbacks (51 percent), the highest rate since 2010.
Niners coach Kyle Shanahan was aggrieved at how successful Seattle's blitzes were.
"They brought a lot of blitzes and when they brought them early, I thought we had some chances," he said. "A couple of times and they just got to us too fast, and we didn't make them pay for it.
"They were risky with a lot of their blitzes, and sometimes you like that. You have to make them pay, though, and we didn't."
Reed, who played in 31 games for the 49ers before being cut after an injury and picked up by the Seahawks, made his Seattle starting debut memorable with six tackles and an interception on SF's second possession at the Seahawks 13-yard line.
D.J. Reed was right there to grab it and it's #Seahawks ball!

📺: #SFvsSEA on FOX pic.twitter.com/TPM40DyK7b

— Seattle Seahawks (@Seahawks) November 1, 2020
"I've been real excited about him," Carroll said. "I really liked the film in evaluating him. He's a really active player, great quickness, really good instincts. I'm not surprised that he played well. I'm thrilled that we got him. The timing was perfect, with Ugo being hurt."
The offense took the turnover and made it into a Metcalf afternoon — 12 catches and 161 yards, both career highs.
He began it by turning a shallow cross into a 46-yard touchdown by sweeping across the field and speeding past the entire Niners secondary for the game's first score. He scored the second touchdown when he basically posted up a smaller defender in the end zone for a two-yard reception.
New angle of DK Metcalf's 46 yard TD⚡️ pic.twitter.com/xKKmtFfywV

— Parker Lewis (@ParkerLewisJR) November 2, 2020
Metcalf ignited a string of five possessions in the next six that produced four touchdowns and a field goal.
"He's just so frickin' tough," Carroll said. "Whether he's blocking guys, or whether he's catching the ball, or they smack him when the ball arrives, and he stands over those guys when they fall off of him.
"When he caught the ball on the crossing route, I started screaming that they weren't going to get him, because he's just too fast. He just circled the whole defense and put it in the end zone. I don't think they touched him. It was a great play.
"We're so lucky to have him, and to have him emerging into such a dominant football player. He's really something."
Amid all this, Wilson was 27 for 37 for 261 yards, four touchdowns, no interceptions and a passer rating of 128.3. That there were newsworthy Seahawks topics sufficient to send him to the bottom of the column is unusual. Metcalf was eager to offer perspective.
"The 'Russ for MVP' train," he said, "is back on the tracks."
If the Seahawks defense is no longer a caboose full of lead, a deep playoff run is also back on the tracks.