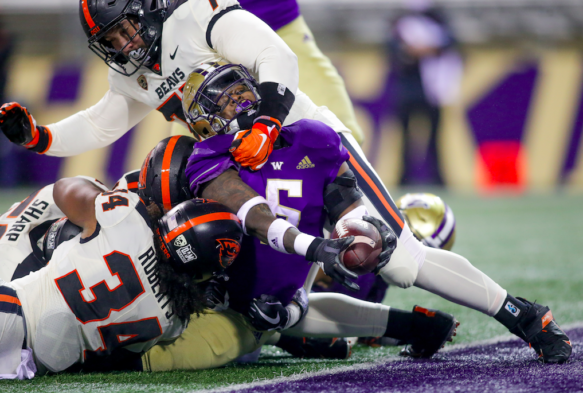 When the first long snap from the final college football team in America to start its season sailed deep into the rain, wind, and quiet gloominess of Husky Stadium, headed toward the worst possible outcome — an opponent touchdown — the curse of 2020 seemed to have settled in Montlake for a Saturday night of sardonic laughs.
Instead, a game from the 1950s broke out. I-formations. Fullback dives. Quarterback sneaks, and taking snaps from under center. Huddles. You knew somewhere — probably hell — Woody Hayes and Bo Schembechler were hugging.
The game was often slow and tedious. A Fourth of July without fireworks. But in the end, Washington beat Oregon State 27-21 (box) and produced a statistic that I would have believed pre-game, given the circumstances of the year and the evening, was impossible.
No turnovers for the Huskies.
A rookie head coach choosing to start a redshirt freshman, Dylan Morris, at quarterback in his first college game seemed scripted for a mess in a steady rain. Especially for a team in dyspeptic circumstances entering its fourth seasonal start (three earlier openers were scuttled by cancellations due to Covid-19) against a team that had the advantage of a first game the previous Saturday.
The Huskies did stagger, especially on special teams that were an evening-long tire fire. But they did not fall down.
"I'm just so proud of those guys for not flinching during this tumultuous time," Lake said. "We said some adversity was gonna happen, and it did, obviously. We made some mistakes and shot ourselves in the foot a couple times. But that is the football I love and I enjoy. I love the time of possession (37 minutes) that we had. We would like that in every single game.
"If we have the ball, most likely they can't score."
His Captain Obvious statement came to life in the fashion of 267 rushing yards in 51 attempts (5.3 ypc) among nine ballcarriers. On a wet night with a youngster at QB, old-school Big Ten ball was the call, especially behind a mountainous offensive line.
It allowed Morris to throw just 24 times, mostly short, completing 14 for 141 yards, totals that would have been higher had several receivers not dropped catchable balls.
From Graham-Kapowsin High School in Pierce County, Morris was well-regarded by numerous FBS schools after a career 40-7 record and 9,815 yards and 99 touchdowns. But he was 6-0 and 200 pounds, shorter than his three rivals for the UW's starting job, and younger than two of them. His freshman year at Washington, he was exclusively on the scout team, where he was voted offensive MVP.
Lake made the call on the QB starter after the team's final preseason scrimmage, but kept it in-house until kickoff, suggesting that he may rotate quarterbacks.
"It was very close, but Dylan did a really good job of not making mistakes — you saw that tonight," Lake said. "He didn't turn the ball over, completed some passes when we needed to and moved the chains. It was awesome to watch.
"He's just got a really good demeanor and a good leadership quality. We grinded it out and got Dylan a win for his first start."
Morris sealed it with his legs. Ahead 24-21 with possession and 9:09 left in the fourth quarter, the Huskies needed a long, slow scoring drive. They ran the ball 10 consecutive times. But a false start penalty left UW with a third-and-18 at the OSU 24. A pass was mandatory.
Morris rolled to his left and saw the defense fall away into coverage. He tucked and ran for 16 yards, then was clobbered helmet-to-helmet by S Kitan Odalapo. After replay review, Odalapo was called for targeting and ejected, and the Huskies had a first down.
Four plays later, Peyton Henry kicked a 23-yard field goal. The defense made it stand when S Asa Turner's interception of a tipped pass closed out the Beavers' ninth consecutive loss to Washington.
Morris also earned himself some locker room cred for bouncing up from a hard lick.
"Seeing him run the ball like that, he obviously took a pretty hard hit and he popped up right away," said RB Sean McGrew. "It was awesome. He's s tough kid, and it was great to see him get up after that and be fine and healthy. For sure, he got some points with the team after that."
Said Lake: "How about Dylan on that key scramble? He's a great decision maker. (The pass) wasn't there, he stepped out of the pocket, sees green grass, and he hit it — and he took a hit."
Another newbie, Jaden Green, came for special praise. Green was the long snapper who, at the OSU 40-yard line, flung his first snap way over the head of punter Race Porter. He chased down the ball and tried futilely to punt. But the ball wound up scooped by OSU's Jaydon Grant, who ran into the end zone for a 7-0 lead.
Green could have been crushed, but he finished the night without further calamity.
"How about this true freshman — first college game ever, and him going through a little adversity," Lake said. "He makes a huge mistake there, then after that, he's settles down and delivered strikes."
Yet it must be said that the mistake was an outlier moment in an evening that played out more reasonably than was anticipated. Stumbling about in the rain and the dark, the Beavers and Huskies could have been expected to produce mayhem every other play in a college football season pickled with it.
Whatever remains of this tattered season as Covid-19 inflames anew, they played a careful game as old-school quaint as in The Before Times. Well done, gents.