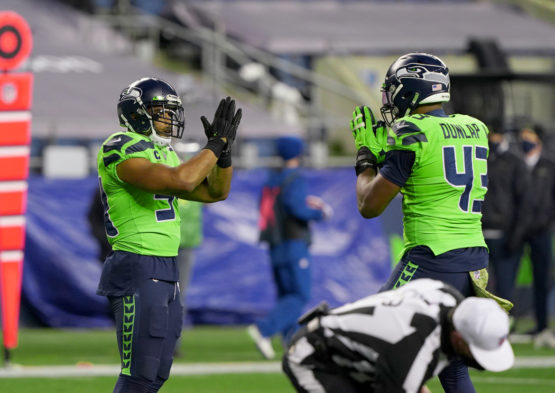 Three losses in four games for a team with high expectations is a great way to turn the innards of fans into knots worthy of a sailor's handbook. Thursday night, the Seahawks untied every one of them.
The 28-21 win over Arizona (box) was perhaps more an organizational triumph than any regular-season game in the Pete Carroll/John Schneider regime:
• The inexpensive mid-season addition of DE Carlos Dunlap, and to a lesser extent, CB D.J. Reed, appeared to be master personnel strokes by GM Schneider;
• The emergency decision to move rookie Damien Lewis from right guard to cover for injuries at center, a position he never played in the NFL or college, was an audacious coaching move, perilous and ultimately successful;
• The mental re-set of Russell Wilson, while mostly of his own doing, was abetted by a game plan that emphasized run-pass balance and risk reduction, to relieve pressure;
• The defense, maligned as the worst in the Judeo-Christian tradition including the Old Testament, in consecutive weeks held high-powered division rivals to 23 and 21 points, and confined the Cardinals' No. 1 offense to 314 yards.
All on a short week, while remaining the only NFL franchise without a Covid-19 positive test.
As a result, the Seahawks are 7-3, and momentarily leading the NFL's toughest division. In the afterglow, the vibe was similar to the days of yore at old CenturyLink Field, before they became Lumenators.
"It felt like the Seahawks that we have all seen over the years," said coach Pete Carroll, who in the previous two weeks, both road losses, said he didn't recognize how his team was playing. "Just a really good night of football. Even with all the guys in and out and the lineup and all that, it just didn't matter tonight. The guys played really well across the board.
"If this works out right, we could be really healthy going down the stretch here."
His hyperbole was so bodacious, it even caused him to pause.
"Is that the epitome of optimism?" he said, grinning. "We're leading the league in injuries and I'm telling you how strong we're going to be down the stretch."
Well, the 49ers and a few other teams would like a word with Carroll about that claim. Nevertheless, the successful deployment of auxiliary forces to thwart the rival, who beat the Seahawks in Arizona 37-34 in overtime Oct. 25, was a feat that seemed to be a stretch after the 23-16 loss in Los Angeles to the Rams just four days earlier.
.@Carlos_Dunlap called game 😤

(via @Seahawks) pic.twitter.com/oSIGK8zBsA

— FOX Sports (@FOXSports) November 20, 2020
None among the interview subjects on Zoom was more ebullient than Dunlap, acquired via trade from NFL purgatory in Cincinnati three weeks ago. He delivered the decisive blow, chasing down QB Kyler Murray for a sack on fourth-and-10 at the Seahawks 27-yard line with 33 second left, ending the Cardinals' shot at a game-tying, or game-winning, score (if they chose to go for two).
The NFL world a week earlier gasped when Murray vanquished Buffalo with what became known as the "Hail Murray" pass in the end zone to star wideout DeAndre Hopkins.
Not this time.
"This is what they brought me here for," Dunlap said, beaming. "I'm just happy I could deliver. You know, (Carroll) was fired up. He almost tackled me on the sideline. That was crazy to see a head coach that involved."
Welcome to our world, Carlos. He's knocked down everybody around here a few times.
Regarding the bigger picture, Dunlap was effusive in his compliments about the Seahawks, particularly how all navigated the perils after the 5-0 start against lesser foes.
"It's just contagious," he said. "The culture from upstairs, to the city, to the valet in the hotel I was staying at when they first put me here. How in tune everyone is, how positive everyone is. Consistently. Even with those two losses back-to-back.
"Everyone was consistently positive; no one was second-guessing anything. Everybody was honest with themselves, willing to work. Acknowledged what we needed to do better, and we worked at it. It's just all the layers of the culture here, it's just positive. Believe in it.
The (player) leaders. They speak it, they follow up, they're out there on the front lines, doing it with you. They lead the way. I'm just trying to find my place."
It's a theme familiar to longtime followers, and always amusing to see the newbies act like Labrador puppies.
The Seahawks' other Carlos, Hyde, had a distinguished return from the heaping pile of casualties. He powered for 79 yards in 14 carries, caught two passes for 16 more, and helped restore the offensive balance missing since he and Chris Carson were injured in the first Cardinals game.  The Seahawks rushed 31 times and passed 28 because Hyde is the kind of power back that Carroll trusts for hard yards.
Hyde was so confident that he imagined himself at the post-game podium.
"I just envisioned myself having a good game, playing a clean game," he said."Not trying to do anything out of the ordinary. Just run the ball, protect Russ, and catch the ball well.
"I had a feeling that I would be talking after the game, and look where I'm at."
Also on the podium, as usual, was Wilson. Quite apart from his solemn demeanor Sunday in LA after three turnovers brought his total to 10 the three losses, he was glowing after having made none.
🚨SAFETY🚨@Seahawks now with a 4-point lead in the 4th!

(via @NFLBrasil) pic.twitter.com/iA4NHg3pl5

— FOX Sports: NFL (@NFLonFOX) November 20, 2020
He was 23 for 28 for a tidy 197 yards and two touchdowns for a 119.8 passer rating. No completion was longer than the 25-yarder to DK Metcalf for a touchdown on the opening drive. He was sacked three times and ran 10 times for 42 yards, generally enjoying the benefits of the return of the running game that injuries took away in Arizona.
"I think the win goes to the preparation column, because I think that we did an unbelievable job of getting prepared for them," he said. "We made it challenging for their defense. They're a great defense with all these different pressures,  so much
versatility. We really did a good job of protecting it and blocking it up."
That the protection held up was remarkable, since besides the shift for Lewis, lightly used Jamarco Jones took over in Lewis's spot at right guard. Then when RT Brandon Shell went out with a sprained ankle, Cedric Ogbuehi stepped in. Yet the Seahawks rushed for 165 yards.
Although Lewis had two holding calls and a low snap that produced a fumble Seattle recovered, he was Wilson's hero.
"He did a tremendous job stepping in there all week, especially on short week," he said. "I thought he was super confident. He adjusted throughout the game. He made great calls. We were on the same page. I thought that to be a rookie, to be such a great guard, and
then have to move to center, not knowing what's going to happen, I thought he did a tremendous job."
Carroll might have tackled Lewis too, but there were too many backs to pat first.
DK Metcalf now has 5 receiving touchdowns of 25 or more yards this season, the most in the NFL.

Russell Wilson now has 14 passing touchdowns under duress this season, the most such touchdowns in a single season since ESPN began tracking in 2009. pic.twitter.com/BDScdpeVbS

— ESPN Stats & Info (@ESPNStatsInfo) November 20, 2020