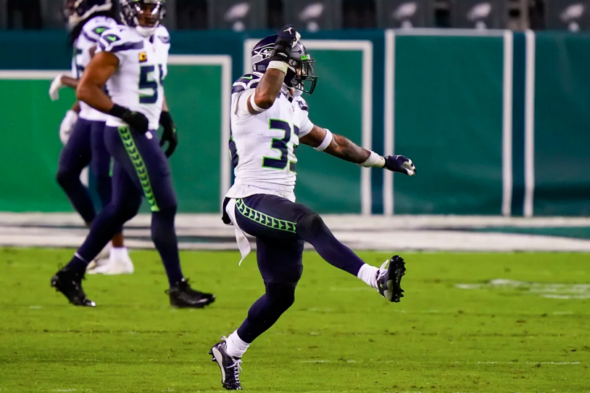 It's December. When, historically under Pete Carroll, the Seahawks get good. For the next three weeks, the opponents are so weak that Seattle's progress toward Super Bowl contention will hard to measure. But that likely is acceptable.
Unless, of course, they lose to one among the 4-7 Giants, the 0-11 Jets and the 4-7 Whose Former Nickname No Longer Shall Be Mentioned. Then Christmas lights in Seattle will go dark. Kvetching, harrumphing and angry gesticulation will commence.
Overreaction must be anticipated, in light of the fact that much of the fan base greeted the 23-17 win Sunday over the 3-7-1 Eagles mostly with a ho and a hum.
If WR DK Metcalf had held onto a ball already in his hands in the end zone, and if Seahawks defensive backs had knocked down the final pass as they stood next to it, the score would have been 30-9 and the 12s would have fallen off their collective Christmas-tree-decorating ladder in jubilation.
However, we live in a world that uses, without sarcasm, irony or even a wink, the phrase "instant analysis." So we must accept the reality that we demand our gratifications be immediate, if not sooner.
Which is why it's going to take a while for some to catch up to the fact that the Seahawks, as they get healthier, have a better than average defense.
The lousy start to the season? When the numbers indicated the Seahawks were the forever-worst defense, going back to the time when all life on Earth was still in the sea? So October.
In the past 10 quarters, the Seahawks have given up four touchdown drives of 50 or more yards — one to the Rams, three to Cardinals, and none to the Eagles (I'm throwing out Sunday's Hail Mary; sue me).
Sunday, they are home against a New York Giants team that likely will operate without its 23-year-old starting quarterback, Daniel Jones, who strained a hamstring Sunday in a 19-17 win over Cincinnati. His replacement, the venerable Colt McCoy, completed six of 10 passes and did not spit up the lead given him.
Somehow, McCoy, 34, has amassed a 10-year NFL career despite playing in a mere 41 games, starting 28, three of which came in the past five years. Should he start, he's close to being the perfect guy to help the Seahawks defense with their seasonal numbers — a backup in the saddle again after the callouses have worn off.
Carroll will leave disparagement of McCoy to the media. Instead, h honks the horn hard for a defense finally off its lips.
"We have turned that thing around in a hurry," he said Wednesday. "You guys wouldn't have thought — I wouldn't have thought — that it might be possible to be a top-10 rushing group. We're up in the top-10 numbers in terms of sacks and QB hits.
"We definitely can feel the momentum of the shift happening. This is what we have been waiting for. We all had to be patient, but now it's time to keep proving it. Because we did something last week doesn't mean anything unless we do it again."
The Seahawks are third in rushing defense at 89 yards a game, and 15 sacks in the past four games have them eighth with 31, seven behind league-leading Pittsburgh. After getting to Carson Wentz six times Sunday, and with McCoy and the Jets' Sam Darnold en route, Seattle may catch the Steelers by Christmas.
Much of the improvement is due to the return to health of SS Jamal Adams, who had his best overall game Sunday, explaining in eloquent deeds why he was worth giving the Jets two first-round draft picks.
Jamal Adams season highlights pic.twitter.com/LhrXh8cfwv

— Parker Lewis (@ParkerLewisJR) December 3, 2020
Because of injuries, Adams has played in seven games, but has a team-high 6.5 sacks, tying his best with the Jets. The NFL record for a safety is 8.5, by Adrian Wilson in 2005. Adams' 18.5 career sacks are most by a DB in his first four seasons since 1982, when the tracking of sacks began.
It has taken Carroll a bit to adapt to a pass-rushing safety, times when pass coverage has suffered. But the reward is now blowing past the risk.
"Those guys that play with that kind of a mentality will make some errors at times because they have to be willing to walk the line," Carroll said. "He's a blast to coach. We were asking him to do quite a few things that allow him to express his ability. We always try to figure out how to do that. He has so many talents. We place him in coverage, he's in zones,  man to man, in stuff over the top, he's pressuring, he's helping in the running game.
"The best part about it is his instincts that allow him to show how tough he is. He's just nails."
Jamal Adams had 4 pressures on 7 pass rushes (57.1%) last night against the Eagles according to PFF.

So far on the season he's 1st(!) overall in pressure rate for safeties with 24 pressures on 73 pass rushes (32.9%). This is insane efficiency. #Seahawks

— Samuel Gold (@SamuelRGold) December 1, 2020
After the game, Adams more or less said, told ya so.
"We coming together, man," he said. "Everybody's getting healthy.  We're starting to understand the defense as a whole, playing as one. Like I said from the beginning, we knew we knew what type of talent we had. It was only a matter of time. People outside, they was going to chirp. There's always something negative about the Seattle Seahawks; I've kind of witnessed that since I've been here.
"We are 8-3. Damn that feels good. Let's talk about that."
Being from the Jets, he's not used to a higher bar here, as when 23-17 should be 30-9. Consider it tough love.