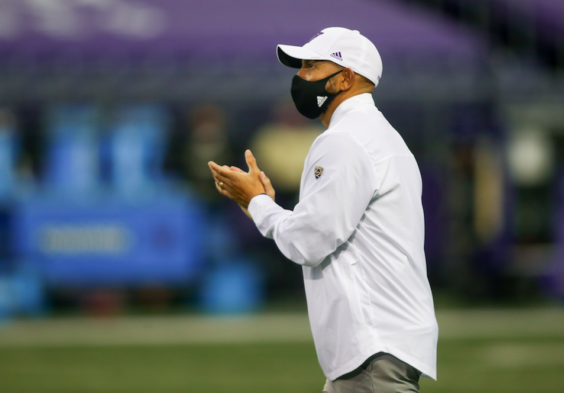 When he said it Nov. 9, Jimmy Lake was early in his career as a professional shrugger.
"At this point, it really feels like we're not surprised anymore," Lake said on a Zoom conference with reporters discussing the failure by Cal to keep its program free of COVID-19 ahead of the "opener" in Berkeley with his Washington Huskies. "We're just like, 'OK, here we go. It's on to the next. Let's build a plan, and let's get ready to go.'
"That's all you can do at this point."
Now, no longer is there a plan to build. No more calendar to extend. Lake's shoulders are cramping from shrugging. Time to move on from the shredded 2020 season.
The 3-1 Huskies' game Saturday in Eugene against the 3-2 Oregon Ducks was canceled Thursday afternoon, declared officially a no-contest by the Pac-12 Conference because the Huskies can't meet the 53-player mandatory minimum.
After the news Wednesday of a spike in COVID-19 positive tests among UW athletes, the cancellation was of little surprise. We know how these things work now. A few positive tests, even though likely asymptomatic, means isolation of the infected and quarantine for up to 14 days of those closely contacted.
The quarantine rule typically consumes numerous players in position groups, rendering  competitive play potentially more hazardous than normal. Hence, the no-contest.
But this particular cancellation sets up an absurd possibility: By rule hastily devised in August, the Huskies would default into the North Division title by virtue of a better winning percentage than Oregon.
Even by #Pac12AfterDark standards, that is a cockamamie outcome.
Huskies: We have a covid outbreak. We can't play.

Ducks: So who wins the Pac-12 north?

Huskies: pic.twitter.com/CXAu946Gb2

— Caleb O'Halloran (@caleboh) December 9, 2020
But there are two reasons that UW "triumph" likely won't stand.
Another part of the rules amended for this season states that "in the event that the average number of conference games falls to 4 or below, the two teams with the best winning percentage (both divisional and cross-divisional) within the conference will participate in the Pac- 12 Football Championship Game (regardless of division affiliation)."
That average-number-of-games figure can't be known until after we see how many teams survive through this weekend. If the average of four is not reached, and 4-0 USC beats UCLA, and 3-0 Colorado beats Utah, the Trojans and Buffaloes would meet for the title. If the sequence doesn't roll that way . . . break out your tinfoil hat, Commissioner Larry Scott.
The other reason is more understandable: UW likely won't have enough players ready to play Dec. 18 in the title game. That can't be known until next week, but it seems logical that the 14-day quarantine clock would stop at least some if not most players from participating. The two-week ban is not a UW or Pac-12 rule subject to whimsical reversal by desperate schools, but a mandate from King County public health officials that all parties agreed have the final word.
Up until this week, UW had not fallen victim to cancellation via virus from within. The previous two cancellations in the revised seven-game schedule were because of breakouts at Cal and Washington State. Now it's Washington's turn to get the stink-eye from the rest of the conference.
Lake has refused to disclose any information about testing numbers, but on his 950 KJR radio show Wednesday, via the Seattle Times, he opened up some to express his bafflement.
"I really can't (pinpoint why the positive tests are happening), and that's what's really baffling our medical professionals here in the building," Lake said. "I think that's one reason why we still were able to get our game off last week and the week before, because (the positive tests) were just so random.
"It would be one thing if it was just one position group and it was just spreading like wildfire. Well, then you know there was a couple guys that weren't doing it the right way. But through their investigation and their contact tracing, it has not happened that way, and it's really baffling all of us how it's happening and how these select people are getting it.
"I'll say this: the really good news on all this is our guys have had hardly any symptoms whatsoever. They've been almost 100 percent asymptomatic. And really, throughout this whole year, our staff and our players, nobody has become seriously ill because of this disease."
Still, they couldn't seal off the football program. Despite the presence a couple of football fields away of one of the most prestigious research hospitals in the country, and its specialists at their disposal. Despite the close cooperation with county and state public health officials with some of the most rigorous protocols in the nation. Despite Lake's commitment as a rookie head coach to do right by everyone in his first complicated year.
Thursday in a statement, Lake stated, "We are disappointed for our players and fans and for our opponent that our game will not be played this weekend. We are doing everything we can to resume football activities as soon as we can safely do so."
Whatever mistakes players, coaches or staffers made, millions of mature Americans are doing the same things, which is why, nine months into the pandemic, we are the world leader in infection-rate growth, as well as the world leader in stupid per cubic foot.
It is easy to second-guess everything after a novel contagion has had its way with the nation that once was the global driver in public-health science, crippled further by a narcissistic sociopath at the head of the federal government.
But as it is turning out, the Pac-12's first guess in August was probably right — skip the fall season and hope science prevails with a vaccine in the spring, as appears to be happening. Instead, the conference and the Big Ten dropped in August their holdouts, unable to resist following the lead of the other Power 5 conferences trying to play a conference season, believing that the discovery of rapid testing was the answer.
It was a partial answer: The Huskies got four games out of it. All home games — they didn't even expose themselves to the increased hazards in traveling. The rest of the cancellations makes the conference ripple with unevenness. This just isn't a championship season.
It's time that the Pac-12 decides its seventh week, still unscheduled, isn't worth the trouble, not with infections spiking nationally and Stanford cast out of Palo Alto and practicing in public parks. The games are meaningless, including the title game, and consideration from the CFP is negligible.
The awkwardness of forcing a season in a national health crisis also is resonating within college basketball, just getting underway. None other than Duke coach Mike Krzyzewski, after a loss this week, criticized the premise of the start.
"I'm not sure who leads college basketball," he said. "It's done by committee. Anything that's led by committee is not agile in handling a situation. There was a consensus. It wasn't, like, well-planned. Just that we were going to start Nov. 25. That was made without knowing where the vaccine was, how many cases. Basically, it was more a mentality of get as many games in as possible. I would just like for the safety, the mental and physical health of players and staff, to assess where we're at."
Krzyzewski didn't call for a shutdown, but he thought a serious assessment would make that case.
"You have 2,000 deaths a day," he said. "You have 200,000 cases. People are saying the next six weeks are going be the worst. To me, it's already pretty bad.
"On the other side of it, there are these vaccines that are coming out. By the end of the month, 20 million vaccine shots will be given. By the end of January or in February, another 100 million. Should we not reassess that? See just what would be best?"
The world has changed, again, since the Pac-12 cobbled together its best try for football. Whatever effort the schools are putting in to patch up a broken football season will be better spent looking at the new world.