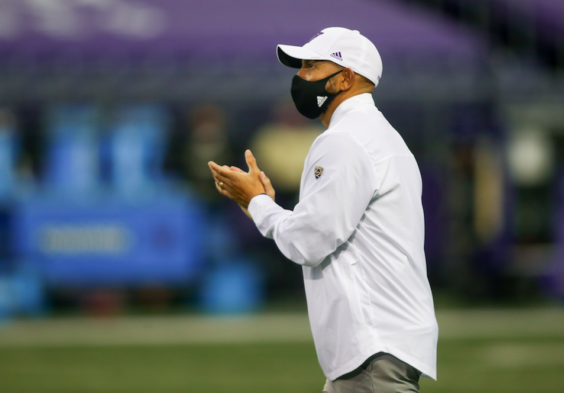 Apparently, somebody at the University of Washington got to Jimmy Lake.
The idea he offered up Monday that the football team he coaches was going to have enough players ready to practice and play in a bowl game, given the roster havoc wrought by COVID-19, bordered on the absurd.  Athletics director Jen Cohen finally delivered Friday afternoon the only plausible decision that could be made:
Nope.
"We have made a medical decision to not pursue a bowl bid this year," she said in a department statement. "The last 10 days we have made every effort, including pausing all football-related activities and continued aggressive testing protocols, to be able to have our team ready to return to the field.
"However, with the number of positive cases, specifically at the offensive line position, we will not have a team ready for competition, due to our comprehensive return-to-play medical protocols."
Head football-team physician Dr. Kim Harmon added, "We would have not been able to have a team that was ready to return to practice and safely prepare for and compete in a bowl game."
For his part, Lake acknowledged that he was up against a foe too formidable:
"Despite the aggressive protocols we created and implemented at the onset of the season, and have strictly adhered to throughout the year, we still found ourselves in this position due to the power of this virus," he said in the statement.
Lake in his Zoom presser seemed to rely on the fact that other teams infected seemed to be able to resume play after a two-week quarantine. But that didn't jibe with his own disclosure that the entirety of the offensive line, including walk-ons, was placed either in isolation or quarantine, nor did he seem to get the drastic nature of the current virus surge across the nation.
UW refuses to disclose the number of football-specific cases, and which are infections requiring isolation and which are close contacts requiring quarantine. The school rationale is student-health privacy, even though media is highly unlikely to have requested names. UW indirectly violated its own policy anyway, by identifying one position group as the largest caseload.
Whatever the less-than-honest message, the Huskies season is over at 3-1, good enough to be declared the North Division winner by Commissioner Larry Scott. But the Pac-12 Conference title game went on without them Friday, with 3-2 Oregon representing the North and triumphing 31-24 over South Division champ Southern Cal (5-1) in Los Angeles. That ended any pretense of the Trojans entering the discussion for the College Football Playoffs. The four-team field will be announced Sunday.
Other Pac-12 schools Stanford, Washington State, UCLA and Utah have also opted out of consideration for bowls. At least 10 bowls also said they will not host games.
The Huskies lost out on playing two regular season games due to virus outbreaks Nov. 7 at Cal and Nov. 27 at Washington State, although they were able to replace the Apple Cup game with one against Utah. Because of their own outbreak last week, they couldn't field a team to travel to Eugene to play the scheduled game against the Ducks.
Since no case reported by the athletics department has included serious symptoms, there is that one bit of good news upon which to go out. As far as the public knows.