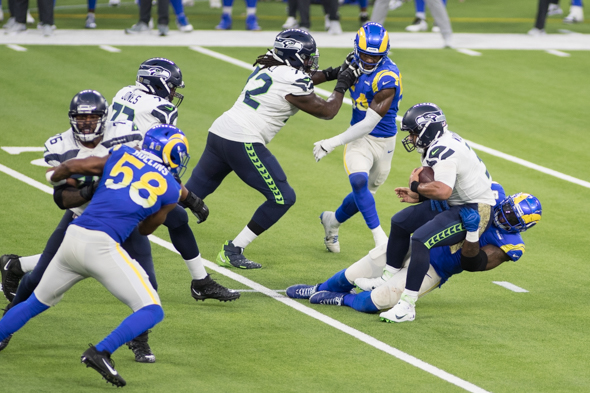 The game of the season is upon the Seahawks Sunday. But since the previous meeting with the Rams in Los Angeles Nov. 15, the menu for the holiday weekend has changed: From #LetRussCook to potluck.
In the five games since the 23-16 loss, in which Russell Wilson was the victim of six sacks, 12 QB hits, two interceptions and a fumbled snap, he has nine touchdown passes, three interceptions and 10 sacks, including no sacks the past two games. And the Seahawks were 4-1: Beating the Cardinals 28-21 and the Eagles 23-17, losing to the Giants 17-12, and beating Jets 40-3 and Washington 20-15.
The Rams also have gone 4-1: Beating the Bucs 27-24, the 49ers 23-20, the Cardinals 38-28 and the Pats 24-3, before Sunday's poopfest against the Jets, a 23-20 home loss, making them only the fifth team since 1978 to lose to a 17-point underdog.
Remarkably, results with Seattle and LA have been parallel: One blowout, three close wins, one stinker. Which contributes to the bookmakers assessing the 10-4 home-standing Seahawks a teensy 1.5-point advantage over the 9-5 Rams.
A part of the reason the Seahawks have a slight edge against the team with the NFL's best defense (286 ypg) is because this time, more top-tier people are providing some dishes to #LetRussRelax.
Quick quiz for the 12s: Without looking it up, do you recall the Seahawks' top two running backs that day? If you said Alex Collins and DeeJay Dallas, you would be right, but only because you cheated and looked it up. I know you people.
Wilson was Seattle's leading rusher with 60 yards in eight carries.
For the rematch Sunday (1:25 p.m., FOX), the Seattle's top three ballcarriers are scheduled to be Chris Carson, Carlos Hyde and Rashaad Penny. No disrespect to Collins and Dallas, but the upgrade is notable. And better than a year ago with the part-time Christmas help, the venerables Marshawn Lynch and Robert Turbin.
Other upgrades, according to coach Pete Carroll Monday, figure to be TE Greg Olsen (plantar fascia tear) and WR Josh Gordon, who was added to the active roster, returning after a year-long suspension.
On defense, SS Jamal Adams is at full strength after injuring his right shoulder in the Rams game, which left him playing with one arm. DE Benson Mayowa will play this time, and DE Carlos Dunlap is now a full-timer.
CB D.J. Reed, who led the Seahawks with 10 tackles against the Rams, seems to have locked up the injury-pickled spot opposite Shaquill Griffin with recent stellar play and a ferocious mindset, prompting this high compliment from Carroll.
"He reminds me of (former WR) Doug Baldwin," he said. "He just plays with this marvelous attitude that drives him into crazy stuff, craziness."
Add together these personnel upticks, and a case can be made that the Seahawks have a lot more going on than they did in LA.
"We're still looking for that game (when) we just do it all right," Carroll said. "It's out there for us."
Whether that happens Sunday still depends a lot on Wilson. Just not as much.
After the Rams game, Carroll said he and Wilson would talk about some things, none of which either has revealed. But the result is clear: After defenses caught on, Wilson has dialed back from seeking so many explosive pass plays to a more risk-averse but efficient style doesn't have as much room to improve WR DK Metcalf's hype video. And that's OK.
"Russ continues to focus on whatever the plan is, whenever we need to do to win the game," Carroll said. "He's been right on it. He's as dedicated and hard-working as ever. We've been able to emphasize the rhythm that's quicker, that Russ is really good at, at times here in the last three-four weeks, when it fit. He's adaptable and suitable with all of that, but he's having a great season."
Which is a lot of words that imply one thing for Sunday: It takes a village to beat the Rams.
The Seahawks have lost five of the past six games against the Rams, and have not won the division title since 2016.  Since March, the Seahawks traded lots of draft capital to fill holes and go deep in the playoffs, perhaps betting a little that the franchise's stability and leadership from coaches and veteran players might get them through a pandemic better than most.
So far, it's paid off.
Despite swinging from having a bad defense to having an inefficient offense, the Seahawks have made the playoffs with a chance to win the division at home with a game to spare. To do it, they have to throttle the nemesis by doing it Carroll's way.
"We've come from where we were just lighting it up, doing well down the field, and now we're back to balancing," he said. "We got rocked with (injuries to) running backs, and we're back on track again. It feels great to hand the football off to Chris and Carlos whenever you want to. Now that Rashaad's back, we're opposite of the end of last year at this time.
"So it gives us the feeling that we can do what we need to do based on whatever the game brings us. That's what balance is. It's not that we're trying to run the ball 50% of the time and pass 50%. We need whatever the aspect of the game is necessary to win. We know that we can throw it. We know we can run it. We're real pleased with that. Hopefully we can make it come to life in this game."
Wilson has single-season career highs in touchdown passes (37) and interceptions (13) and is 11 shy of his career high in sacks of 51. He's averaging 6.3 yards per carry, second-best of his career. Busy dude.
But perhaps for the first time this season, the players around him are of sufficient variety, talent and experience that he doesn't have to do as much as he tried to do in November to throttle the nemesis. What good restaurant doesn't change up the menu a little?