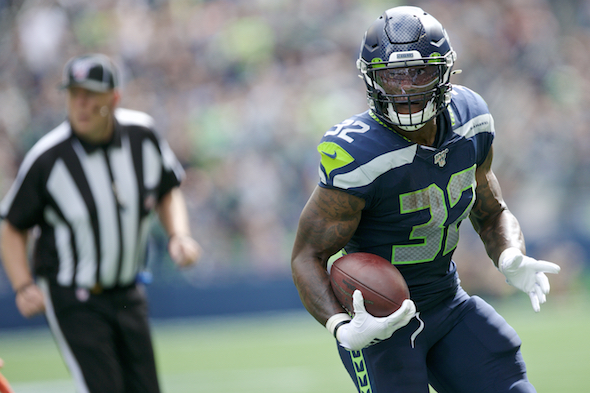 At this juncture a year ago, the second game in the annual Seahawks-49ers disputation had some of the old-time tingle: Teams with Super Bowl aspirations were about to decide the NFC West title in front of 70,000 hops-infused, clinically disturbed customers at the Clink.
This Sunday (1:25 p.m., FOX), not so much.
The 11-4 Seahawks have already clinched the division title, the 6-9 Niners merely hope to get off the team bus without injury. The game will happen in Arizona, not Santa Clara or Seattle, forced into the desert by the pandemic to perform in front of Gila monsters and rattlesnakes.
As football-rivalry climaxes go, it's among the most anti- of them all.
But it's not bereft of value. There's still some playoff stakes for the Seahawks.
They need to win to keep alive the hope of improving their likely No. 3 NFC playoff seed to No. 2 or No. 1. That also depends on the unlikely outcomes of Green Bay losing at Chicago and New Orleans losing at Carolina, games that kick off simultaneously with the Seahawks-Niners.
Besides the postseason implications, there's also an individual feat that would be worthy Sunday — Chris Carson getting a 100-yard rushing game.
The Seahawks haven't had one of those this season.
Closest anyone came was Carson's 80 yards (16 carries) at Miami in week 4, a 31-23 Seattle win in which Russell Wilson threw for 360 yards. So few remember Carson's game. Pity.
It's not that there's a correlation between a 100-yard rushing game and team success. I'd just like the big round number to happen for Carson. It's a marker for a successful late season as he heads to the free agent market in March.
His expiring contract is not in the forefront of storylines prior to the playoffs. But Sunday could be his last regular-season game in Seattle after four mostly potent years as the closest-to-the-pin winner in the Marshawn Lynch Successor Tournament.
"Marshawn is one of a kind," coach Pete Carroll said Wednesday when asked to compare Carson. "He was an extraordinary everything — player, mentality, and everything that he was about.
"But as far as (Carson) hitting the line of scrimmage and letting guys know who you're playing against, leaving the message behind when he hits you, the creativity, his hand-eye coordination, his beautiful catching ability, I think he's what we're looking for."
But can the Seahawks afford him?
With two 1,000-yard seasons on his resume, he's again the Seahawks' leading rusher with 637 yards, and his 4.9 yards per carry average is tied for ninth among regular starting running backs. Yet despite Carroll's glowing analysis, the Seahawks have made no publicly known effort in-season to extend him a second contract.
Why would they?
Because of the pandemic's serious economic consequences, no one knows where the 2021 NFL salary cap will be — other than down from this year's $199 million. The most popular speculation is about $175 million.
How that will work is fodder for a column after the season, but the virus's financial impact is certainly not good for players. Right now, Carson, whose pro career has been speckled with injuries and limited this season to 11 games, can help himself only by being healthy and ruthless against the 49ers.
The first meeting Nov. 1, a 37-27 Seattle win, was missed by Carson and fellow RB Carlos Hyde because of injuries. So hanging a C-note on the 49ers defense, which gave up only 12 points last week to Arizona, would look good for the playoffs and his leverage.
For the first time this season, Carroll Wednesday publicly acknowledged the obvious, that Carson might play his way beyond the Seahawks' budget, even though before the season began, he expressed his eagerness to remain.
"I think Chris is really one of us — he's fit into the program great," Carroll said. "What he said, he obviously means, but I do know Chris has got to look out for himself. He's got to see what the situation is. We would love for him to be with us. In my mind, I can't imagine anything else happening.
"But from the business side of it, he's got a chance to see what's going on. Hopefully, we'll be able to figure it out and keep him."
Hyde's one-year deal also is also up, leaving Rashaad Penny as the only experienced veteran back under contract. Should Penny regain full form after his ACL-repair surgery, he's not a bad backup plan. But this year's January set-up of three rugged backs who are also adept pass-catchers, is Carroll's dream.
And affordable — Carson will have earned only $2.46 million over his four-year rookie deal.  Backup OL Jamarco Jones is booked to earn more.
Second contracts for running backs haven't happened in Seattle since Lynch retired the first time, and are increasingly rare throughout the NFL. The most recent episode of magnum cringe was the Rams' saga with RB Todd Gurley. The offensive player of the year in 2017, Gurley signed a four-year, $57 million extension. But an arthritic knee reduced him last season to 857 yards on 223 carries, and he was cut.
Gurley was signed this year by Atlanta for $5.5 million, and rushed for 660 yards in 14 games. But the Falcons started 0-5, fired coach Dan Quinn, the ex-Seahawks assistant, and missed the playoffs.
As Carson's own career attests, running back is a position with a high casualty rate, where quality replacements can be found in the seventh round. Despite Carroll's obvious fondness for Carson's contributions, unless Carson agrees to a notably shorter, cheaper deal than was seen in the 2020 market, it's hard to imagine the Seahawks affording him. As always, other roster players also are deserving to be re-upped, this time from a smaller salary pie.
Yet the Carson-Hyde tandem has Carroll swooning.
"Both those guys really bring it," he said. "We love that style of play. It adds to us. It gives us the approach that we can play off of."
A potential stomping of Niners and snakes Sunday by Carson might help the Seahawks  find a way to renew. If not, it's been a fine run.