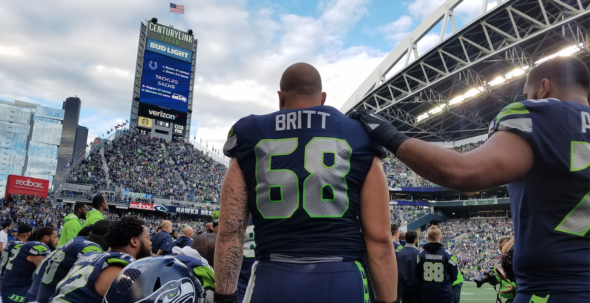 In times that now seem almost quaint — before we stared Wednesday into the abyss to see what an American collapse looks like when the federal government is in the hands of a gangster — the NFL was pulled into a national political controversy.
In September 2017, President Trump, in a speech in Alabama, savaged players who followed the lead of Colin Kaepernick in 2016 and knelt during the national anthem. They offered protest over police brutality and racial injustice: No words, no histrionics, only silent dissent, a right many Americans gave their lives to preserve.
If that racist dog-whistle seems a century ago, here's a refresher on what he said:
Predictably, outrage among athletes ensued, especially among the Seahawks and their coach, Pete Carroll, who makes an effort to encourage his players to speak up and out while engaging in the real world. The NFL is a mostly Black sport, and the players understood who Trump meant.
No response was more thoughtful than WR Doug Baldwin:
Statement from Seahawks wide receiver Doug Baldwin. Maybe my favorite response thus far. pic.twitter.com/MpH2Y1dC44

— Dave Zirin (@EdgeofSports) September 23, 2017
The Seahawks were en route to Tennessee that Friday, and Carroll and team leaders made a decision to skip the Saturday walk-through and instead engaged in hours of intense meetings to formulate a response for game day on Sunday.
Carroll later said the tumult created distractions and emotions that contributed to the Seahawks' 33-27 loss to the Titans. The football result is a trifle. But the disruptions in the NFL and other sports from Trump's fire-the-SOB episode reached across 3½ years to help illuminate the events of Wednesday.
It exposes to Trump supporters among sports fans that his disrespect-the-flag trope was one of a series of deceits masquerading as patriotism that Trump sprayed for four years over the fruited plain to rot democracy.
As we have come to learn, he has no respect for the flag, the Constitution, civil law or even the health and welfare of his own base, allowing a disproportionate number of them to die in a fetid stew of their own ignorance, his lies and nature's COVID-19.
Any lingering facade fell away Wednesday when, in a speech at the Ellipse, he incited the next phase of his assault. Knowing the date that the senators and representatives would be in the U.S. Capitol to certify the election of Joe Biden as president, Trump invited via social media his followers to a same-day rally, where he exhorted them to "fight" to stop "the steal."
"After this, we're going to walk down — and I'll be there with you — we're going to walk down, we're going to walk down to the Capitol," he said Wednesday morning. "We're going to cheer on our brave senators and congressmen and women, and we're probably not going to be cheering so much for some of them."
The trap was sprung.
It didn't take long for the domestic terrorists to create an insurrection when they poured into the mysteriously under-defended chambers and halted the certification vote. The 535 terrified legislators escaped to secure locations as vandals looted and defaced some of America's revered symbols of the most successful attempt at democracy in human history.
Trump's response? A video in which he told the seditionists politely to go home, with a smiling farewell: "We love you. We think you're special."
The five hours of an attempted coup gave Vladimir Putin and all other despots, authoritarians and political bullies around the world the video they craved — proof that democracy doesn't work.
Except democracy did work.
Despite the appalling shock of thug violence in the national heart, the shaken legislators returned to the Capitol and early this morning completed the election certification for Biden's presidency.
The moment also completed what we in the sports world call an oh-fer.
Because of Trump, the Republicans lost their House majority in 2018. He lost the presidency in November. Tuesday night in Georgia, he helped lose two runoff races to give Democrats the majority in the Senate.
He lost all legal challenges at the state level.
He lost all legal challenges at the federal level, including the Supreme Court.
And he lost his final challenge in Congress.
What does a gangster do when he's out of lawyers and procedural options? He sends his minions into the streets.
The Wednesday riot, which will end up near Dec. 7, 1941 as days that live in infamy, was Trump's final systems play. It will leave a decades-long scar and caused the deaths of four people and injuries to many more, including police. But the anarchists failed.
If you don't think Trump is a gangster, listen to the recording of the phone call he made to Georgia's secretary of state, Brad Raffensperger. Trump was attempting to intimidate him into finding votes in his state's completed and certified presidential election to flip the state from Biden.
If you can, imagine the Trump's words in the voice of Don Vito Corleone, although the Godfather don was more concise, articulate and direct. All that's missing is, "Some day, and that day may never come, I will call upon you to do a service for me . . . "
After the certification prevailed over Trump's incitement sedition, there remains the hell of Trump's final 13 days in office. Seattle-area native Adam Smith, who chairs the House Armed Services Committee as Washington's Democratic representative from the 9th District, offered up a blunt summary of the problem during an interview on CNN Wednesday night.
"Let's be honest," he said. "He's a narcissistic psychopath who doesn't understand that the rule of law matters."
Which brings us back to the NFL.
Remember that Trump rant quoted at the top about firing players who protested? In it, he says, "(The owners) are friends of mine, many of them."
Whether that was true then or now, certainly one among them (hi, Robert Kraft) still has his number. America needs their help by creating a phone tree to occupy his remaining days in office. Because he's always wanted to be an NFL owner, he'll take the calls.
Play him along by telling him that he can buy the New York Jets and turn them into winners by firing everyone. Then he could be the most popular person in the country. Again. Until he's fired Jan. 20.