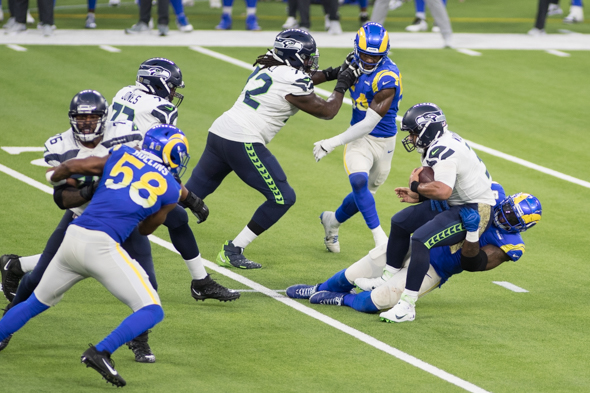 Here's my attempt to summarize in two words the state of the Seahawks, based on developments and conversations over the past several days, as well as recent history, that concluded the weirdest season in the club's history:
Yes, but.
Yes, the Seahawks have been to the playoffs nine times in Pete Carroll's 11 years. But they haven't been to the Super Bowl since the 2014 season.
Yes, the Seahawks were 12-4 and won the NFC West. But they are out of the playoffs, dominated at home by a division rival they beat two weeks earlier that was stymied by injuries at quarterback.
Yes, the Seahawks' more rigid COVID-19 protocols kept them free of positive tests. But the intensity of the protocols added a hard-to-document, but palpable emotional fatigue.
Yes, Russell Wilson remains a great quarterback. But he completed 11 of 27 passes in a loser-out game, including a pick-six (that wasn't his fault).
Yes, Carroll remains a good coach. But his longtime methodology goes against a strong current of analytics that says a run-first style is less efficient than a pass-first style.
I could go on, but you catch the drift: An entertaining, complex season that ended in such a profoundly dreary manner, it's hard to look around, behind or over it.
Just sits there, a stinking yesbut.
"In the NFL, it's so strange in that one playoff game can almost outweigh the entirety of the regular season," Carroll said Monday. True, but on the scale of football strangeness, it's no more absurd than an offense that set a franchise single-season record for points and is almost completely healthy, can get just two third-down conversions in 14 attempts.
On his 710 ESPN radio show, followed by a season-ending post-mortem on Zoom, Carroll patiently withstood query after query about how his offense could have saved its worst for last.
He was eager to point out that the Seahawks were up against "the best defense in the world," as if going global somehow mitigated the head-on intensity of the collision. Inevitably, some of his critique went toward Wilson, of whom he said Saturday, "It was really hard on him. The pressure was hard, the coverage is good, and we weren't able to function clean enough."
Monday, Carroll was more pointed: He wanted Wilson to throw more quickly.
"Ultimately, it was really our inability to pass-protect against them," he said. "There's enough quick game in this offense now that we needed to throw the ball quicker to get some efficiency. We missed a couple chances on the quick game when we didn't connect . . . Russ was a little bit off, low and away.
"I wish we were able to get the ball out quicker. We did take our shots, a couple good looks, and they weren't there. They did a nice job on the deep end . . . We've taken negative plays because we've been sacked a lot. So if you follow back to the reasons, it kind of comes out of that a little bit more."
So following back, Carroll is right about sacks. The five sacks and 10 QB hits Saturday brought Wilson's totals for the three Rams games to 16 and 30. Overall in the regular season, Wilson was sacked 47 times, third in the NFL behind the 50 of NFL leader Carson Wentz (and four behind Wilson's career high). And he moved up to No. 20 on the career list.
The Seahawks finished with the fourth-highest rate of times sacked at 7.9 percent. What is notable about that is that only one other playoff team, the Baltimore Ravens with run-dominant QB Lamar Jackson, is in the top 10 (let's not count the 7-9 Washington Football Team).
Not saying there's a one-to-one correlation between sack ratio and winning. But it is instructive to note that the seven teams with the best (lowest) sack ratios are all in the playoffs. You can see the complete sack rankings at Pro Football Reference here.
Sacks are usually drive-killers, and Wilson has more than most because he's the NFL's best deep-ball thrower and loves the bombs that take longer to develop. He's willing to take the risk for the reward. Carroll generally is not, and put his foot down after after the Seahawks lost three of four mid-season games, principally because of 10 turnovers.
The interceptions happened in part because defenses developed the countermeasure of two-deep safeties to slow record-setting receivers DK Metcalf and Tyler Lockett.
As explained by Lockett Saturday, the Rams "make you have to play one-on-one in the boundary because they do a good job dropping a lot of people back (to) stop the deep routes. They do a good job taking over all the routes from the other side of the field. They just got a really good game plan."
As the 30-20 final score attests, the Seahawks did not have a good game plan. The goal next season, according to Carroll, is to run more and better, not less, in order to force defenses to bring a safety out of coverage to stop the ground game.
"I'd like to not play against two-deep looks all next season," he said. "I know the fans aren't jacked about hearing (of more running). But Russ knows it too. We need to be able to knock those (defenders) into the scheme that we want to throw at.  I want to see if we can force them to do things like we like them to do.
"That doesn't mean we're gonna run the ball to 50 times a game. It means we need to run the ball with with direction and focus and style that allows us to dictate the game."
Against the Rams, the scoring consisted of two 50-yards-plus field goals, a freelance pass-play TD abetted by busted Rams coverage, and a garbage-time TD after going down 30-13. The game wasn't that far from a shutout. So something has to change.
Part of Carroll's revival plan includes inserting the preacher into the proceedings.
"I feel like I need to help our coaches do a better job, and force the issue," he said. "I feel like I have to factor in. I gotta be more a contributing factor than I was."
Damn the analytics, the Rams and any hurt feelings on the offense. If a good NFL season can be outweighed by a single bad result, Carroll from now on will do it his way.
Yes, but  . . .