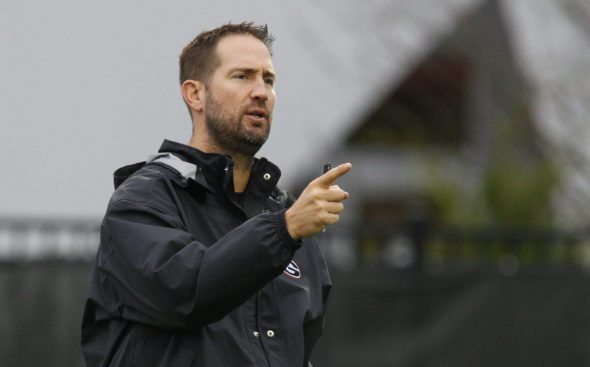 While blame for the Seahawks' early departure was widespread, one person paid for it with his job — offensive coordinator Brian Schottenheimer "parted ways" with the club, which announced what amounts to a firing Tuesday afternoon via Twitter.
The news was startling, given that coach Pete Carroll, when asked about staff changes following the unexpectedly limp 30-20 loss to the Rams Saturday that ended the season, said, "I'm counting on everybody coming back." Schottenheimer also rates some credit for an offense that scored 459 points, most in club history.
But Carroll, in his seasonal post-mortem on Zoom Monday, indicated he wanted changes in the offense.
Brian Schottenheimer is a fantastic person and coach and we thank him for the last three years. Citing philosophical differences, we have parted ways.

— Seattle Seahawks (@Seahawks) January 13, 2021
"We have to run the ball better,'' Carroll said. "Not even better. We have to run it more. We have to dictate what's going on with the people that we're playing, and that's one of the ways to do that.
"I know the fans aren't really jacked about hearing that. But Russ knows it, too. We need to be able to knock (defenders) into the scheme that we want to throw at."
In his three years in Seattle, Schottenheimer never seemed bashful about running the ball in pursuit of Carroll's view of balance. The offense, based on total yards, ranked sixth, ninth and eighth in the NFL, and team regular-season wins grew from 10 to 11 to 12.
But a bad loss to the Rams, not unlike the 42-7 home defeat to LA in December 2017 that helped usher out Schottenheimer's predecessor, Darrell Bevell, was the catalyst for change on a team that had big ambitions in 2020.
More to the point, QB Russell Wilson had terrible games in each Rams loss.
Sunday, he was 11 for 27 for 171 yards, and sacked five times. Three years ago, he was 14 for 30 for 142 yards and sacked seven times.
After the game, Wilson said he preferred a more up-tempo style to play catch-up, presumably suggesting, without naming names, that Schottenheimer was responsible.
"I think that teams know we throw it down the field well, but I think teams also fear our pace and our tempo," Wilson said. "When the game is on the line, there's 2:00 left in the game, teams obviously fear that because of the feeling of me going. That's something along the way, you can kind of lose track of a little bit. I think we kind of lost track of that, maybe. I think that could have helped."
Here's the Sunday column that described a bit of the rift.
It is rare that Wilson even hints publicly that anyone or anything about the Seahawks is less than great. So his dismay at the playcalling rhythm is a shot into Schottenheimer's wheelhouse.
In turn, Schottenheimer undoubtedly felt pressure from Carroll to zero out the turnovers. And what happened Sunday? A second-quarter playcall selection of a wide-receiver screen to DK Metcalf, a play done successfully several times this season but high-risk because it is undefendable if intercepted, ruined the game for Seattle.
RUSS TO DK! #Seahawks

📺: #LARvsSEA on FOX
📱: NFL app // Yahoo Sports app: https://t.co/eO7M1HRW6M pic.twitter.com/CrE1l18SLe

— NFL (@NFL) January 9, 2021
Here's how DB Darious Williams described his 42-yard return for a game-breaking touchdown, his third in three games against the Seahawks this year:
I saw it a couple of times. I think we got it last week. With (CB Jalen Ramsey) being as dominant as he is, they have to try and move Metcalf around to get him away from Jalen and basically feature him. That's a play that I knew was going to happen. I knew that they were going to try and feature him and get him the ball somehow, let him break tackles. And I just ran and jumped it. 
When I film study, I just memorize plays real good. I think that's what helped me. I knew he was going to motion all the way over. The guys were tight and the big guy out there, I knew they were going to try and get him the ball and let him work.
It's unlikely a single play caused a firing. Unless it was the last straw between quarterback and coordinator.
After the 5-0 seasonal start, the Seahawks had injuries to running backs that helped lead to  losses in three of four games. The defeats included 10 turnovers, including several interceptions that were forced into a fresh coverage plan by defenses — two-high safeties.
The Seahawks countered with shorter pass routes and more runs from an increasingly healthy rushing  group. It seemed to work, with wins in the final four games, including 20-9 over the Rams Dec. 27. But that Rams team was missing its top rusher, rookie RB Cam Akers, who Saturday returned from injury to provide 131 yards in 28 carries.
In that game and earlier ones, Schottenheimer couldn't find an answer to the great reduction in explosive plays that distinguished the fast start, and made Wilson an early season favorite for MVP. They had eight in the final eight games. Afterward, Carroll said Wilson had held the ball too long on occasion, generating sacks — a consistent career consequence for QBs who look deep frequently.
According to ESPN Stats & Information research, Wilson's QBR rating of 17.6 was the worst in his 16 career playoff games.
Nor did Carroll like a fourth-quarter play that Schottenheimer dialed up on a fourth-and-1 at the Seattle 34-yard line. Carroll admitted he chose another play, but the confusion delayed the break from the huddle, which resulted in a false start on LG Jordan Simmons. That forced a punt.
"I kind of got in the middle of it,'' Carroll said. "Then, we just got late.  That's why we wound up jumping; we screwed it up.  It just wasn't clear enough.  That's one play.  We didn't function the way we needed to right there and so we had to punt the football."
The Seahawks did not function well nearly all afternoon Saturday, for a team with Super Bowl aspirations. We'll likely not know who said what to whom in the second-most damaging loss of the Carroll era. But we know who was held responsible.
Wilson offered a farewell on Twitter:
Schotty… I'm grateful for how much you meant to me over the past three years. God blessed me with you, we won a lot of games, threw a lot of touchdowns and had a blast in meetings and our bible studies. The best days are ahead for you. Go be Great. God first.

Love. 3. pic.twitter.com/rMtDd7YJUt

— Russell Wilson (@DangeRussWilson) January 13, 2021