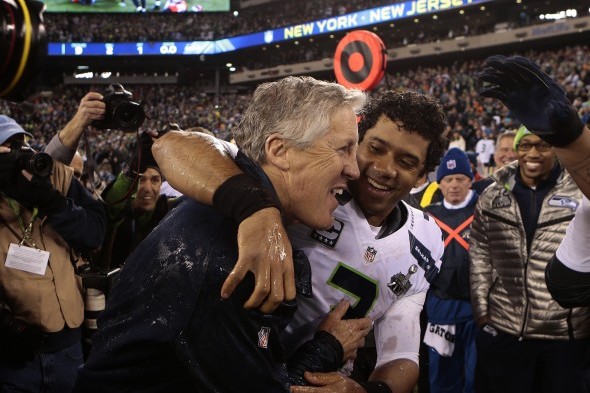 For the longest time during Russell Wilson's season-ending Zoom conference Thursday, I felt like a rookie rush end trying to pin him in the backfield. With an almost perpetual smile, he took each question and swooped and soared with bromide-rich answers that dodged facts, insight and candor.
Indeed, Russ again was cooking — an eggless omelette.
The approach was not new. We'd heard it before. But we hadn't heard him since his mentor, friend and Bible-studies pal, offensive coordinator Brian Schottenheimer, "parted ways" Tuesday from the Seahawks over "philosophical differences."
It was good of Wilson to provide an hour of his time on a family retreat in Mexico to discuss what was probably the second-worst loss of his Seahawks career, given expectations and the stunning failure of the offense in the 30-20 loss to the Rams.
He didn't have to do the Zoom — he had the foreign-field advantage of saying, "Poor connection."
But he fulfilled the obligation graciously. Finally, around the 50th minute of the chase, Gregg Bell of The News Tribune wrapped him up.
Were you in favor of changing your playcaller right now?
"If you ask me if I'm in favor of it? No," he said. "Unfortunately for us, in coach's eyes, it was time to see if we need a change."
Not really worth a sack dance, but Wilson's disclosure was at least a hit: He was unhappy, and confirmed the obvious that coach Pete Carroll wanted Schottenheimer gone.
The admission wasn't tantamount to Hercule Poirot finding the murder weapon on the Orient Express. But at least it seems as if Wilson didn't throw Schottenheimer off the train.
"It wasn't my decision to change Schotty," he said. "(Carroll) has been doing this a lot longer than I have, so, I trust his decision. At the same time, obviously, I'm gonna miss Schotty. He and I have been so close. He's a tremendous coach.
"What I am in favor of is our football team getting better. What's really important is us winning championship. That's what I'm in favor of."
Perhaps in exchange for his acceptance, Wilson said he gets some say in the hire of a replacement.
"It's super significant that we're part of the process," Wilson said. "Coach and I have definitely been talking about it. (General manager) John (Schneider) too. We've had some super-long conversations, great dialogue about the thought process of who we want."
Wilson also rejected the notion that he and Carroll have been at odds: "There hasn't been any contention,'' he said.
Yet . . .
Wilson has said multiple times recently, including three times Thursday, that he wanted an offense that goes up-tempo a little more. The speedier pace has often been when Wilson is at his best, partly because it prevents defensive substitutions and adjustments. But it's also prone to errors.
It seems to be a flashpoint.  At least, that's what I thought. My question to Wilson would have been: "Since you mentioned your desire to go up-tempo, what happened when you said that to the coaches? Is there a reason they don't trust you?"
Unfortunately, I was overlooked by the moderator. But I refuse to take it as a slight, adopting Wilson's frequent refrain: "Missed opportunity."
But somewhere in that unasked question is an answer illuminating the relationship atop the Seahawks' power structure: Does Carroll, heading into a 10th season with Wilson, trust him to do the right thing enough times to win a Super Bowl?
Carroll's aversion to turnovers, and Wilson's apparent notion that turnovers are a necessary cost of doing business at the explosive end of the playbook, seems to be where desires diverge.
The Seahawks saw examples of both in 2020. The 5-0 start was propelled by an offense that averaged 34 points a game. DK Metcalf was on the short list of freshest NFL celebrities, Wilson was the early favorite for MVP, and on track to top Peyton Manning's NFL single-season record of 55 touchdown passes.
But injuries to running backs and numerous interceptions put the dragster in the garage in favor of the family sedan. The improving defense covered for a fading offense that didn't seem to solve for the two-deep safety look adopted by opponents.
"We've done so many great things," Wilson said, "42 touchdowns . . . we needed to throw 52, maybe 60. The next coach, whoever that may be, could help us capture that. I think we're right there.
"I think also what's really important is also for my career to go as far as I can possibly go.''
Wilson, 33 next fall, enters a time when he can begin to close on some of the career marks of the game's great quarterbacks. As he has often said, he wants to be the best.
Then there's Carroll, who said this week, "You know, I'm OK winning 17-14."
That's the crux of the problem for the next OC.
Schottenheimer was in the middle between two strong personalities who diverge on the best way to get to the same goal. It's hardly anything new in the NFL, but when one is paid $140 million and the other has been given a shiny new five-year contract extension, the tension ratchets up a ways.
Naturally, Wilson thinks the divide is manageable because the offense has most of what it needs.
"I don't think we're crazy far off,'' Wilson said. "We just need to make sure we take that next step to get there.
"I know coach will do everything he can to make sure we find the right person, and I'll do whatever I can to help that process, if I can."
It's possible that it will all work out. The new guy just needs to be as adept at threading a needle as Wilson has been.