Congratulations are in order for Tom Flores, who was the lone finalist in the coach category and will be part of the Pro Football Hall of Fame class of 2021. Word of the overdue selection came during the annual NHL Honors program Saturday night ahead of Super Bowl LV.
Flores won two Super Bowls as coach of the Raiders. He also won titles as a player and assistant coach, a three-job distinction he shares only with fellow Hall of Famer Mike Ditka. Flores was the first Latino to be head coach and a quarterback in the NFL. Bravo.
It was probably a good thing the voters looked past his time with the Seahawks from 1989 to 1994.
None of us who bore witness to those dubious days in Seahawks history saw anything Hall-worthy from Flores. He was, however, a nice fellow, one caught in a web of bad fellows.
I won't forget a media conference call the day after the Dec. 27, 1991 firing of Chuck Knox, the Seahawks' popular and successful coach who seemed on thin ice the moment Flores was hired as president/general manager Feb. 22, 1989.
Flores was asked whether he would want to consider for the coaching job someone like himself, who previously was publicly ambivalent about returning to coaching.
"That's a good question," he said. "I don't know."
It turned out that "I don't know" was a phrase he would use often in his public discourse. He no longer seemed to know much about how to win at pro football. But in that moment, he did know something.
Despite the availability of free agent coaches such as Bill Walsh, Bill Parcells and Mike Shanahan, Flores in short order chose to replace Knox with Flores.
In 1992, the Seahawks were 2-14, the worst season in club history.
In 1993, they were 6-10.
In 1994, they were again 6-10.
All the finishes were good for was last place in the AFC West. Two games in '94 had paid attendance below 40,000 in the one-time audio riot of the Kingdome, the smallest non-strike crowds in club history.
Mercifully, he was fired by the men who hired him — owner Ken Behring and his son, David. Along with fellow California real estate developer Ken Hofmann, they bought the team in 1988 from the Nordstrom family, the original franchise owner.
Aside from Flores, one the most popular figures in Raiders history, the Californians were a loathsome band of shady operators who knew nothing of football except for being Raiders fans, the pro team nearest their giant development 30 miles east of Oakland called Blackhawk.
The most notorious episode for the group I called the "Ken Men" came in September 1989. Mike Blatt, a football agent who represented former Seahawks QB Kelly Stouffer and who also negotiated the franchise's sale for the Behrings, was arrested in his Stockton, CA, office.
He was charged with arranging the murder by crossbow of a business rival on Feb. 28 — six days after Flores was named the Seahawks president and GM.
Flores and the Behrings knew nothing of the plot and were never implicated. But Blatt had been running the Seahawks, without formal title, after the previous GM, Mike McCormack, was fired Jan. 30.
Needless to say, when charges were filed, the national scandal stunned the NFL. Behring's guilt by association tainted his reputation, which never recovered. After attempting and failing to move the franchise to Orange County in 1995, Behring eventually sold the club to Paul Allen in 1996.
Two men, both former University of Pacific football players, were charged with the actual killing, and were convicted. One was paroled in 2017, the other is still serving time. But two juries who heard the charges against Blatt did not convict him, and he was released after three years in jail.
The notorious Blatt saga and Behring's benighted tenure were the nadir of Seattle's time in the NFL. Flores was succeeded as coach by Everett native Dennis Erickson, who began a modest franchise recovery with a 31-33 record over four seasons.
It wasn't until the hires of Mike Holmgren and Pete Carroll, two likely candidates for the Hall of Fame, that the Seahawks climbed the NFL ladder to become one of the league's premier franchises.
Flores never coached again. But at 83, after 60 years in the game as player, coach, executive and broadcaster, he was given the game's highest honor.
Wilson is NFL's Man of the Year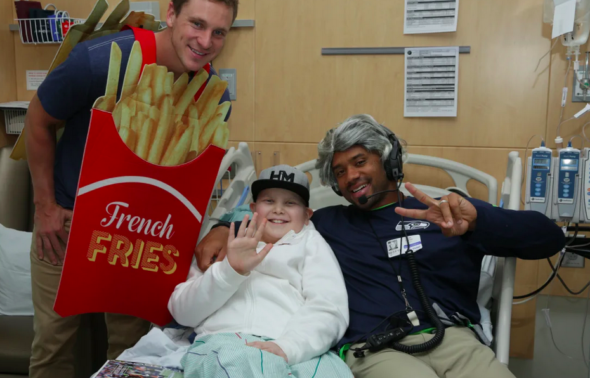 Russell Wilson was denied again in the voting for Most Valuable Player. Yet he may have been honored in a more important fashion.
For his many off-the-field contributions and endeavors, the Seahawks quarterback was named 2020 Walter Payton NFL Man of the Year Saturday night as part of the NFL Honors program.
Wilson joins Hall of Fame WR Steve Largent in 1988 as the only Seahawks to win the award.
"The Walter Payton Man of the Year Award, to me, represents excellence, not just on the field, but more importantly off the field," Wilson said on the team's website. "In life, we're granted the opportunity to have an impact, no matter what sphere of influence we're around. Walter Payton was one of the greatest examples of what he was able to do not just on the field, but more important off the field, to give back and to serve and to love and to care.
"For me, to be able to be even mentioned with a name like Walter Payton is one of the greatest blessings I could ever have, and one of the greatest honors you could ever have."
In a pre-recorded video on the national broadcast, he paid tribute to his late father, Harrison.
"I remember you telling me in the car one day, 'Son, love changes things,'" Wilson said. "Dad, you were right. I wish you were here to tell the world that, in the toughest of times."
First given to Baltimore great Johnny Unitas in 1970 and renamed in 1999 to honor the Hall of Fame running back, it recognizes "outstanding community service activities off the field, as well as excellence on it."
Each club nominated one player, who received a $40,000 donation in his name to a chosen charity. Wilson's win meant a $250,000 donation to his Why Not You Foundation. Founded in 2014, the nonprofit is dedicated to fighting poverty through education, empowering youth to lead with a why-not-you attitude.
According to NFL.com, Wilson, previously nominated in 2014, directed efforts in the year of the pandemic toward feeding children, families and the elderly.
He and wife Ciara donated $1 million to Feeding America, the largest hunger-relief organization in the country. He partnered with Wheels Up to create Meals Up to combat food insecurity. With his Why Not You Foundation, Wilson joined with Door Dash, Rockefeller Foundation and United Way Worldwide to enlarge Ride United to deliver supplies and food to 175 communities.
Wilson's endeavors included public pleas to end systemic racism, including billboard and digital message boards that read, "Black Lives Matter, Love Russell & Ciara" throughout the U.S. He partnered with the I AM A VOTER campaign to encourage registration for the 2020 election.
Since his rookie year, Wilson has maintained his routine of visiting Seattle Children's Hospital every Tuesday during the season.
The MVP can wait. Some things are more urgent.