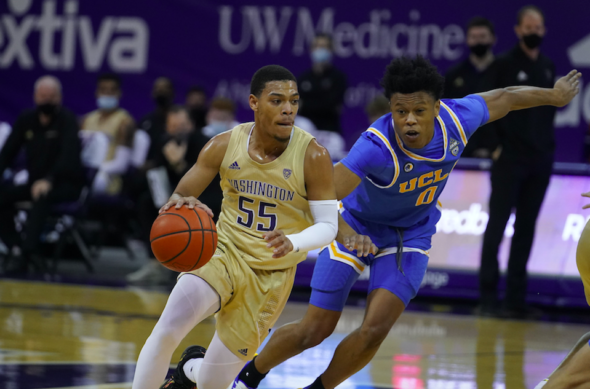 When the pandemic began almost a year ago, the University of Washington had a big but bad team. Even a pair of eventual first-round NBA draft picks up front couldn't prevent the Huskies from finishing last in the Pac-12 Conference.
So how did fourth-year coach Mike Hopkins fix this?
He didn't.
Hopkins watched four big men go out the door – Isaiah Stewart and Jaden McDaniels, both 6-foot-9, to the pros, 6-11 Sam Timmons to graduation and 7-1 Bryan Penn-Johnson to the transfer portal – and no post players of substance coming back.
He also lost 6-6 guard Nahziah Carter, his top returning scorer (12.2 ppg), when the school parted ways with the nephew of entertainer Jay-Z once multiple allegations of sexual misconduct were made against him.
The perpetually upbeat coach now had a smaller, inept group of Huskies. A Pac-12 cellar dweller at times. Actually, a team staring at epic failure.
As UW (4-16 overall, 3-12 league) prepares to host Stanford (13-8, 9-6) Thursday night (8 p.m. FS1), it likely has five games left and retains a realistic chance of finishing as one of the worst teams in school history.
That covers 119 Huskies seasons in a century and a quarter, more than 3,000 games.
Four teams have had 20 losses in a season. The low bar was coach Bob Bender's first outfit in 1993-94 that staggered to 5-22. Bender also had back-to-back 10-20 teams six and seven years later, which led to him getting fired. In 2016-17, Lorenzo Romar had a 9-22 campaign, and was let go after 15 seasons, replaced by Hopkins.
The thing is, as he began to put his current collection of players together, Hopkins refused to see it coming.
"We feel good about our guys," said the coach, when quizzed about his lack of manpower in September. "We have plenty of players. We have enough, for sure. We have a lot of belief in a lot of guys."
He put his trust in 6-9 senior Hameir Wright and 6-11 sophomore Nate Roberts, players of limited offensive skills, to help turn things around up front. Wright averages 5.8 points a game and shoots a tepid 24 percent (18 of 75) from 3-point range; Roberts scores at a 5.4 clip and doesn't have any perceptible field-goal range beyond five feet.
Hopkins took a big risk: He recruited no high school players who would have played this season.
Instead, he turned to a bunch of transfers acquired over multiple seasons: Kentucky guard Quade Green, who put the UW into an unrecoverable tailspin in 2020 by becoming academically ineligible; Wichita State guard Erik Stevenson, a starter who often struggles with his shooting (34.8 percent); 6-9 forward J'Raan Brooks, a big-man replacement from USC who's started once and appeared in barely half the games; and Michigan's Cole Bajema, a 6-7 shooting guard with promise who averages two points and hasn't started yet.
Green is the Huskies' leading scorer (15.3 ppg), but would make this team better if he focused more on playmaking (3.5 assists per game). At his size, the 6-footer won't make it in the NBA unless he does.
"That's pretty much been a problem all year," he said. "That's been on me really, poor point-guard skills, turning the ball over way too much."
Actually, the biggest drawback for a team that has untold issues is rebounding. These smaller, softer Huskies get eaten alive, losing the backboard battle 39.8 to 30.4 on a nightly basis. They rank 333rd among the nation's 340 teams in this hustle category.
Looking for positives, start with Marcus Tsohonis, normally a reserve guard but twice an emergency starter, who amazingly has posted games of 22, 22, 24, 27 and 29 points in both roles; 6-6 junior starting guard Jamal Bey, who leads the Pac-12 in 3-point shooting by a wide margin at 53.1 percent (26 of 49); and 7-4 sophomore Riley Sorn, a walk-on who shares the distinction as college basketball's tallest player with Matt Van Komen of St. Mary's.
Tsohonis is an unconventional player and a highly creative scorer who hasn't always gotten minutes. He was held out of three games early for no discernible reason. He's started twice, including Monday at WSU, which UW won, 65-63, with his last-second shot. He's UW's second-leading scorer at 10.9 ppg and one of its better marksmen at 48.5 percent. Still, he usually sits when the game begins, starting in Pullman only because Green sat out ill.
Bey is one of four Huskies who have scored 26 points or more this season, but he still isn't assertive enough.
Sorn, who pulls 10.5 minutes per game, needs another 20 pounds and a lot more stamina and court awareness to be more than a fill-in. It's on the coaches to see if they can develop this towering resource into someone who can influence outcomes.
Last season, the Huskies lost 13 of their final 17 games. Now it's 30 of their last 38 overlapping two seasons. Yet Hopkins' job doesn't appear in jeopardy.
He was athletics director Jennifer Cohen's first big hire. He was named Pac-12 Coach of the Year in each of his first two seasons. Cohen surely isn't going to turn him away during a pandemic-disrupted season. She recently gave him a public vote of confidence.
Meantime, Hopkins has been yanking under-performing players out of games earlier, and with more frequency. He was even seen grabbing Stevenson by the head with two hands and for a passionate pep talk after removing him 20 seconds after tipoff against UCLA.
The longtime Syracuse University assistant coach prefers to ignore the possibility that anyone might be displeased with him and the direction of his program over the past two seasons, and that it might not be fixable.
"It hasn't been the greatest season by any stretch of the imagination, but the kids have stayed resilient, stayed positive and stayed tough," Hopkins said Monday night after the season's fourth win. "The most important thing is we're growing together."
For the sake of his longevity, the Husky coach might want to re-prioritize and find a couple of big men who can score and rebound. That's the most important thing here. If not, growing together won't matter.
More of former Seattle Post-Intelligencer journalist Dan Raley's work can be found here at si.com/maven