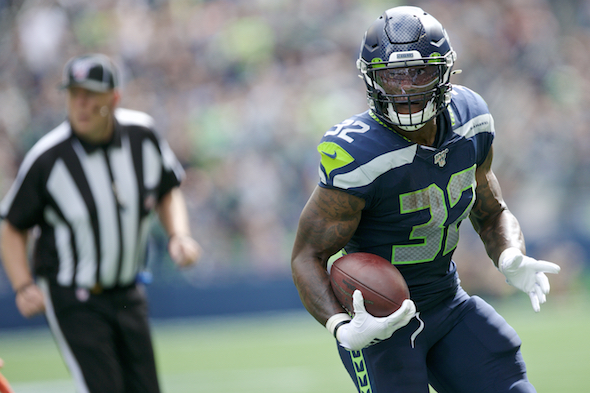 More help will arrive for the Seahawks offense, this from a familiar source. Somewhat surprisingly, the Seahawks Friday afternoon agreed to terms to bring back four-year vet RB Chris Carson from free agency with a three-year deal for a maximum of $24.6 million, according to the NFL Network.
ESPN reported that the deal voids after two years and $14.6 million, meaning that the third year was added to spread the accounting under the salary cap.
Carson's departure this off-season seemed likely, even though club and player wanted a return. Running backs have become a fungible NFL commodity, and Carson's injury history made him more fungible, having missed 19 of a possible 64 regular-season games.
That said, Carson was the second running back in Pro Football Focus's 2021 free agent rankings (66th overall), behind Aaron Jones (51), who re-signed with Green Bay for four years and $48 million. The third-ranked back, Kenyan Drake (92), who left the Cardinals for the Raiders, signed a deal comparable to Carson's: two years, $14.5 million.
Here's PFF's description of Carson:
You will find few harder-running backs than Carson, and that play style has led to him having some of the most consistent PFF rushing grades of any back in the league during his career. He hasn't had a rushing grade below 75.0 or above 81.0 in four years and has always maximized his yardage. In each season of his career, he has gained at least three yards per carry after contact, topping out with 3.63 yards on average in 2019 — a season in which he broke 62 tackles, including the playoffs.
Carson may not possess the receiving skill set of other backs, but he has been bucking that trend in 2020, already bettering two of his previous three seasons in terms of receiving first downs.
Carson rushed for 3,270 yards in four seasons since being a seventh-round draft pick in the 2017 draft out of Oklahoma State. But only 681 came in a 2020 season reduced to 12 games by injury. He averaged a career-best 4.8 yards per game as he job-shared with Carlos Hyde, a free agent signed this week by Jacksonville. Carson scored nine touchdowns, four in the air that were part of his 37 receptions for 287 yards.
After the 30-20 loss in the playoffs to the Rams, in which Carson had 77 yards in 16 carries, coach Pete Carroll volunteered post-game that the Seahawks will need to run the ball more and better next season, perhaps an implicit shot at QB Russell Wilson's poor game that day.
Since then, you perhaps have read of Wilson's disaffection. But Friday on Twitter, he seemed happy.
Big time! Let's go 32!!! https://t.co/VvNkU2CFXZ

— Russell Wilson (@DangeRussWilson) March 19, 2021
Whatever his mood of the moment, the return of Carson is a bit of a benchmark for the Seahawks. They signed someone to a second big contract from the woebegone 2017 draft class, thereby salvaging a bit of dignity.
Every year in NFL, free agency re-introduces the draft from four seasons earlier. It's a sort of graduation time for players who signed a standard four-year contract as draftees. If they were good enough and healthy enough to make it that far, their original team is forced to decide whether to extend the players' contracts — presuming they haven't already done so —  or, by collective bargaining rule, allow them to enter free agency.
In the spotlight now is the 2017 draft. A brief look explains part of why the Seahawks are operating this off-season a bit in the manner of a turtle on its back.
Until the Carson re-signing, the only other 2017 class member to re-up was C Ethan Pocic, who signed a one-year, $1.3 million deal Thursday, a modest investment that doesn't preclude the Seahawks from hiring someone else to start while keeping Pocic a reserve at three positions.
Here's a snapshot of the Seahawks' 2017 class, permanently notorious for the top selection of DE Malik McDowell, who never played a down because he was a knucklehead.
As you can see with four years of reflection, the draft was a weirdly perfect inverse: The worst was first, the best was last.
Only Pocic remains with Carson in Seattle, although FS Lano Hill is a free agent who could return, after playing in only the first two games of 2020 on the team before injuring his back. His status is unknown.
The Seahawks obviously did well by the selections of CB Shaquill Griffin and WR David Moore, but believed neither was worth paying market rate in free agency, and both signed elsewhere this week.
Besides McDowell, another five players among the 11 picks amounted to little.
We all understand that every team has draft years like that. Including New England, where because of similar weak drafts, Bill Belichick this week has spent $148.6 million in guaranteed money to free agents, an NFL record for a single team.
Belichick can do that because he no longer has to pay a franchise quarterback. The Patriots' penalty for no Tom Brady was a 7-9 season and no playoffs for the first time since glaciers were a mile thick on the future downtown sites of Boston and Seattle.
Belichick ascribes the setback merely to the cost of doing business in the NFL, which by definition and intent is built to epitomize the modern Japanese proverb: "The raised nail gets hammered down."
Carroll does not accept that cost. Remember: Always compete. He has admitted he doesn't get how to not do everything possible to win all the time. As a result, the Seahawks have been in the playoffs nine of his 11 years in Seattle, a splendid feat.
But to do better than that, to win championships, a team can't have draft years like Seattle had in 2017, as well as other recent drafts barely better.
There is a modern American football proverb for this circumstance:
Free agency is the cost of drafting poorly.