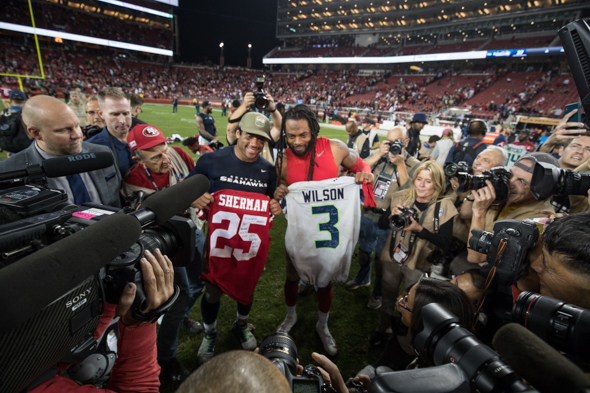 Richard Sherman needs the Seahawks more than the Seahawks need him.
Having said that, it would be entertaining to have him return to play here. Although if I were Pete Carroll, I'd first run it past Russell Wilson. Presuming the two are speaking. Also presuming either is speaking to Sherman. Or, if Carroll plans to trade Wilson ahead the April 29 start of the draft, never mind.
Welcome to the sports soap opera, "Days of Our Seattle Football Lives."
The possibility of free agent Sherman's return to the place where he became one of the game's greatest players, and certainly the most quoted, has been around since the regular season, when he said he knew his time in San Francisco was nearing an end. The notion of return gained new life Wednesday.
Reporter Tom Pelissero, who works for the league's house organ, said on an NFL Network morning show, via the Seattle Times, that Sherman "is open to returning to Seattle.'' Then he said, "I believe the Seahawks would also be open to having Sherman back.''
If he'd left it there, I'd accept the possibility is plausible.
But then Pelissero said, "This is not like Earl Thomas, where it became acrimonious at the (end)."
Uh, no. At least, that's not how I remember it.
I recall that after a 2016 season speckled with outbursts and confrontations that sounded like insubordination from Sherman, Carroll and GM John Schneider made clear at the scouting combine that they were listening to trade offers for their All-Pro cornerback. The candor seemed to startle ESPN's Adam Schefter.
"You admire John for being upfront and honest, but it's very rare that a team is this open and honest involving a high-profile player like Richard Sherman," Schefter said on a TV panel show in early 2017. "It's almost as if he's putting on a for-sale sign on him: 'Come make an offer.'"
Why?
Said Schefter: "My understanding is that Sherman initiated this. He wanted to get out of Seattle."
Sound familiar, Seahawks fans? For different reasons but the same desire, Wilson is more or less echoing Sherman, his one-time rival as locker-room kingpin.
Sherman didn't get his wish. If the Seahawks were serious, they claimed they didn't receive a worthy offer. So nothing happened publicly. Sherman, humbled only a little, slinked back.
But not for long.
Nine games into the 2017 season, Sherman tore his Achilles tendon, and the subsequent surgery in his contract year ended his time in Seattle. He signed a low-end free agent deal with the 49ers and mocked the Seahawks for having "lost their way" in personnel decisions.
So, no, Tom Pelissero. The Sherman ending was acrimonious, absent only the Thomas ornamentation of a one-finger salute.
But that was then.
The now is that Sherman turns 33 next week and would like one more job in the NFL. Despite injuries, he had three decent to good years in San Francisco, including one more Super Bowl appearance than the Seahawks. It's entirely possible that Sherman has blunted some of his sharpest edges, like the desperate need to be right 101 percent of the time.
Sherman friend LB Bobby Wagner was asked whether he could recall Sherman being wrong.
"No," he said sardonically. "He's not wrong. If he says the sky is purple, it's purple."
Maybe Carroll has come off his fastball a little too. But he's not likely to admit it either.
Upon Sherman's return to Seattle as a 49er in November 2018, I wrote, "Probably the most complicated relationship over the past 25 years in Seattle sports after George Karl and Gary Payton is Pete Carroll and Richard Sherman. Both relationships were notably responsible for great team success, but the tension between coach and genius talent eventually wore out each side."
How much game Sherman has left is hard to know. Pro Football Focus ranked him 18th on its original list of available free agents, yet he's the only top-20 player unsigned. Here's how PFF evaluated him:
"In 2020, Sherman produced a 67.2 coverage grade on just 332 snaps, the lowest grade of his career. Sherman's intelligence and tape study gives him a mental edge over most offenses he faces, and that more than makes up for less than stellar straight-line speed. In the kind of defense he plays in San Francisco, he can remain a valuable player even at his age and could be an attractive short-term option for a number of teams in need of a quick fix."
The Seahawks lost to Jacksonville in free agency Sherman's left cornerback successor in Seattle, Shaquill Griffin, then signed a corner free agent, Ahkello Witherspoon, Sherman's teammate in SF. Corner Quinton Dunbar, another Seahawks free agent, is still available. And the club hasn't given up on Tre Flowers at the position.
The biggest question for Sherman may not be fit, fitness or relationships, but money.
The Seahawks added three free agents over the past two days, two holdovers and a newbie.
The newbie is DE Kerry Hyder, 30 in May, a seven-year vet joining his fifth team, most recently San Francisco, where last season he had 8.5 sacks filling in for the injured Nick Bosa. The offer was reported to be three years at $17.5 million, but the third year voids, so it will count as two years and $6.5 million.
They brought back another defensive end, DE Benson Mayowa (six sacks, 13 games), reportedly a four-year deal that voids after two years. The NFL Network said it's worth $8.8 million, with $4.61 million guaranteed in year one. And backup OL Jordan Simmons, who started six games at left guard last year backing up the retired Mike Iupati, returns.
The Seahawks are temporarily over the salary cap, and apparently are holding off formal contract signings until they can restructure some veteran contracts to make cap room. Until that is done, it's hard to know what will be left to sign Sherman, who's grown used to big money.
It is Wilson's massive contract that most likely will be re-done, and doesn't require his permission. It is merely a bookkeeping  trick that will cost Wilson no salary. But the maneuver will be ironic because one of Sherman's criticisms during his time here was that Wilson was not held to the same standard of accountability as the rest of the team. Yet he would be the guy to hold open the door for Sherman.
The subject of accountability came up in December 2018, ahead of Sherman's first return to Seattle as a player. Besides criticisms of Wilson, Sherman also challenged coaches and became a somewhat divisive character. I asked Carroll how much is too much, and he answered with directness.
"With an individual player, when it's no longer about the team," he said. "When the team is no longer the essence, then it's time to move on. That's where the limitations come in. They (no longer can be) about the cause, the brotherhood. There's a time you have to move on."
Then he paused and said, "I'm not saying that's what happened with Sherman at all. (But) that's when I draw the line. As long as we're all in this together, we're good."
If that definition still holds, Wilson's recent critical public comments about the team and his not-quite trade request might be seen as being no longer about the cause, the brotherhood.
Of course, Carroll could say as he did with Sherman, that it's not what happened with Wilson at all.
It would be as hard to believe now about Wilson as it was then with Sherman.