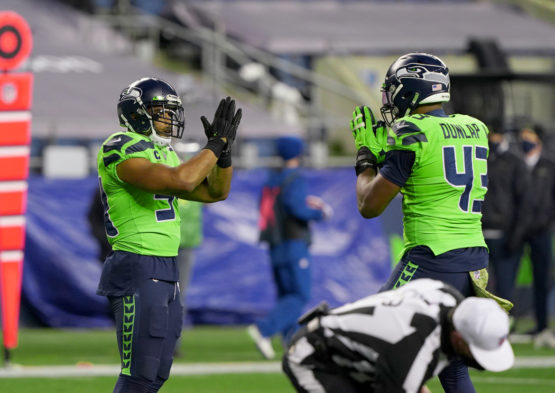 Those of us who find ourselves on periodic patrols to glean the latest on Russell Wilson's off-season soap opera with Seahawks football came across a sizable bread crumb Tuesday.
In his discussing his own return to Seattle — "It was the (team) culture, the city . . . the transparency from the organization" — DE Carlos Dunlap told a Zoom conference of local media that Wilson is coming back.
As far as he knows.
As of now.
"I did ask him if, obviously, he was going to be with us," he said. "Because if I'm coming back, I see him as my quarterback, and the rest of the team. I want to pick up where we left off. He told me he's with us, and here to stay.
"He said, 'Let's go, Hawks.' 'These words are not his words verbatim, but these are my explanations of how I interpreted what he said."
Until Wilson says it himself publicly, and Seahawks management likewise affirms Wilson's presence for 2021, the fire likely won't be put out completely. But besides the intel from Dunlap, another ember went cold this week when the New York Jets Monday traded Sam Darnold to QB-hungry Carolina for three non-first-round picks.
Darnold, 23, had been speculated as heading to Seattle in a trade for Wilson for the Jets' second pick in the draft this month, plus other baubles, especially after Carroll's laudatory comments earlier last season about Darnold's NFL future. But the Jets presumably have opted to keep draft door number two behind Jacksonville, which seems destined to take  Clemson star Trevor Lawrence, leaving BYU QB Zach Wilson for the Jets.
Carroll's positive review of Darnold's three mediocre seasons in New York apparently was shared by Carolina's new general manager, Scott Fitterer. He was director of football operations for the Seahawks, and a 20-year club employee who was part of Carroll's inner circle, before taking the Panthers job in January.
Darnold now likely replaces Teddy Bridgewater in Carolina, and robs the NFL media class of a potential solution for the seeming rift between Wilson and coach Pete Carroll. But the off-season changes to the offense, whether intentionally or coincidentally, seem to have curtailed Wilson's dismay.
From a Seahawks management perspective, one of the biggest irritations with Wilson's unprecedented public scolding and subsequent nebulous future with the team, was that it had the potential of hurting the club's chances to re-sign their own free agents, as well as recruit others. For free agents good enough to have choices of teams, the Seahawks look a lot better with Wilson than without him.
Yet  the club managed to walk a tightrope from Wilson's post-Super Bowl airings of grievances in a carefully crafted media tour, to the March 17 start of free agency, when they didn't have much room under the salary cap.
They seem to have retained most players they realistically sought to re-hire, like Dunlap, and still pulled in newbies such as TE Gerald Everett,  CB Ahkello Witherspoon DE Kerry Hyder.
For Dunlap, there was a bit of suspense from his March 8 release to his March 25 re-signing as to whether the Seahawks truly wanted him back, on terms more favorable to the club.
"After a week passed, a lot of people were signing," Dunlap said of the start of free agency. "Teams were signing their guys, and Seattle didn't really sign that many guys in the first week. Then they started signing guys. So I was trying to gauge and feel. We hadn't gotten an offer. We hadn't had strong conversations with Seattle at that point.
"So we started fielding all the other teams that were interested. Then Seattle called, and it was where I wanted to be. It was done in 24 hours."
Dunlap, 32, ended up agreeing to a two-year contract worth up to $13.6 million, less than the $14.1 million it was going to cost in the final year of his deal with the Cincinnati Bengals, from where he was acquired in mid-season. But the Seahawks included three voidable years, so that his salary cap hit for this season is a tidier $2.9 million.
Happy as the Seahawks are with the return of Dunlap, who had five sacks in his eight Seattle games and helped lead a big defensive turnaround, they still have holes.
News came this week that the Seahawks lost in free agency CB Quinton Dunbar, who signed with the Lions. That means that they are missing both starting cornerbacks from 2020, with Shaquill Griffin having left earlier for Jacksonville.
Dunbar, a free agent from Washington, played six games and allowed a passer rating of 111.0, almost double the 61.2 he gave up in 2019 with Washington, according to Pro Football Reference. A knee injury that he brought into camp, and subsequent surgery, ended his season early, after playing hurt for several games.
The defense also lost DT Jarran Reed in free agency to Kansas City, but the Seahawks backfilled with Al Woods, 34, who opted out of football last year after spending 2019 with Seattle, playing in 14 games, including five starts.
The offense is, of course, where the off-season drama lay.
Still in need is the receiver group, which lost David Moore and Phillip Dorsett to free agency, and needs a solid No. 3 wideout. But one receiver has already contributed.
Tyler Lockett agreed tore-work his contract, giving him a four-year extension (no voidable years) worth up to $69.2 million, including $37 million guaranteed. Besides making him among the highest-paid receivers in the NFL, the deal lowered his 2021 cap hit from $15 million to about $7 million.
Wilson shared his approval on Twitter:
The homie!!! @TDLockett12 Let's go!!!
You deserve it all! Love you bro! 💪🏾🙌🏾

— Russell Wilson (@DangeRussWilson) March 31, 2021
In non-transaction news, Everett, the free agent tight end hired away from the Rams, offered in a Zoom conference an intriguing observation about one of his coaches in LA. Shane Waldron, the passing-game coordinator under head coach Sean McVay,  was hired away to become offensive coordinator for the Seahawks.
"They're getting a mastermind," said Everett, who spent his four pro years under McVay and Waldron. "Similar to McVay, I think they put their heads together and you had the magic that we were able to whip up in Los Angeles.
"But having Shane in Seattle now, we're able to see really what he can do, isolated away from the (LA) group, and give him a new set of pieces and just see how he uses them."
As much as the personnel additions, it is Waldron's ability to inject eye candy into Seattle's offense to distract defenders that gives Wilson hope his public pout has made an influential point.
According to Dunlap at least, Wilson is willing to let things, well, cook.