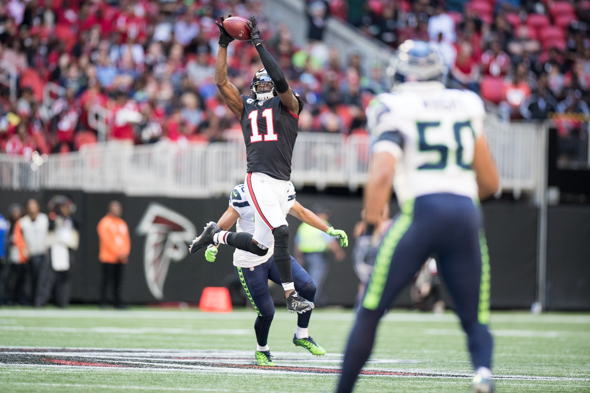 In trying to work up a justification for attempting the hire of a very good but very expensive and 32-year-old player for the Seahawks' third receiver spot — more than a hood ornament, but closer to heated leather seats — I recalled a response by Pete Carroll last week that seemed to escape attention.
Answering a question about how Shane Waldron's ideas were being integrated into the offense at this Zoom-only early stage, the Seahawks coach was enthusiastic about his new offensive coordinator's plans (if Carroll were otherwise, the news would have been bigger than peanut butter divorcing chocolate, but still . . . ).
"In the design of it, there's a sense of continuity to it that Shane brings that I'm really excited about," he said. "Things fit together in a connected fashion more so than I've seen us have in years past.
"Shane also brings a real eye, and an intent, on utilizing tempo in different aspects of our game, which is really something we always like to implement with Russ. Russ has taken to it as well at this point. So we're off and moving."
Russ is, of course, Russell Wilson, he of the temporarily disenchanted quarterback persuasion. Tempo is, of course, up-tempo, a part of the offense in which Wilson excels.
So much so that, in his agonizing post-game interview following the Rams' 30-20 win Jan. 9 that booted the Seahawks from the playoffs, Wilson twice mentioned the absence of tempo in the playcalling as a problem in the failure to outscore a busted-up Jared Goff in his second-to-last game as Rams QB.
"I think our tempo, our pace, getting in and out and all that, we kind of lost that a little bit," he said. "I think that's something that we do really, really well, and so to keep that tempo and pace I think is something that's  . . .  I'm going to really try to study a lot this off-season and see how do we continue to put our foot on the gas."
A few moments later, in a response to a question about the Rams defense, he said, "They fear our pace, the tempo, and all that. I think that I feel when the game is on the line, two minutes in the game or whatever, teams obviously fear that because of the feeling of me going and all that stuff.
"The game felt really stale, in a way. We were kind of flat-lined."
In covering Wilson for his tenure in Seattle, I don't call him criticizing any aspect of the team's play beyond bland generalities. Even this critique wasn't that specific, but it was a clear diagnosis of where he thought the playcalling fell short.
Less than two days later, OC Brian Schottenheimer was fired.
While I can't prove cause and effect, I'd want Wilson's quotes in the report from the medical examiner regarding probable cause of Schottenheimer's Seattle career death.
But Carroll's remarks last week sound as if Waldron has made the head coach see the light regarding tempo. Saying and doing are, of course, two different things. But at least Carroll is on the record saying up-tempo is a weapon Wilson executes well and is being emblazoned into the playbook.
Which gets us to the latest of the off-season dramas: Why would the Seahawks consider a potentially reckless trade for WR Julio Jones, who, despite his splendid career  — his 95 yards-per-game average is the highest receiver total in NFL history — would be the third receiver behind DK Metcalf and Tyler Lockett, while he's due a guaranteed $15.3 million in 2021?
Easy answer.
Waldron and Carroll want to hear the shouts of "WTF!" coming out of the opposing pressbox suite from defensive coaches when Wilson goes to a two-minute offense featuring receivers Metcalf, Lockett and Jones.
It will be called the Depends formation, for the product necessary to be worn while defending it.
The beauty of going up-tempo is that defenders can't be subbed. If Wilson strings shorter, in-bounds completions, the clock doesn't stop for substitutions. Three, four or five plays in, at least one in this sub-4.4-second crew goes long, then another, then another. Somewhere in this portfolio of fear and fatigue is an easy six points.
Followers of Wilson's post-season lamentations know he complained about poor pass protection (any who disagree, raise a hand . . . I thought so), wanted more say in personnel (10 years in, he gets a vote, OK?) and the seasonal decline in risk-taking with the pass game (defenses made you out, Russ).
But Wilson knew right after the playoff loss what he thought the offense needed. To get to up-tempo, the Seahawks hired Wilson a big upgrade at left guard (Gabe Jackson), an upgrade at tight end (Gerald Everett), a return of RB Chris Carson and the hire of a coordinator right out of the Hogwarts Department of Bamboozlement, Chicanery and Invisibility.
The one thing the remodel lacks, after the free agency departure of the earnest but modestly talented David Moore, is a proven third wideout. The Seahawks did well by using their second-round pick on WR Dee Eskridge. But he's a rookie, and may not be a full contributor until December.
The Seahawks are all about the Here-and-Damn-Now.
I will suspend for this column the financial discussion of the potential Jones hire, simply because the NFL's own estimate of the 2022 salary cap ceiling is $208.2 million, or about $30 million more than this year's $182.5 million. Since GM John Schneider has kicked so many cans down the salary-cap road to fit in upgrades around Wilson's $34 million bulge, I will trust him to find coin for Jones from hidey-holes in kitchen cupboards and basement Mason jars.
With the money issue marginalized, the big remaining risk becomes the heavy investment in a 32-year-old. My one retort is a comparable: Longtime Seahawks nemesis Larry Fitzgerald of Arizona.
In his age-32 season, he had 109 catches.
In his age-33 season, he had 107 catches.
In his age-34 season, he had 109 catches.
As Seattle fans know, at least 100 of them seemed to come against the Seahawks.
Not saying Fitzgerald and Jones are the same guy. What I am saying is there's recent precedent the Seahawks know well.
If you need a final observation, we offer up Mr. Impartial.
"I think we're going to be improved in all aspects of (the offense)," Carroll said. "I'm really fired up about it."
That was before the news developed about the Seahawks' interest in talking with the cap-strapped Atlanta Falcons.
So yes, I have worked up a justification for the Seahawks' pursuit of Julio Jones. If the deal happens, give credit where due. Wilson mentioned it Jan. 9.  Many of us missed it; Carroll too.
He caught up quickly. He's eager to hear the screams.