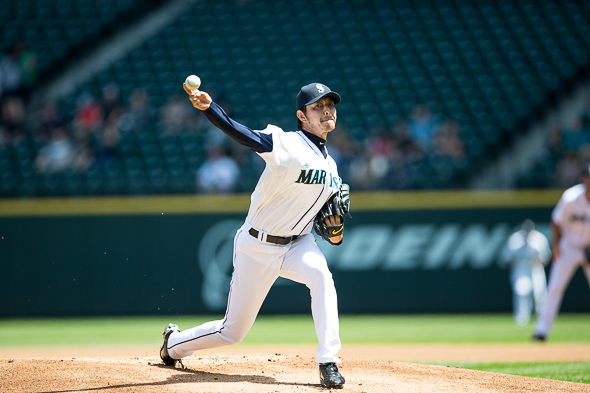 GAME: Twins (43-55, 4th AL Central, -12.0 GB) at Mariners (48-53, 3rd, AL West, -11.0 GB). GAME #: 102. SERIES: 1st of 4 games. MEETING: 4th (Twins lead 2-1). WHEN: Thursday, 7:10 p.m., Safeco Field. STREAKS: Mariners L 1; Twins L 1. TV: Root Sports. RADIO: ESPN 710, Mariners Radio Network
In April, most experts, including Baseball Prospectus, figured the Minnesota Twins would lag in the American League Central and finish with around 66 wins. Such wisdom: the Twins will arrive at Safeco Field Thursday for the start of a four-game series with a 43-55 mark (lost to the Angels 1-0 Wednesday), their showing largely a result of poor starting pitching.
Minnesota ranks 13th in team ERA (4.33), 14th in hits allowed (948), 10th in earned runs allowed (420) and second in home run surrendered (94). None of their primary starters has a WHIP under 1.30 or an ERA under 4.10. The "ace" of the staff is RHP Kevin Correia, who will bring a 7-6/4.17/1.36 slash line into Safeco to oppose Hisashi Iwakuma, coming off two nice starts after a patch of five rough outings.
A 10-1 crushing by Cleveland Wednesday ended an eight-game win streak. Joe Saunders failed to go beyond 4.2 innings (five earned runs), Hector Noesi (why aren't we surprised?) gave up a grand slam (Michael Bourn), and the Mariners offense, so hot lately, could only generated one hit off Scott Kazmir.
The Mariners and Twins have met once this season, May 31-June 2 at Target Center in Minneapolis. The Twins won two, Seattle's only victory coming May 31 when the Mariners prevailed behind a superlative effort from Iwakuma, who who scattered seven hits over 7.2 innings with five strikeouts and two walks for his sixth victory against one loss.
THURSDAY'S PROBABLES

MARINERS: RHP Hisashi Iwakuma (9-4, 2.99 ERA, 0.95 WHIP)

The 32-year-old Iwakuma, a Tokyo native in his second major league season, both with Seattle, will make his 22nd start and second against Minnesota. The Mariners' All-Star appears back on track , winning his second in a row Saturday with 7.0 innings of two-run ball in Houston. Iwakuma is 4-1 with a 2.69 ERA in 11 starts at Safeco this year.
LAST START: July 20 at Houston, won 4-2; 2 earned runs on 7 hits in 7.0 innings; 7 strikeouts, 2 walks, 0 home runs, 87 pitches, 60 for strikes.
LAST VS. TWINS: May 31, won 3-0; 0 earned runs on 7 hits in 7.2 innings; 5 strikeouts, 2 walks, 0 home runs, 98 pitches, 65 for strikes.
CAREER VS. TWINS: 3-0, 0.00 ERA in 3 starts covering 20.2 innings; 15 strikeouts, 7 walks, 0 home runs, 0.91 WHIP.
AT SAFECO FIELD: 10-4, 2.59 ERA in 28 games, including 21 starts, covering 149.2 innings; 134 strikeouts, 30 walks, 19 home runs, 0.97 WHIP.
LOVES TO FACE: Ryan Doumit (0-for-8, .000), Josh Willingham (0-for-8, .000), Jamey Carroll (1-for-7, .143).
HATES TO FACE: Chris Parmelee (2-for-2, 1.000), Pedro Florimon (3-for-6, .500).
CURRENT TWINS VS. IWAKUMA: 11-for-66, .167 BA, 14 strikeouts, 6 walks, 0 home runs, .247 on-base percentage.
INDIANS: RHP Kevin Correia (7-4, 4.17, 1.36 WHIP)
The 32-year-old Correia, a San Diego native in his 11th major league season and first with Minnesota, will make his 20th start and second against the Mariners. Correia pitched well against the Cleveland Indians Saturday, giving up two runs on three hits and a walk over six innings. He notched his team-leading 10th quality start and his first win since June 19.
LAST START: July 20 vs. Cleveland, won 3-2; 2 earned runs on 3 hits in 6.0 innings; 3 strikeouts, 1 walk, 1 home run, 93 pitches, 55 for strikes.
LAST VS. MARINERS: June 1, took a no-decision in Minnesota's 5-4 victory; 4 earned runs on 8 hits in 6.2 innings; 3 strikeouts, 2 walks, 3 home runs, 110 pitches, 69 for strikes.
CAREER VS. MARINERS: 0-1, 4.64 ERA in 4 games, including 3 starts, covering 21.1 innings; 13 strikeouts, 3 walks, 7 home runs, 1.07 WHIP.
AT SAFECO FIELD: 0-0, 27.00 ERA in 1 appearance covering 0.2 innings; o strikeouts, 0 walks, 1 home run, 4.50 WHIP.
LOVES TO FACE: Endy Chavez (0-for-5, .000), Kendrys Morales (0-for-3, .000), Nick Franklin (0-for-2, .000).
HATES TO FACE: Michael Saunders (2-for-3, .667), Kyle Seager (2-for-4, .500), Raul Ibanez (4-for-10, .400).
CURRENT MARINERS VS. CORREIA: 18-for-57, .316 BA, 12 strikeouts, 4 walks, 6 home runs, .355 on-base percentage.
MARINERS STATS / NOTES
CURRENT HOME STAND: Three vs. Cleveland (Monday-Wednesday), four vs. Minnesota (Thursday-Sunday). The Mariners are off Monday, then begin a six-game road series at Boston and Baltimore.
The Mariners had a season-high, eight-game winning streak snapped in Wednesday's 10-1 loss to the Indians. It had been their longest since eight from Aug. 14-22, 2012.
The Mariners missed an opportunity to record three consecutive sweeps for the first time since 2003.
The Mariners are 27-26 at Safeco Field and 7-12 vs. the AL Central.
Joe Saunders was tagged with his ninth loss Wednesday, allowing six earned runs on nine hits in 4.2 innings. Saunders had a streak of four consecutive wins snapped.
Justin Smoak, who went 1-for-3 Wednesday, is batting .328 in July.
Manager Eric Wedge was released from a hospital after suffering what doctors believe to be a "very mild" stroke. Wedge will rest at home for the Minnesota series and will not accompany the team to Boston and Baltimore.
UPCOMING PROBABLES
| Date | Day | Opp. | Probable Pitchers |
| --- | --- | --- | --- |
| 7/25 | Thr | vs. Minn | RHP Hisashi Iwakuma (9-4) vs. RHP Kevin Correia (7-6) |
| 7/26 | Fri | vs. Minn | RHP Felix Hernandez (11-4) vs. LHP Scott Diamond (5-9) |
| 7/27 | Sat | vs. Minn | RHP Aaron Harang (5-8) vs. RHP Samuel Deduno (5-4) |
| 7/28 | Sun | vs. Minn | RHP Erasmo Ramirez (1-0) vs. RHP Kyle Gibson (2-2) |