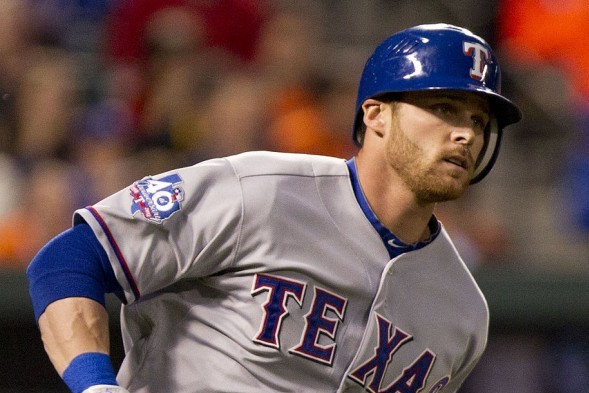 GAME: Rangers (76-55, 1st, AL West, +2.5 GA) at Mariners (59-71, 3rd, AL West, -16.5 GB). GAME #: 131. SERIES: 2nd of 3 games. MEETING: 18th (Rangers lead 10-7). WHEN: Tuesday, 7:10 p.m., Safeco Field. STREAKS: Mariners L 4; Rangers W 3. TV: Root Sports. RADIO: ESPN 710, Mariners Radio Network
The Mariners will not have to contend with Yu Darvish in their final series of the season with the Texas Rangers. But they do have to endure several more innings from Derek Holland, which, as far as Seattle is concerned, is almost as bad. Holland is no Cy Young candidate, but he's 8-2 with a 3.08 ERA in 12 career starts and four relief appearances against the Mariners.
He's also coming into Safeco Field Tuesday night on a roll. Holland is  7-1 with a 2.74 ERA in 13 starts on the road this season, and he's 0-3 with a 0.68 ERA lifetime in the Mariners ballpark.
Not what the Mariners need to see. The Rangers splattered them 8-3 Monday night in a game whose only positive feature for Seattle was Kyle Seager's 20th home run. The main thrust was another sluggish performance by lefty Joe Saunders and Seattle's bleak offense.
Saunders allowed seven runs on nine hits in 7.0 innings to fall to 1-5 with a 7.71 ERA in his last seven starts. These are the kinds of numbers that fired Aaron Harang Monday.
Equally galling from Seattle's perspective is that Mariners' hitters largely were taken to the woodshed Monday by Travis Blackley, a career reliever who had just been waived by Houston — not the Dodgers or Tigers, but the lowly Astros.
Seattle has lost a season-high four consecutive games at Safeco Field. In the four defeats, the Mariners have been outscored 22-5. Thirteen of the last 14 runs surrendered by the Mariners have come with two outs.
This places a lot of pressure on Hisashi Iwakuma Tuesday. Iwakuma has a good track record against the Rangers and will pitch against Holland seeking his third consecutive victory.
TUESDAY'S PROBABLES

MARINERS: RHP Hisashi Iwakuma (12-6, 2.98 ERA, 1.01 WHIP)
The 32-year-old Iwakuma, a Tokyo native in his second major league season, both with Seattle, will make his 28th start and fifth against the Rangers. Iwakuma, 2-1 with a 2.60 ERA in four starts against the Rangers this season, has won consecutive starts for the first time since July 20 and July 25. Since July 14, Iwakuma has won five of seven decisions.
LAST START: Aug. 21 at Oakland, won 5-3; 3 earned runs on 7 hits in 7.0 innings; 4 strikeouts, 2 walks, 2 home runs, 96 pitches, 60 for strikes.
LAST VS. RANGERS: Aug. 16 at Texas, won 3-1; 1 earned run on 4 hits in 7.0 innings; 8 strikeouts, 3 walks, 0 home runs, 94 pitches, 57 for strikes.
CAREER VS. RANGERS: 3-3, 3.75 ERA in eight games, including 7 starts, covering 48.0 innings; 32 strikeouts, 10 walks, 8 home runs, 1.12 WHIP.
AT SAFECO FIELD: 11-6, 2.71 ERA in 31 games, including 24 starts, covering 169.2 innings; 148 strikeouts, 35 walks, 20 home runs, 0.99 WHIP.
LOVES TO FACE: Mitch Moreland (1-for-15, .067), Leonys Martin (1-for-9, .111), Elvis Andrus (3-for-16, .188).
HATES TO FACE: Craig Gentry (3-for-6, .500), Adrian Beltre (8-for-19, .421), Ian Kinsler (6-for-17, .353).
CURRENT RANGERS VS. IWAKUMA: 38-for-165, .320 BA, 31 strikeouts, 7 walks, 8 home runs, .264 on-base percentage.
RANGERS: LHP Derek Holland (9-6, 2.95 ERA, 1.23 WHIP)
The 26-year-old Holland, a Newark, OH., native in his fifth major league season, all with Texas, will make his 27th start and fourth against the Mariners. Holland is 1-2 with a 2.61 ERA in seven starts since the All-Star break. He is 7-1 with a 2.74 ERA in 13 starts on the road this season is coming off a no-decision in his last start when he allowed the Astros four hits over 6.0 innings.
LAST START: Aug. 21 vs. Houston, took a no-decision in Texas' 5-4 win; 2 earned runs on 4 hits in 6.0 innings; 5 strikeouts, 3 walks, 1 home run, 92 pitches, 56 for strikes.
LAST VS. MARINERS: Aug. 16 at Texas, lost 3-1; 0 earned runs on 2 hits in 7.0 innings; 6 strikeouts, 3 walks, 0 home runs, 105 pitches, 64 for strikes.
CAREER VS. MARINERS: 8-2, 3.08 ERA in 16 games, including 12 starts, covering 84.2 innings; 87 strikeouts, 25 walks, 8 home runs, 1.14 WHIP.
AT SAFECO FIELD: 3-0, 0.68 ERA in five games, including 3 starts, covering 26.1 innings; 24 strikeouts, 7 walks, 0 home runs, 0.94 WHIP.
LOVES TO FACE: Brad Miller (0-for-6, .000), Dustin Ackley (3-for-22, .136), Kendrys Morales (4-for-19, .211).
HATES TO FACE: Kyle Seager (9-for-16, .316), Justin Smoak (7-for-25, .280).
CURRENT MARINERS VS. HOLLAND: 34-for-170, .200 BA, 51 strikeouts, 12 walks, 3 home runs, .253 on-base percentage.
MARINERS STATS / NOTES
CURRENT HOME STAND: Three vs. L.A. Angels (Friday-Sunday), three vs. Texas (Monday-Wednesday). The home stand begins a series of 20 games in 20 days. Following the home stand, the Mariners will play four at Houston and four at Kansas City before returning to Safeco Field Sept. 6. The Mariners do not have a day off until Sept. 12.
The Mariners have allowed 13 of their past 14 runs with two outs.
Lefty Joe Saunders, who fell to 10-13 by losing to Texas Monday night, is 4-10 with a 6.40 ERA lifetime against the Rangers.
Saunders has failed to record a strikeout in two of his past three starts.
Kyle Seager hit his 20th home run Tuesday, becoming the first Mariner since Raul Ibanez (2005-08) and Adrian Beltre (2006-08) to hit 20 or more home runs in back-to-back seasons for Seattle. Seager is batting .400 with five home runs and 14 RBIs in 17 games against Texas.
Brad Miller extended his hitting streak to seven games Tuesday and is batting .355 since Aug. 19.
Dustin Ackley is batting .300 with 11 runs scored since the All-Star break.
The Mariners Monday recalled OF Franklin Gutierrez from AAA Tacoma and designated RHP Aaron Harang for assignment. Harang allowed seven earned runs for the third time in five games in the Mariners' loss to the Angels Sunday.
Gutierrez had the start in right field Tuesday and went 0-for-4 with a strikeout.
UPCOMING PROBABLES
| Date | Day | Opp. | Probable Pitchers |
| --- | --- | --- | --- |
| 8/27 | Tue | vs. Tex | RHP Hisashi Iwakuma (12-6) vs. LHP Derek Holland (9-6) |
| 8/28 | Wed | vs. Tex | RHP Felix Hernandez (12-7) vs. LHP Martin Perez (7-3) |