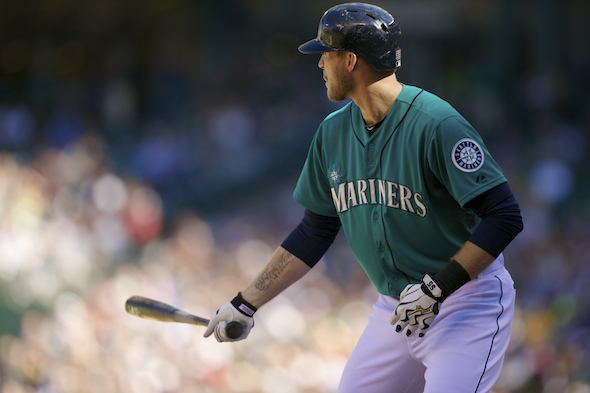 As the Mariners sit out the postseason for the 34th time in their 38-year existence, speculation about off-season plans are underway. General manager Jack Zduriencik said Tuesday the payroll is going up, and his priorities are a starting pitcher and at least one proven mid-lineup hitter.
Here's a look at the roster and possible moves:
Starting rotation
Free agent: Chris Young
Club option: Hisashi Iwakuma at $7 million
For five of six months, the starting rotation was as strong as any. The rotation didn't perform in the most important month — September. The fade was a major factor in a 5-12  stretch that took the Mariners from nearly locks to also-rans. Rookie Roenis Elias and veteran Chris Young, ran out of gas as they reached unforeseen innings totals. The loss of 40 percent of the rotation, plus some bad outings from Iwakuma and Felix Hernandez, did them in.
Zduriencik is determined not to let that happen again. He knows he not only needs five legitimate starters, he needs three or four capable options in reserve to fill spot starts.
"I think the thing we all know . . . and it was right before our eyes, you never have enough starting pitching," he said. "When young kids get to the end (of the season), it is challenging.
"I think we do need to add another pitcher, just for that reason alone. If you think you're going to win something with five starting pitchers, you're kidding yourself. You need eight, and in some cases, nine."
Hernandez, entering the third year of new deal that runs through 2019, and Iwakuma (team option will be exercised) are set, followed by James Paxton, Elias and Taijuan Walker. The latter three enter the second of six team-controlled years. One could be dealt in a package to acquire an offensive star.
Such a move would likely mandate a free agent signee. While Jon Lester and Max Scherzer project to be too expensive, a pitcher such as Brandon McCarthy (entering age-32 season, posted a 134 ERA+ in second half) or Edinson Volquez (31, 117 ERA+) could make sense.
Behind the five, Seattle's options are Erasmo Ramirez, long reliever Tom Wilhelmsen, prospects Victor Sanchez and Jordan Pries, and wild card Danny Hultzen. The former second overall pick spent the entire 2014 season recovering from labrum surgery. However, according to Zduriencik, Hultzen's progress is encouraging.
"We got a really good report," Zduriencik said. "He went 25 pitches, he threw to hitters, showed an average fastball, really good curveball, really good changeup, confident, delivery sound . . . (Our scouts) were really happy with what they saw."
Expectations: A short-term signing (two- or three-year deal) and the Mariners to hold onto Paxton and Walker unless a Giancarlo Stanton-type franchise hitter becomes available.
Bullpen
Free agent: Joe Beimel
One area on the club that is A-OK is the bullpen. Closer Fernando Rodney had a club record for saves (48) despite a 1.44 WHIP. He returns for the second of a two-year contract that will pay him $7 million. The club also returns Danny Farquhar, Yoervis Medina, Dominic Leone, Charlie Furbush, Brandon Maurer (now strictly a reliever), Wilhelmsen and Carson Smith, a September addition who was brilliant in 8.1 innings.
Of that group, only Furbush and Wilhelmsen are even arbitration-eligible. The unit had a franchise-record 2.59 ERA with an abundance of young, cost-controlled arms who look to only improve.
Expectations: No drastic changes. It would be a surprise if Beimel doesn't return after a terrific season in which the 37-year-old held lefties to a .188 batting average and .504 OPS. With so many right-handed options, don't be shocked to see Zduriencik deal from a position of strength if a GM calls.
Infield
Free agent: Humberto Quintero
Team option: Justin Smoak
Solid. Seattle has All-Stars manning second and third base, each under club control for at least another three seasons. It also has a young catcher it believes in. Mike Zunino started 131 games in his first full season, hitting  a ghastly .199, but with a .658 OPS thanks to 22 home runs. But after a strikeout to walk ratio of 158 to 17 (not including 17 HBP's), the Mariners need to work on Zunino's swing and approach.
"He's got to get himself in pretty tip-top shape from a physical standpoint," manager Lloyd McClendon said. "As far as his offense, I think there is a natural progression that is going to take place. Now there are some structural things that we are going to do in spring training to try to clean up his (swing) path . . . He needs to cut down on strikeouts."
The club faces decisions at shortstop and first base. Second-year shortstop Brad Miller hit .221 with a .653 OPS a year after an impressive rookie campaign which saw him bat .265 with a .737 OPS and 110 OPS+ in 335 plate appearances.  It was a disappointing season for the 24-year-old, which led to being benched in favor of rookie Chris Taylor.
Taylor, 24, hit .287 with a .693 OPS in 147 plate appearances while flashing above-average defensive skills. Zduriencik and McClendon seem to know what they want to do at shortstop.
"This past spring we didn't know who our . . . shortstop (was)," McClendon said. "I think we have a lot of those answers now."
Seattle did see a breakthough at first base, just not from the player it expected. Logan Morrison, a trade acquisition from the Miami Marlins in December (for reliever Carter Capps), hit .262 with a 7.35 OPS over 361 plate appearances. But it was Morrison's September that impressed.
Not only did he hit .342 with a 1.042 OPS, he was an emotional leader, playing as hard as any player on the roster. Justin Smoak, on the other hand, endured another inconsistent campaign after a solid first two weeks. After signing a one-year deal with a vesting option for '15, it is unlikely Smoak returns, as he failed to reach the necessary at-bats.
Expectations: Either Miller or Taylor has been named the shortstop. If it is Miller, expect Taylor to be traded while his value is high. If Taylor, the club has a few options with Miller. His power potential and athleticism make him an intriguing outfield option. Also, expect an across-the-board performance uptick. Robinson Cano, Kyle Seager (extension candidate), Morrison and Zunino figure to be better.
Outfield
Free agents: Chris Denorfia, Endy Chavez, Franklin Gutierrez (restricted list)
Seattle's weak link. The club started 12 outfielders, none finishing with at least 15 home runs and 70 RBI. Aside from the expiring contracts of Denorfia and Chavez, all remain under club control. The M's traded for Austin Jackson to man center field every day, only to watch him hit .229/.267/.260 with a 54 OPS+ (100 is league average) as the team's leadoff hitter. McClendon expects improvement from the player he knew well in Detroit.
"When he came here, (it) wasn't the same swing that I saw in Detroit," McClendon said. "He knows what he has to work on . . . I'm very confident that going into next year that he'll be a different player."
Dustin Ackley and Michael Saunders are incumbents in the corners, but neither had a consistent season. Ackley, 26, enters his second to last year of arbitration after OPS by month of .669, .683, .448, .892, .857 and .504. The former No. 2 overall pick did reach career-highs in homers (14) and RBI (65) and should be affordable at near $2.5 million.
Saunders, meanwhile, had two stints on the disabled list with an oblique strain and shoulder soreness, which forced him to miss close to 50 games. He was limited to 258 plate appearances, often platooned against left-handed starters. He finished fourth in batting average (.273) and second in OPS (.791). The Condor will be 28 and enters his second year of arbitration in which he could cost $3-3.5 million.
Rookies James Jones and Stefen Romero also had playing time. Jones, 26, showed best as a base-stealer, stealing 27 in 28 attempts. He could earn a bench role for that reason. Romero likely returns to Triple-A to play every day after hitting .192 in 181 plate appearances.
Because the M's lack an MLB-ready outfield prospect, look for them to add one, if not two. The best free agent options include: Nelson Cruz (140 OPS+), Melky Cabrera (126 OPS+), Colby Rasmus (104 OPS+) and Michael Cuddyer (149 OPS+).  That list potentially could grow with Alex Rios (99 OPS+), Nick Markakis (107 OPS+) and Denard Span (113 OPS+) hitting the market depending on club options.
Stanton is the premium prize, an MVP-caliber cornerstone with two years of club control remaining as he approaches 25.
The Dodgers and Cubs present good trading partners for the Mariners. The Dodgers are over-stocked with MLB-ready outfielders, with three making at least $18 million a season. A desire to make room for youngster Joc Pederson will have them open for trade offers on Matt Kemp, Andre Ethier, Carl Crawford and even Scott Van Slyke. Meanwhile, the Cubs have a trio of talented young outfielders between the Triple-A and MLB levels. They may be willing to part if offered cost-controlled, MLB-ready pitching.
"We're going to do everything that we can to add to the ballclub," Zduriencik said. "We'll be reasonably aggressive in trying to do something to add an offensive piece or two, and you never have enough pitching."
Expectations: Upheaval. Anything could happen, including a trade of Jackson if the team can find a more permanent solution in center. An upgrade in left seems almost mandatory. That could move Ackley into a competition for center, to the bench or off the team entirely.
Designated hitter
Free agents: Kendrys Morales, Corey Hart
The position likely goes hand-in-hand with potential upgrades in the outfield. Morales and Hart were abject failures. Hart was already cut and Morales is unlikely to return. If the team adds multiple bats, one could be stashed in the DH role. It may also be a potential landing spot for Ackley.
One pure designated hitter intrigues — Victor Martinez. At 36 in December, Martinez is a risk. However, a campaign in which he batted .335 with a .974 OPS will make him a hot commodity. How likely he is to leave Detroit under the watch of GM Dave Dombrowski remains to be seen. If anything could lure him away, perhaps it is to play for his former hitting coach in McClendon and alongside Robinson Cano. Martinez made $12 million and will likely command $15-18 million over multiple years.
The Royals' Billy Butler is another option, one Seattle has been linked to in the past. Butler hit .271 for a .702 OPS in 151 games in his age 28 season. His nine homers are not what the M's are looking for from their DH.
Expectations: The DH to become a stash spot. As enticing as V-Mart is, especially with his ties to McClendon, his addition is unlikely. Instead, new outfielders or first basemen additions can fill short-term in the DH role.
Prospects
Seattle is one of a handful of clubs that have more pre-arbitration players on its 25-man roster than those past that stage of their professional careers.
A large portion of the bullpen, 60 percent of the rotation, Zunino, Miller and Taylor all fill that category. The question is which young players not on the roster are knocking on the door. Can any of them provide help at LF, CF or DH? Or is there enough top-end talent  that is seen favorably by a trade partner?
The Mariners awarded seven players in their system, and each of the four hitters finished the season at Double-A or above. D.J. Peterson and 1B/OF Jordy Lara shared the award for hitter of the year. Both will be at spring training before starting their seasons in Class AAA Tacoma. How well they fare over the first couple of months, coupled with the level of need in Seattle, will determine their fates.
Others to keep an eye on are SS Ketel Marte (21), 1B/3B/OF Patrick Kivlehan (25), RHP Victor Sanchez (20), C John Hicks (25) and Smith (25). Players further down that could be mentioned in trade discussions are OF Gabriel Guerrero (21), LHP Tyler Pike (21), RHP Edwin Diaz (21), C Tyler Marlette (22) and OF Tyler O'Neill (19).
Expectations: Look for Peterson, Lara, Kivlehan, Marte and Sanchez to make an impression in camp, but head for Tacoma. Two players that likely make the roster are older guys in Hicks and Smith, who have experience. Hicks represents an offensive upgrade at backup catcher and Smith showed in September that his stuff plays at the next level.
Peterson "is really well thought of," Zduriencik said. "There's a lot of people that have been around him that think he's the real deal as a hitter . . . We're going to bring him into spring training, he'll get a fair shot (and) whatever happens, happens."