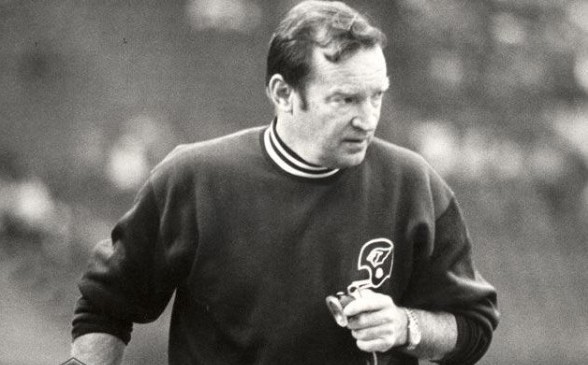 Washington state native Don Coryell (1924-10) is among 15 finalists for the Pro Football Hall of Fame's Class of 2015. A graduate of Seattle's old Lincoln High School and the University of Washington, Coryell coached the St. Louis Cardinals from 1973-77 and San Diego Chargers from 1978-86 after winning more than 100 games at San Diego State.
Coryell became a finalist for the first time in 2010, but did not make it past the semifinal round in four subsequent appearances on the ballot. David Eskenazi recently profiled Coryell for Sportspress Northwest in "Wayback Machine: A Duck Steps Up For A Husky."
Coryell is credited with creating the I-formation and developing the "Air Coryell" passing attack that dominated the NFL in the late 1970s and early 1980s. The Chargers at one stretch led the league in passing yardage five consecutive years and six out of seven with three future Hall of Famers, QB Dan Fouts, WR Charlie Joiner and TE Kellen Winslow.
Coryell is joined in the finals by (alphabetically) K Morten Andersen, RB Jerome Bettis, WR/KR returner Tim Brown, RB Terrell Davis, Coach Tony Dungy, LB Kevin Greene, DE/LB Charles Haley, WR Marvin Harrison, Coach Jimmy Johnson, FS John Lynch, T Orlando Pace, LB Junior Seau, G Will Shields and QB Kurt Warner.
A group of 46 sports writers will meet in Phoenix prior to the Super Bowl to consider the candidacy of each finalist, plus senior committee nominee Mick Tinglehoff. The Class of 2015 will be revealed at 6 p.m. PST Jan. 31 in a television special on NBC.
The 15 finalists came from a list of 26 semifinalists. Those failing to reach the finals: S Steve Atwater, WR Isaac Bruce, RB Roger Craig, WR Torry Holt, T Joe Jacoby, RB Edgerrin James, T Mike Kenn, CB Ty Law, C Kevin Mawae, LB Karl Mecklenburg and S Darren Woodson.